.:The Great Outback Trip Mega-Post!:.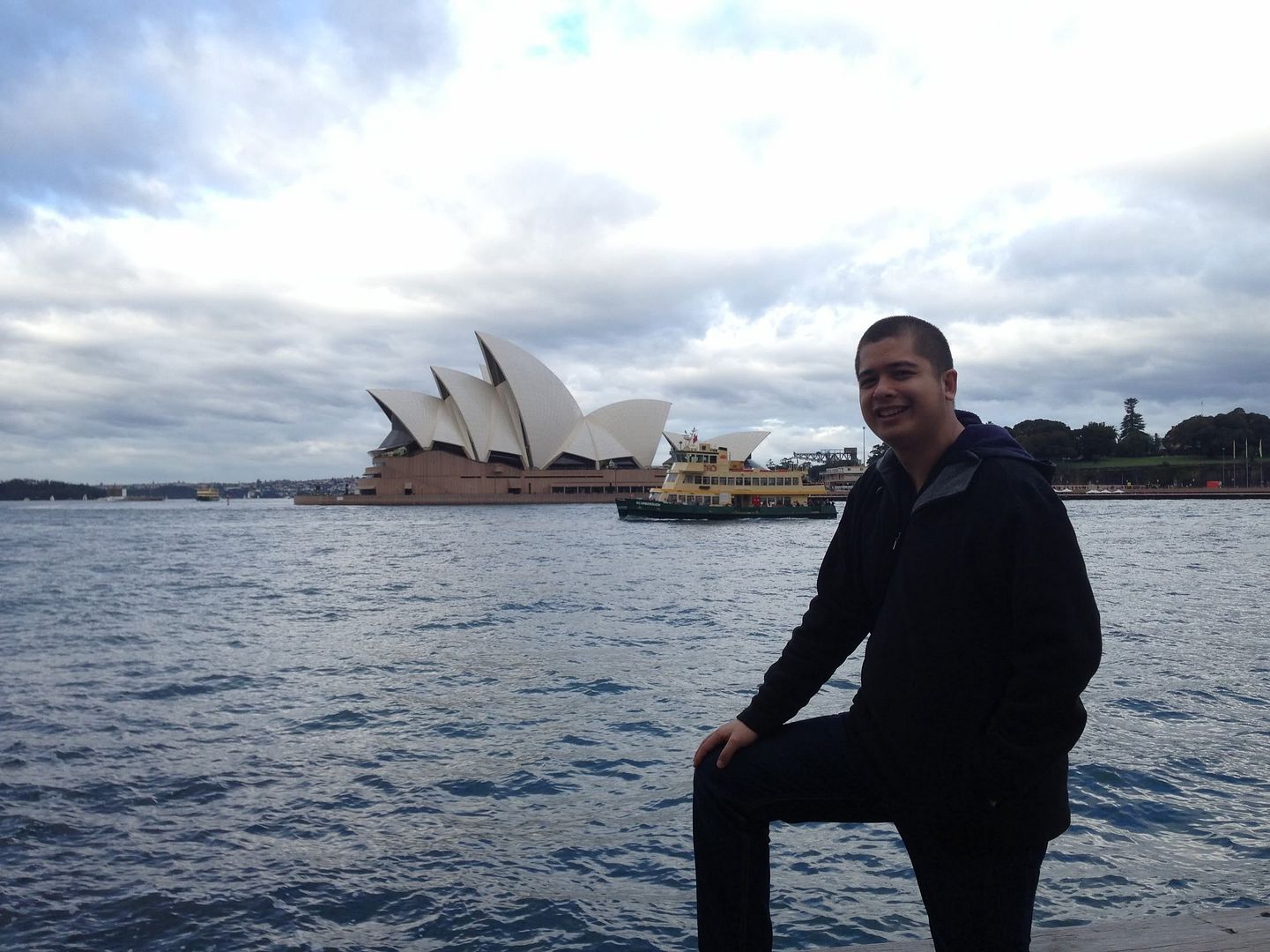 Guess where I was.
To say that this recent trip I had to Australia was life-changing would be an understatement. I'm still writing with a broken heart, yet all I could think is I wouldn't have traded this holiday in for the world.
By now, if the person reading this knew me just a bit, they would know that I went to Australia to see someone: a fulfilment of a promise years in the making, and perhaps a way to bring things back the way they were. This isn't exactly the happy ending I've always dreamed of for myself, but it's also a new beginning, and perhaps, rightly, as Ramon Bautista would say, now is my chance to do amazing things.
My trek started with a quick detour to
iBlog,
since I wanted to make sure that I never missed the event in every single year that it happened. It was fun, really, and it was heartwarming to know how many people in the room already knew of the 8List even before I plugged it while I was talking very briefly about the website. From there, we made last-minute preparations for my trip, and I was stoked and all set to go.
I flew into Sydney around Saturday night, after spending eleven hours trying to catch some sleep in the Kuala Lumpur International Airport. The layover fell smack dab in the middle of the night, so it wasn't a good idea to try my luck and take in the nightlife of Malaysia, with not a single Ringgit to my name. Nonetheless, the flights were uneventful, although I was pretty impressed by how sprawling and modern KLIA looked, even when compared to the Sydney or Melbourne airports.
Around 7:15 in the evening or so on June 1, I finally hopped off the plane and it took a while before I finally saw My Beloved. There she sat, waiting for me, beautiful as she has ever been. We had very little time for courtesies as we made our way to the bus station just outside of the airport, where I noticed just how crazy cold the weather was in Australia. I wish I went here in summer, but alas, Beloved's birthday fell on June 2, and I had no intention of missing that for the entire world.
After unpacking a bit and then repacking for our trip to Melbourne, the two of us went to Sydney Harbor for their Vivid light show, and what a sight it was. The whole place was just so picturesque, save for a mild drizzle that really got in the way of us enjoying the night. Like a pair of vagabonds, we intended to sleep at the train station before catching it to go to the airport, but sadly, that apparently wasn't allowed. I watched over My Beloved that night as she tried to sleep outdoors, and the weather wasn't really cooperating with us. Not really the perfect way to kickstart her birthday.
And, oh. One of the first things that greeted me in Sydney was a near-rumble that happened right in front of us just outside a Hungry Jack's (aka Burger King). Apparently, a security guard wasn't getting along too well with one of the employees from Jack's, and they were getting in each other's faces, shoving each other, and shouting obscenities. This guy who struck up a conversation with me inside the store, a British dude named Johnny, proceeded to drunkenly insert himself into the near-melee, and the fight quickly never began because it was going to be a 2-on-1 involving the Jack's employee and Johnny on one side, and the scrawny security guard on the other. After that, Johnny and his female companion turned to us, and sarcastically exclaimed, "Welcome to Sydney!"
Soon as we got to Melbourne, it definitely felt different. For starters, while I was walking around Sydney, I probably saw a whole lot more ethnic Asians than Australians. If I would hazard a guess, I'd say it was 70-30, even. That ratio flipped around when we got to Melbourne. No value judgments there: just a pure observation which I found pretty fascinating.
Maybe Beloved tainted my opinion here, but I found Melbourne to be a much nicer city than Sydney, although I wouldn't really say Sydney was bad or "the gates of hell," either. The people were surprisingly friendly, and would actually say hi to you just by virtue of running into you. I think back to how surly we Filipinos have become, and begin to wonder if we reserve our much-vaunted hospitality only for foreign guests, and if the people in Melbourne actually did the same, albeit it seemed to me they were indiscriminately friendly to obvious tourists and locals alike.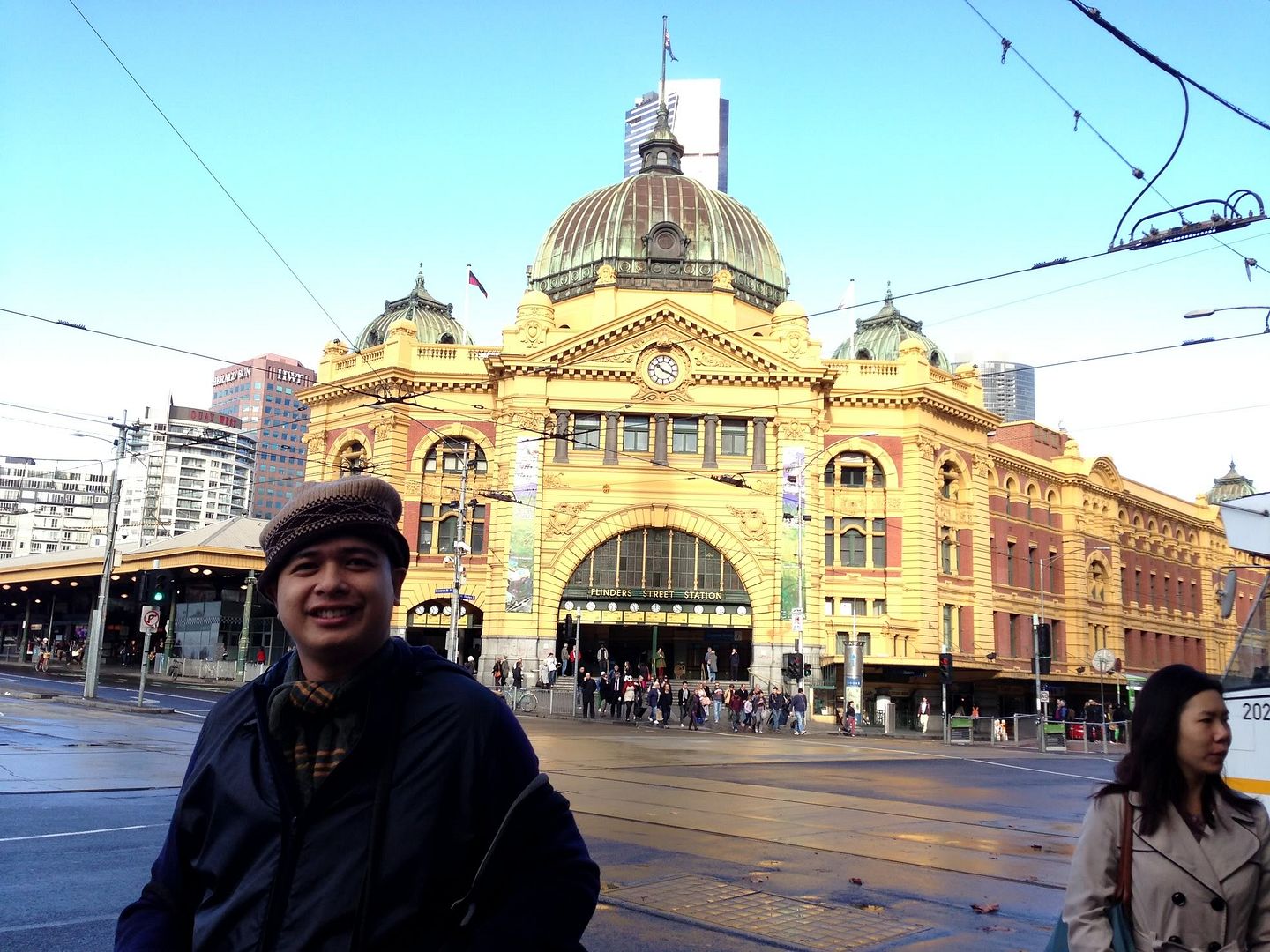 Just one of the many sights in Melbourne. No, not the lady on the right side. The church!
We took the city bus tour of Melbourne, and I got myself acquainted with a few of the sights and sounds of the place. June 2 was already Beloved's birthday, and I must admit, it was a bit embarrassing that she should have to celebrate her birthday sleeping on a bench in Sydney under the rain. I should have made the call to go to the airport instead, had I known that the trains would kick us out at half past midnight. How was I to know? While taking that very train en route to the harbour, I saw a bunch of people sleeping at the station!
The city tour was fine, and we even had a nice meal at this really good Malaysian place. I'm a sucker for crispy noodles. We went around some more, and even took a quick look at the Queen Victoria Market, where they had just a staggering amount of stalls selling all sorts of things. I would have been impressed if Greenhills didn't exist. Heh.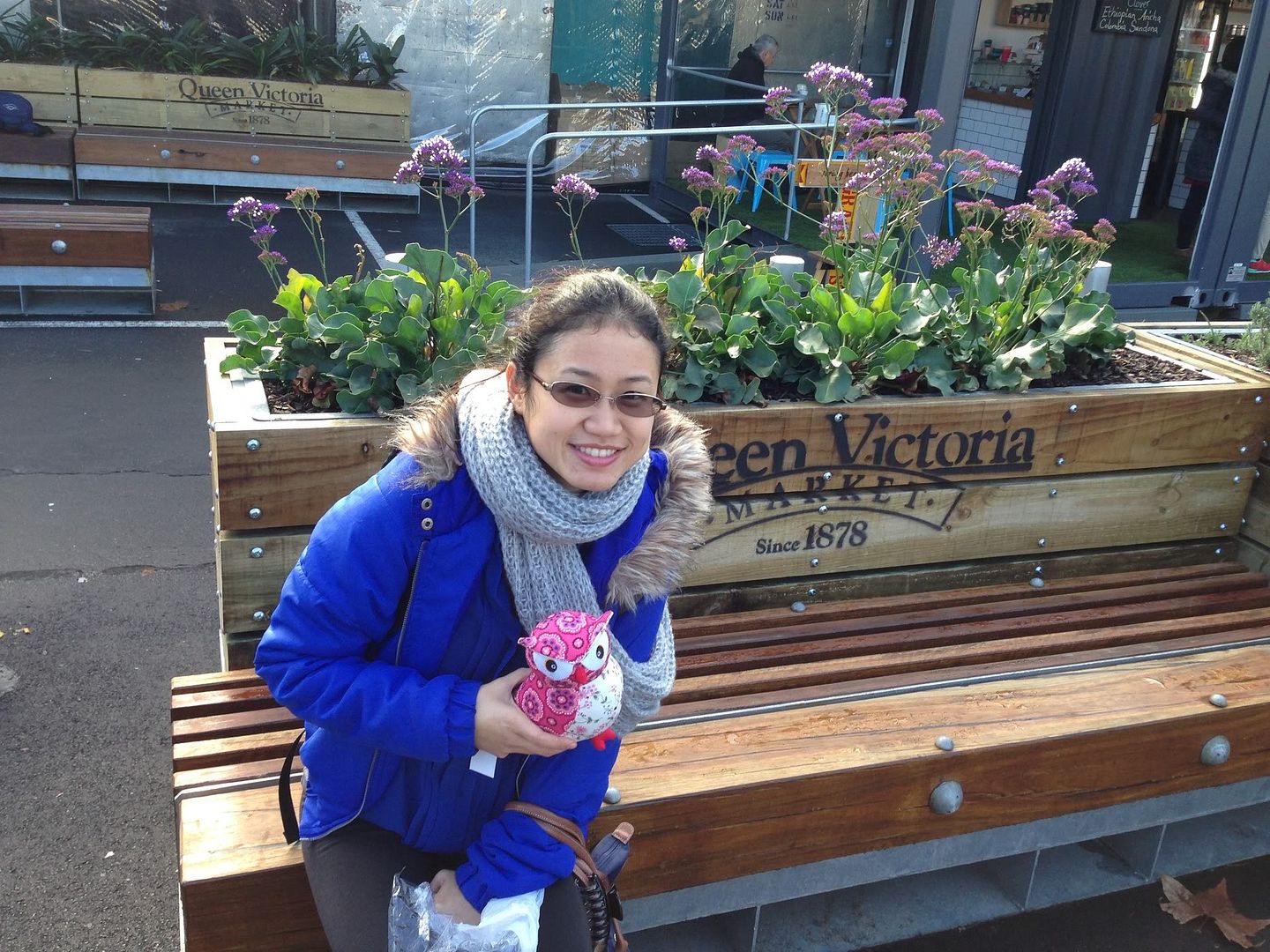 Proof that I suck as a photographer. "Een Victoria," indeed.
We saw a couple of beautiful churches, and even met one of Beloved's friends under the clock in Central. That clock was pretty cool. From there, we headed to Planetshakers Church, and enjoyed ourselves in there. It didn't take too long before we started moving around and figuring out where the Ritz for Backpackers was, as that was where we were going to stay the next two nights. It didn't take us long, and we finally got there.
The Ritz is definitely one of the best backpacker places you could ever pick, since they had communal wifi, clean rooms, and a distinct lack of chalk body outlines on the floors. Of course, you weren't going to expect royal treatment, but for about $30 a night, what were you exactly going to expect, right?
The next day was punctuated by a walking tour around the St. Kilda beach area, since I promised to swing by the Nuffnang Australia office for a while just to talk to Kruppy and the rest of his team. Sadly, we came in just ten minutes before they had an important meeting, so the visit became rather brief, but we made up for that by finding the time to go around the Acland and Chapel shopping districts, where Beloved felt like a kid let loose in a candy shop. Our highlight of the night was a lovely dinner in Ciccionila, which was heartily recommended by the Nuffnang Australia team. I'm glad I listened to them.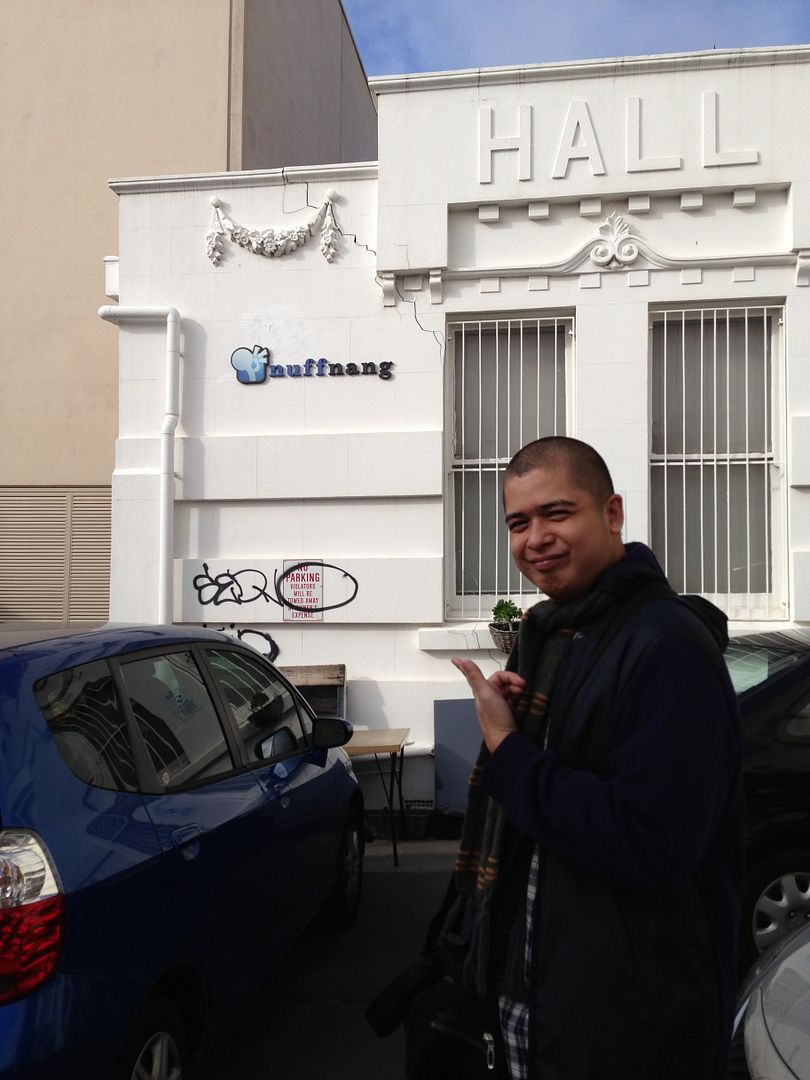 Forgot to have a picture taken with them! Darn.
Ciccionila was really awesome! From there, we had a nightcap of cake in the Acland Cake Store, and then made our way back to the Ritz, where they were having movie night. Before I went back up to tuck in, I saw that they went from Taken 2 to The Green Hornet. Interesting choice of films, if I do say so myself.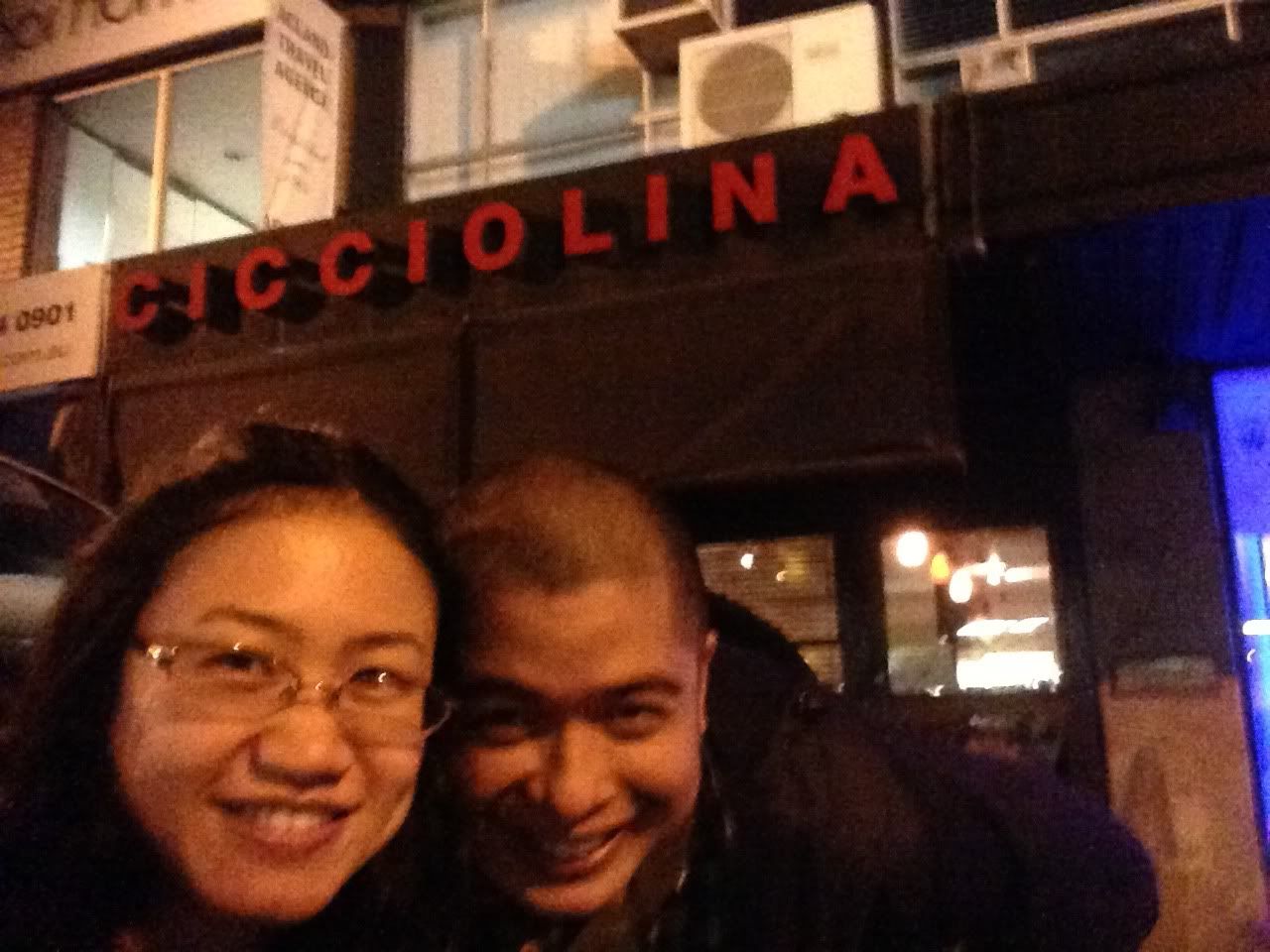 Very awesome, indeed.
After all that, we then took a plane in the morning to go back to Sydney, where we met a pair of Rowena's friends, Coleen and her husband. They were the ones who looked over the stuff we left from our trip to Melbourne, and it was funny how they referred to me as the "ex ex," and they were nudging Beloved in my direction.
Nice, but not terribly effective (sigh).
After a good lunch in a Thai restaurant, we then headed off to the train, all the way from Sydney to Lithgow, and from there, we were going to take a bus all the way to Orange, New South Wales, where Beloved was staying. It was mostly an uneventful bus ride, except for that time we ran over a kangaroo, and the kid up front sounded so traumatized about it.
From there, we went to the car My Beloved left outside the train station in Orange, and we were horrified to discover that it was forced open and completely stripped clean of any valuables. To make matters worse, this was a car loaned to Beloved by one of her closest friends in Australia, and it was *his* stuff that was stolen. Had it only been clothes or similar valuables, it would have been fine, but it appears that even some of his documents were taken, too.
The drive back home was agonizing, and we had to view the aftermath of the crime. Beloved was beside herself in guilt, and obviously, her friend was upset, but doing his best not to lose his cool. It was a disaster, and knowing that she took that car to the station because she was going to go get me from the Sydney Airport, a part of me felt responsible for the whole sordid affair. And remind me to tell you how much I hate this "friend" of hers, too, by the way. He is *married*, after all…
To top it all off, if I thought Sydney or Melbourne were cold? Dammit, Orange is much colder! I'm surprised my fingers are still actually moving and typing as I sit here in front of the computer. I mean, despite never having experienced snow, I've been used to cold weather thanks to annual trips to Baguio in the past, where the weather can hit 10 degrees Centigrade, but our first night in Orange was probably 6 degrees, and it just got progressively worse.
The next few days would prove to be an adventure in domestication for me. I helped fix things around the house, wash her clothes, do the dishes, cook a bit, do the groceries with her, and our time for bonding has been mostly spent watching episodes of Elementary before we went to sleep. It's ridiculously cold in Orange, so the blankets we sleep in are something fierce. She enjoyed her present, by the way. At least, the one involving Sam YG, not the Ascension set. It's too bad I didn't get Xian's message, though. That would have really been perfect.
I'm especially proud of the fact that my steaks have been very well-received, even the kangaroo steak that I didn't have the foggiest idea about. We functioned as a pretty good team, really, and it was a taste of what might have been for My Beloved and I. If I do say so myself, we looked natural together. She saw it. Everyone around us saw it.
We had some very fun (mis)adventures throughout our time in Orange. I especially enjoyed the trip we made to the gelatto factory, and was amused by the fact that I never once saw a live kangaroo, despite all the signs warning us about their presence. Such a disappointment! LOL.
For the next couple of weeks, we pretty much had a routine down pat: she would get up and go to work, I would fix up in the house, maybe go online in the city center, then she would get off work, we'd go to Kmart or Coles or The Reject Shop for stuff she needs, go back, cook dinner, and watch a few episodes of Elementary before we would fall asleep. Speaking of our routine...
Most. Appropriate. Shop. Name. Ever.
It was domestic bliss, and it couldn't have been any better until the last few nights, where a turning point just happened by Friday.
This came to a head when on Saturday, while driving to Seattle since I was flying back to Manila the next day, Beloved's car broke down, and I had to run around like a headless chicken as I tried to find a coolant for her car. I had to make do with water, but she couldn't have been more grateful that day if she tried. It was, to her, the moment where she appreciated me the most, and I couldn't help but feel loved and valued from that point on, until I left. That afterglow of appreciation lasted all of a few days.
Anyways. It's been a very nice but ultimately fleeting picture of how spending my life with My Beloved could very well have been. Sadly, despite everything we've been through in the last couple of weeks, I still am not anywhere near her ideal, especially since she's already been with her ideal in the past – had he not been a cheating, lying douchebag. Unfortunately for me, with that distinct lack of loyalty came the skillset needed to woo multiple women at the same time: to put it bluntly, he was an Alpha Male who could do the household chores, while I may be a Gamma already, and not just a Beta.
Y'know, I always thought I'd be much more broken up about this than I would as I write this right now, but I guess my defense mechanisms kicked in earlier on in this trip already. I made sure that as soon as I went back to Manila, she wouldn't fear that I would hate her or refuse to have anything to do with her. It's nothing that dramatic. For better or worse, we've made ourselves invariably a part of each other's lives now. It's just tragic that we don't see eye to eye as to exactly what our roles in each other's life ought to be.
She was gorgeous. She was wonderful. She was damned near perfect. And in case all this writing hasn't indicated it yet, for those two weeks, Manila was not home to me at all: she was.
She was there to help me see that there is life after all this, with or without her. How soon I could start that life, though, I sadly have no idea. I guess to a large extent, she's living proof that sometimes, love just ain't enough.
But I love her. And I love her more than I ever have, longer than I ever have, and better than I ever have before.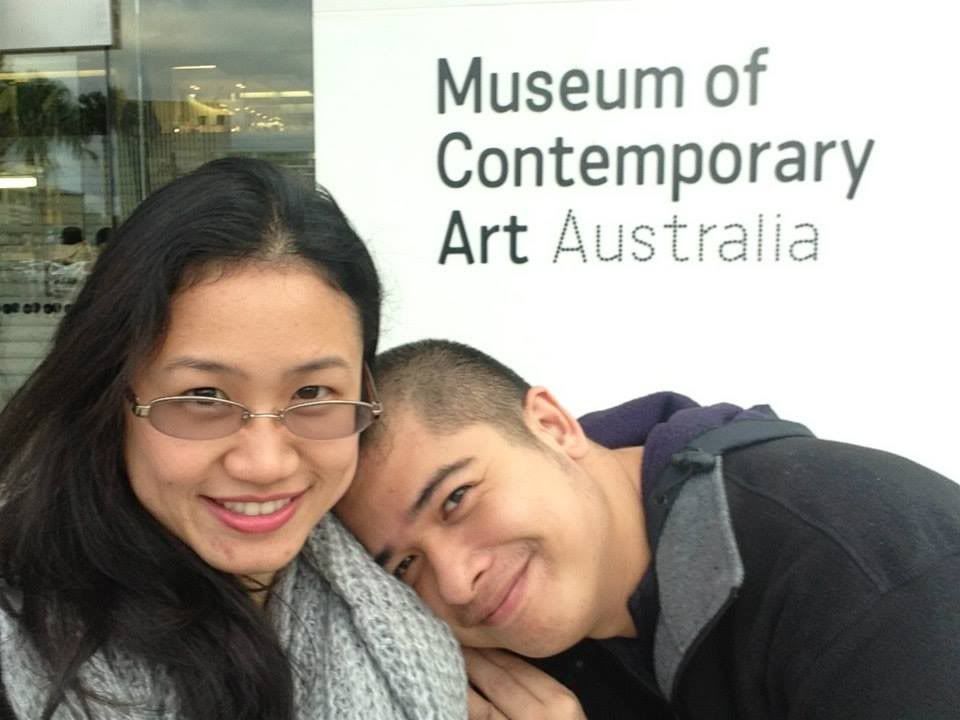 And maybe, just maybe, she does love me, too.