.:The Top 10 People I'm Most Grateful To In 2010, Part 10 Of 10:.
Finally, the last installment! And boy, you can expect that this'll be a mouthful of thanks...
1. The Comedians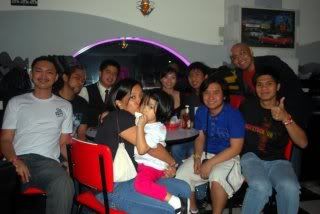 Everytime I get into a break up, I learn a new talent or skill. This time, it was standup.


When I was completely down and out, when I didn't know how I could go on, comedy practically saved my life last year.

It wasn't easy coping with depression, but finding an outlet in standup comedy was the best thing I did for myself this year, as I gained newfound confidence in so many aspects of my life, as well as a deeper appreciation for how difficult it really is to go onstage there armed with nothing but a microphone and your wits.

It doesn't matter if I was watching the Cartel or SPIT, or I was doing an open mic. Comedy was a huge part of my life the past year, and with so many tragedies that we all had to cope with, there was a great need to bring levity to our lives in whatever way possible. As I said when I thanked the Itchyworms, my nightlife was ruled by music and misfit. I thanked the Worms at number 10. How could I let my entire list pass without thanking the comedians?

Whether it's my personal hero in standup, Mike Unson, or the great Tim Tayag or the irrepressible Alex Calleja, I can't thank them enough for their knowledge and willingness to spare me a word of advice every now and then. Kudos to Pat, the Cartel manager as well, for being very encouraging of me all the same.

To the man who opened my eyes to standup comedy in the Philippines, Stanley Chi, I know my life would be remarkably different and probably much less filled with laughter if I didn't get to know you for three years already. Can't believe how long it's been, and the success you are meeting now can only be a sign that indeed, your hard work and determination at doing standup comedy has paid dividends.

To the Cartel and SPIT people whom I frequently watch, can't thank you guys enough for the laughs. You know I have nothing but good things to say about all of you guys. Whether it's standup or improv, I have always been and will always be a fan.

To the open mic guys I frequently hang out with, especially GB, Noel, Richie, Ryan, Trian, Raffy, Eri, Drei, Doc Nase, Eric, and Chino, we're already like brothers from other mothers (Yes, that means you, too, Drei.). I can't thank all you guys enough for being amazing friends in times of need. I'll even thank Brenda, Anna, and Baya at this point, because even though they're not comics, this is how I got to know 'em. The support all of you guys gave me during "Bound And Gagged" will be one of my fondest memories of the year, if not the decade.

2009 has been quite a year for all of us, and as mainstream awareness about our brand of standup comedy continues to rise day by day, you just know that it won't be long before everyone else knows what we already do: Philippine standup comedy is alive, diverse, and fucking hilarious.

The other day, I went to the DK really early, about 3:20 in the morning, a good couple of hours before the show even started. When Logan asked me why I was there so early, I told him it was because I came from the Alchemy year-end standup comedy show.

Logan looked at me and told me, "wow, that's commitment. But I guess if you're passionate about something, then you pull out all the stops, right?"

At this point, I realized how much I love standup comedy. I sacrificed sleep for it, just because I love doing it that much. Few things ever get in the way of me and my sleep, and if you manage to be one of those things or people, then I must be pretty damned passionate about you already.

More power to all of us in 2010, and I thank you for letting me be a part of something truly big.

The other posts in this 10-part series:

Part 1: The Itchyworms.
Part 2: The magic community.
Part 3: The blogosphere.
Part 4: My Plurk friends.
Part 5: Koji Morales.
Part 6: People who are practically my best friends.
Part 7: My Nuffnang family!
Part 8: The Disenchanted Kingdom!
Part 9: My Beloved.