.:The Person I'm Most Grateful To This Year...:.
I think it should be obvious why she's the one I'm most grateful to this year. Simply put, it's because she's the one...
Throught The Fire
by Chaka Khan
I look in your eyes and I can see
We've loved so dangerously
You're not trusting your heart to anyone
You tell me you're gonna play it smart
We're through before we start
But I believe that we've only just begun

When it's this good, there's no saying no
I want you so, I'm ready to go

Chorus:
Through the fire
To the limit, to the wall
For a chance to be with you
I'd gladly risk it all
Through the fire
Through whatever, come what may
For a chance at loving you
I'd take it all the way
Right down to the wire
Even through the fire

I know you're afraid of what you feel
You still need time to heal
And I can help if you'll only let me try
You touch me and something in me knew
What I could have with you
Well I'm not ready to kiss that dream goodbye

When it's this sweet, there's no saying no
I need you so, I'm ready to go

Chorus

Through the test of time

Chorus

Through the fire, to the limit
Through the fire, through whatever
Through the fire, to the limit
Through the fire, through whatever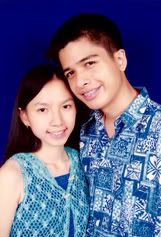 Star-crossed lovers...


1. Gyn: I got to know Gyn through the Ph 104 class I was a teaching assistant for last schoolyear. This was sometime November last 2004. She seemed intelligent, pretty, and very nice. First impressions certainly turned out right.

As her T.A., we got along quite well, although we were never particularly close. I took a liking to her insofar as I found her very meek and mild-mannered, yet interesting. She had an aura around her that made her seem very likable, and you'd be hard-pressed to find a single person who disliked her. She was practically the angel of her batch, and everyone around her was practically watching over her.

Excluding her graduation day, I gave her roses on two other occasions, and she never knew it was me until it was almost time for their oral exams, when most of her blockmates found my weblog to look for answer guides that I wrote to help them out. I stupidly wrote there that I gave her flowers, and it ended up being the talk of the block... heh.

Regardless, I then invested a bit more time into getting to know her better. We established a fairly good relationship over SMS, as we liked to keep in touch over how the other was doing. There were some odd moments, though, where we admitted to each other that we missed one another. It wasn't something either of us took too seriously, although I certainly liked her a lot at this point already.

And then, things began to fall into place. I found out that she actually liked me, although the fact that she was pure Chinese kind of proved to be a hurdle. She didn't want to deal with that obstacle, but by May 5, about a little over a month since we admitted to each other that we liked each other, we became a couple. It was in Gateway Mall, and it was a tough shell to break through, but we did what we can to make the relationship work. So far, we've been doing a lot of things right.

It's not easy, and I never made the claim that it was. Gyn and I have so many things to learn as a couple, particularly since she's a very unique individual whom I can't read quite as well as I can most other people. Despite that, having Gyn in my life has made me immeasurably happy. I can't help but be grateful for her because she's made me feel so special in making me feel loved. That despite all my shortcomings and all my quirks, there's still something worth loving about me.

With each passing day, I learn to love Gyn more and more. With each passing day, I can't help but be grateful to her because she has been an inspiration to me, and ultimately, the person who gives me all the reasons to go on. For being all of that in my life, and even so much more, I thank her. And I love her. I love her with all my heart, and all my soul. I love her with no hesitation, with no reservations.

Thank you so much, my darling Pomelo. I love you so much, and I wish we can be together forever. I don't ever want to lose you.