.:JCS: The Second Coming:.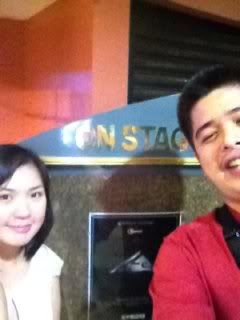 They could've had a bigger poster, though.
Last Saturday, seeing as how Typhoon Chedeng canceled an office event we had, I decided to take up
Billycoy
on his invitation to catch Repertory Workshop's staging of JCS, which is, along with Avenue Q, my favorite musical of all time. I do not exaggerate when I say I've seen the TV version of this musical at least two hundred times already, so I was going to be pretty nitpicky about what I was going to see.
Still, I didn't want to go alone, so I ended up asking a relatively new friend of mine, Jen, if she was interested in watching the musical. I was happy to know that she was, so we went in, pretty much stoked about catching JCS live. Personally, I was also on the lookout to see what role Billycoy was going to play, since he never mentioned which one he was assigned.
True, I really loved JCS like crazy, but I didn't want to watch the staging with impossibly high standards. Indeed, I found the film version to be close to perfection, but I didn't want to foist those same standards on a staging by a group of obviously talented but mostly greenhorn performers. Cutting them some slack in my mind before I went in allowed me to enjoy the play more than I probably would have had I been more exacting.
I memorized the soundtrack from beginning to end, including the film-only song, "Then We Are Decided," which I only recently found out was not ever part of the stagings of JCS. As I saw the cast really give it their all, I couldn't help but realize how much Judas stood out in that cast, as well as Pilate and Herod.
Unfortunately, Jesus and Caiaphas didn't do nearly as well. Jesus couldn't hit the high notes, and Caiaphas couldn't hit the low notes. Maybe they should've switched?
That being said, it was still a fun romp, and Billycoy has me beat in the "starring in a musical" department, which I have never done, despite auditioning for Avenue Q. He even had two roles, as he portrayed both a soldier and a pimp throughout the play, which just shows versatility right there.
And I know this picture makes me look really fat, but hey, whaddaheck. Your moment of zen: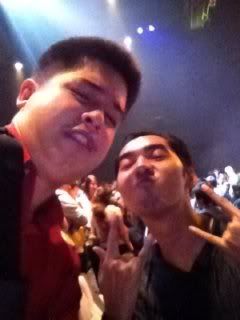 What's the buzz? Tell me what's happening!
Afterwards, Jen and I went for some yogurt for a nightcap, and I saw her off shortly thereafter. All in all, a pretty great time, and one that I hope I can do again soon.