.:After All This Time:.
Everyone knows how much of a fan I am of The Itchyworms, and how I've opened for them a few times before in the past.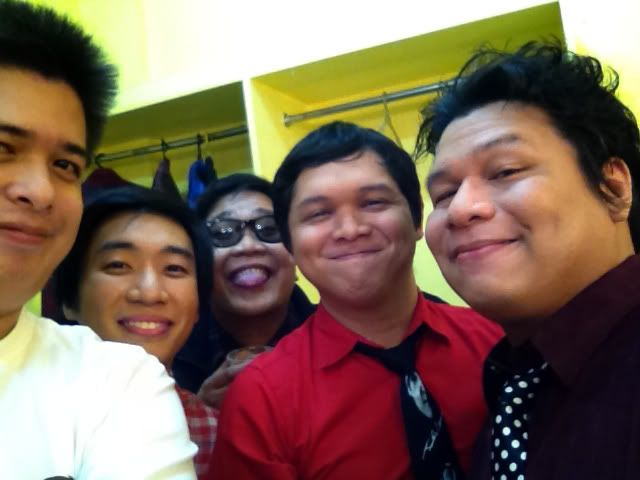 After all these years, this is my only picture with the whole band!
Well, recently, they came out with a new song, and it's called "After All This Time." The first thing you will notice about it is that... it's an English song. Surprise, surprise! They're actually bilingual! Well, just kidding. We've heard "Season Of Smiles" before... heh.
The second thing you'll notice is that apparently, Jazz is handling lead vocal duties for this particular song, and it's awesome!
Anyways, if you've been living under a rock filled with nothing but bad OPM, let's change that right now with their official music video...
Sniff. Something got in my eye.
Doesn't the song just hit the spot? It really hit home for me, considering where I am in my life right now, and it's been nearly four years, when I think about it. Still, what a wonderful song, and I can't help but be reminded of how many songs The Itchyworms have had that never fails to really affect me to my very core. To put it in the vernacular, nakaka-antig ang mga kanta nila.
So. I checked online for lyrics and all that. Guess what? There were none! Since I was willing to keep listening to the song on loop anyways, I decided to take matters into my own hands, so with
all due credit to Jugs, Kel, Chino, and Jazz, here goes nothing...
After All This Time
by The Itchyworms
Walkin' away
From what I felt would never end
Lookin' okay
But deep inside, I'm lost in time
It's never over
What I feel for you won't die
We're all getting older
But my heart keeps asking why
Refrain:
'Cause I've thrown away my lucky stars
And my wishes don't come true
I've been lookin' up to heaven
While I'm cryin' over you
'Cause I can't forget the good times
We've had when you were mine
I just wonder if you need me still
After all this time
I just wonder if you need me still
After all this time
You turned away
I called you back, but it's no use
What can I say?
Now I know I've got nothing to lose
Sometimes I still miss you
I just wanted you to know
I can't be without you
'Cause my heart never stopped, I just had to give up
Repeat Refrain
Bridge:
I wanna know when you stopped tryin'
You're part of all that I've been through
Were all these years of hopin' for you just a waste of time?
'Cause whatever I do
(Whatever I do)
It's no good without you
(Insert rippin' guitar solo here!!!)
So I've thrown away my lucky stars
'Cause my wishes don't come true
(Wishes don't come true)
I've been lookin' up to heaven
While I'm cryin' over you
(Cryin' over you)
'Cause I can't forget the good times
We've had when you were mine
I just wonder if you need me still
(Wonder if you still need me still)
Wonder if you need me still
After all this time
(After all this time)
After all this time
(Time)
After all this time
(Time)