.:Project 52 2014 (10/52): Sinta:.
Pag-ibig ko sa iyo ay tunay at totoo...
Last week, I was fortunate enough to actually find myself watching "Rak Of Aegis" on its gala night, thanks to my old friend, Ren Aguila. I got there, ran into several people like Jazz Nicolas of the Itchyworms, and even a few other big names in the Philippine music scene, such as Ogie Alcasid and Gary Valenciano, who apparently attended a meeting for artists immediately before the play.
But the highlight of the night would have to be the fact that Jose Mari Chan was also in attendance - and it was nowhere near Christmas!
Singtamis ng wine, singtatag ng sunshine...
"Rak Of Aegis" really rocked hard that night, and I couldn't help but resist the urge to sing along to the songs throughout the night, as was requested by the theater voiceover before the play began. Considering that this film was originally just a joke or meme on Facebook before it ended up becoming reality, it's good to know that someone liked the idea enough to really make it happen, because Aegis's discography just lent itself perfectly to a powerful performance all around.
The cast was, in a word, perfect. Every single performer onstage was appropriate for the role they were playing, and it was clear that they were adding little touches here and there to the play as current events that could not possibly have been referenced a month ago when the play's run began made its way into the dialogue, such as "foods" and another recent thing that hit the news just that day, like Enrile's wife or something. I don't want to spoil anything and I don't really want to get into the nitty-gritty of the plot, but it was lighthearted but very heartwarming at the same time.
Tunghayan mo sana ang aking pagsinta...
That night, there were so many ships to be shipped: Tolits x Aileen, Kenny x Aileen, Kiel x Mercy, Kiel x Mary Jane, and maybe even Kenny x Jewel. It was love in the time of Yolanda, as it were, what with the play set in the middle of a lengthy flood afflicting a small town.
Truth be told, I was surprised by the set PETA ran with, because I didn't expect it to be water-filled. When I initially sat down to watch the play, I thought that I was looking at glass, but it turned out to be water, which added to a kind of theater magic that I have probably never seen before, given my limited experience with the medium.
Langit ng puso ko, oh ang pag-ibig mo, sinta...
Funny and endearing, the play was amazing from top to bottom, and of course, the cast handled themselves exceptionally well as they sang very familiar songs from Aegis, including "Luha," "Sinta," "Basang-Basa Sa Ulan," and even "Christmas Bonus." The songs really shone throughout, with their lyrics being changed here and there to fit the context of each key scene better, and while the conflict and drama within the play took a backseat to the musicality, I don't think I would complain about that when it's supposed to be a feel-good experience in the first place.
But next thing I knew, my eyes seemed to deceive me when I saw there was more after the musical ended. Okay, not really. I knew they were going to be there. But still...
Nananaginip nang gising, nakatulala sa hangin...
Aegis showed up. Aegis!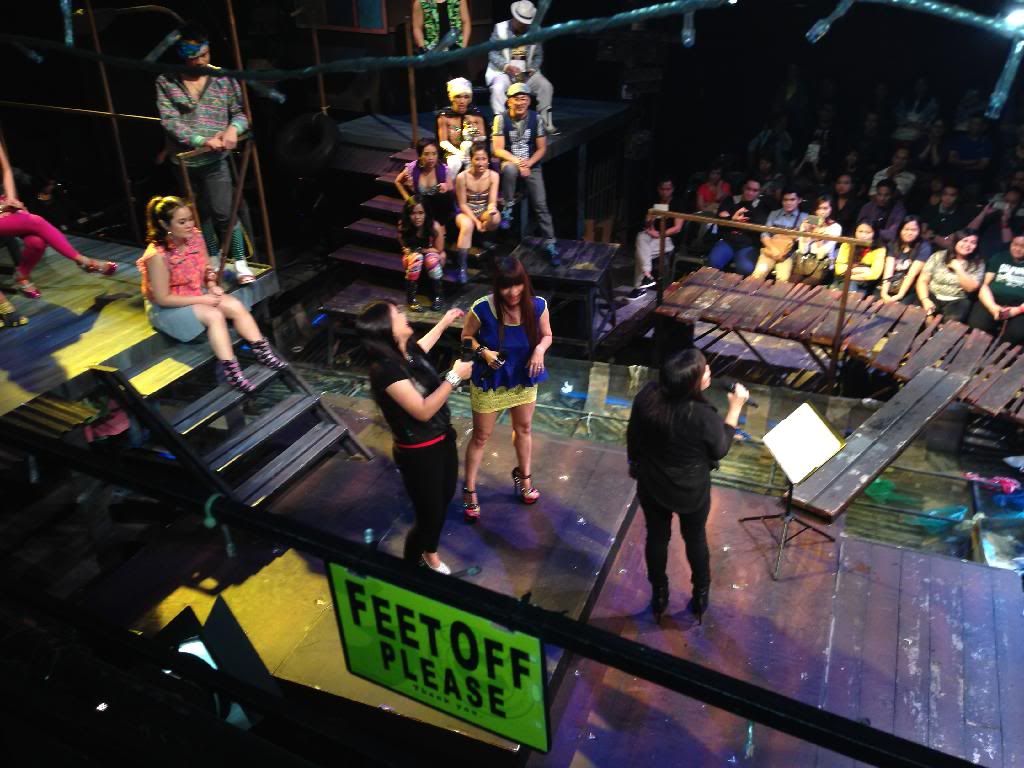 Pictured: Aegis!
I knew they were going to perform that evening, but it really was a treat to see them in the flesh, and belt out their songs like there was no tomorrow. One would have to admit: there's something unbelievable about the pipes on these ladies, given how difficult it is to sing these songs non-stop, which they've been doing since I don't even know when.
Nagsusumidhing damdamin, kahit halik lang ang akin...
The audience was so appreciative of Aegis, and why not? It doesn't matter how snooty you may be and how much you may despise OPM. It doesn't matter how "bakya" you might think their lyrics are. Aegis has talent. They can sing, and boy, like how!
In fact, it was so raucous already that the theatre people didn't bother stopping anyone from taking videos of the Aegis performance, as nearly every person inside PETA theater felt compelled to bring out their cameras to just capture a piece of these amazing performers, as they gave their all to everyone watching.
Nababaliw ako sa'yo, bawat silakbo ng puso ko...
Aegis was awesome, and so was Rak of Aegis. I heard they're expending the play's run a bit more, and it's good that they did, because this is a musical you really have to experience, and I say this as someone who's not particularly a theater person!
A shame I couldn't find Jose Mari Chan after the show, though. But hey, at least, I ran into Earl Ignacio!
"Rak of Aegis" was a masterpiece. it really was. Here's hoping for a second run sometime in the near future! In the meantime, I will be waiting...
Sa isang sulok na lang, umiibig sa 'yo, sinta...