.:Gone, But Not Forgotten:.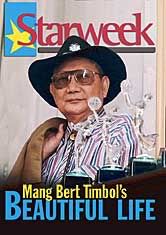 Mang Bert Timbol: 14 June, 1931 - 20 November, 2010.


This year was one of the most volatile years of my life, and it's been so hard to stay positive in the face of all the adversity I've ended up dealing with in 2010. I tried constructing a list of people I wanted to be thankful for this year, the way I did in the past how many years before, but for some reason, this year just wouldn't allow that. I think the most glaring change is that some of the people I was most grateful for last year are currently people I wish I never even met. When you hit that kind of resentment, it's hard to be all thanky-thanky, but I feel that throughout the year, there was only one person I could not in good conscience not thank at the end of 2010.

I really have only one man to be grateful for this 2010: my grandfather, Norberto Timbol.

In my life, there are two men that I admire more than any other men: my grandfather, and Rick Astley. Now, while I may have attended Rick Astley's concert with front row tickets two years ago, I would've certainly done the same for my grandfather if he ever had his own concert. Besides, seeing how I have no musical talent whatsoever, it should be pretty obvious that despite all my adulation for Mr. Astley, even that pales in comparison to how highly I think of my grandfather.

When I was about five years old, I was struck down with a severe case of dengue, and found myself in critical condition while laying in the hospital. It was probably only one of two times I could recall where I was truly in mortal danger, and my entire family knew it.

My grandmother would always tell me this story when I was older: that my grandfather prayed hard and offered his life in exchange for mine. He prayed that the Lord take him in my place, just so I may survive. He prayed fervently, and it seemed God heard him: indeed, I survived.

But see, the Lord was good, and He ignored the other half of my grandfather's prayer for the next 22 years, until finally, on 20 November, 2010, my grandfather passed away due to complications with his nine-year long bout with cancer. He was 79 years old.

Lolo Nor was larger than life to everyone else around him, but to his family, he was the best and most down-to-earth husband, father, and grandfather anyone could ever know or hope for. The fond memories I had of Lolo Nor are countless, and I will never forget that his kindness and gentleness for his family inevitably shows even for the very people he works with throughout his phenomenal career, both in Unilever and in MASSCOM.

He was an institution in the industry, and only in his passing did I personally realize that this was truly the case, seeing some of the movers and shakers of the media industry present day in and day out at Lolo Nor's wake, when a calculated PR move would have simply required a single ten-minute visit instead. When the industry mourned the loss of Lolo Nor, they truly mourned for the loss of a great man. As someone who looked at Lolo Nor with the all-too casual eyes of familiarity, it struck me that as great as I thought Lolo Nor was, the man everyone else knew as Mang Bert was even greater than I could begin to fathom.

And with that realization of how devastating the loss of this man was to so many people who have known him even just in passing, one could only imagine the sense of loss his own family felt. I realize that everything I say right now may come off as cliché, but they are every bit true and every bit applicable. The devastation and the grief that washed over us was powerful and almost paralyzing, but with the strength of will and character Lolo Nor showed us throughout his life and until his very last moments, we couldn't but follow his example and stay strong for each other. He would have wanted nothing less.

I'm grateful I never missed out to tell my Lolo Nor how much I loved him and appreciated him for the influence he has been to me. My insatiable appetite for knowledge and wisdom, my drive and stubbornness, all these qualities were born through his encouragement of me and my dreams, always reminding me that whatever I choose to do for myself, I should aim to not give myself room to regret the choices I would take.

I guess my greatest regret was that with his passing, he would never see me march onstage to receive my Masters Degree. And though I turn my back on the academe with that realization, I won't turn my back on the lessons my grandfather has taught me in the 27 years of my life that he spent with me. I always joke that "bata pa lang ako, apo na ako ni Lolo," but it is less of a joke and more of a testament of his drive to be the best in whatever he put his mind and heart into. From the moment he could call me his grandson, he resolved to be the best grandfather he could ever be, and he succeeded with flying colors. For that, I cannot thank him enough.

Before he passed, he made my grandmother swear to him that she would never put him on life support, no matter what. She reluctantly complied, but knew that he was ready for this moment for years. Lolo Nor lived a full life and was not afraid for himself in facing the other side: he was a great man with great faith. He knew he would be in a better place, and we know that, too. The cliché's always go: it's not the year you were born or the year you passed, but the dash in between. We do not mourn for him, but for ourselves, bereft of such a great human being. Whatever you may call them, they are absolutely true. We could only have wished to have more time to spend with Lolo Nor before his life's mission was over. We know he lived a wonderful life. In spite of all that, the grief that overwhelms us reminds us just how much he loved us and how much we love him.

He was brilliant, he was passionate, he was steadfast, and he was truly one of a kind. He proved to me that you're never too young or too old to learn something new, and it doesn't matter how much you think you know, it's how much you don't know that would keep reminding you how much you should learn to live life rather than to let it pass you by.

You know, if I could ever be half the man my Lolo Nor was, I think I'd end up pretty okay already.

Godspeed to you, Lolo Nor. We miss you, but we know that you will always remain with us in our hearts, a constant inspiration and beacon to all of us whose lives you have touched. Thank you, we love you, and you will always be in our prayers.