.:Fluctuation!:.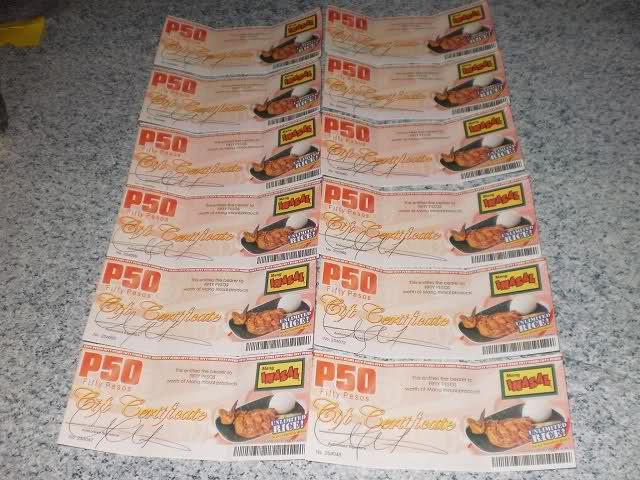 Mang Inasal GC's rule.
So yeah, sometime last year, I received a bunch of Gift Certificates from Mang Inasal, and, as you could see from the pictures here, they kinda don't have any expiration dates on them. I don't really know the whole deal about the laws regarding GC's and expiration dates, so I won't get into that, but I think it should be pretty obvious that if the GC doesn't have an expiration date, then if the GC is in good condition when you take it to the restaurant, it should be honored, right?

Well, that's not what Mang Inasal Annapolis thought, when I showed up at one of their branches to redeem my GC's. In fact, they told me that they had a meeting where they introduced new GC's, and as such, wouldn't honor the ones I had with me.

Quite frankly, I was irate, because that meeting obviously didn't involve any of the people holding the GC's, to begin with. Who told us that there will be new certificates, and the old ones wouldn't be honored any longer? Again, I repeat: there were no expiration dates on the old GC's, so there was zero indication that I had to race against time to redeem them.

I was rather annoyed, and was contemplating if I should go out of my way and write an entry to just slag Mang Inasal altogether. I'll give you a hint: that isn't really my style, so no, I decided that wouldn't be the best thing to do. While ruminating on all this, I ended up at Mang Inasal in Greenhills. I thought to myself I had nothing to lose since I already lost my temper, and walked in anyways.

Lo and behold, the Greenhills branch, practically a stone's throw away from the Annapolis branch, went ahead and honored my certificates like they should've in the first place. And that's really the only reason I wrote this post, instead of just keeping my gripes about Mang Inasal Annapolis to myself: I just wanted to commend the Mang Inasal Greenhills branch for knowing a thing or two about satisfying their customers. Which is precisely why I made sure to buy well beyond the GC's, and didn't bother asking for the change, as my little way of thanking them.

So yeah, don't expect me to ever bother going to the Annapolis branch ever again. Not that it would matter in the end, since they're all owned by Jollibee now, as opposed to being franchisees and whatnot...