.:Film Review: Unofficially Yours:.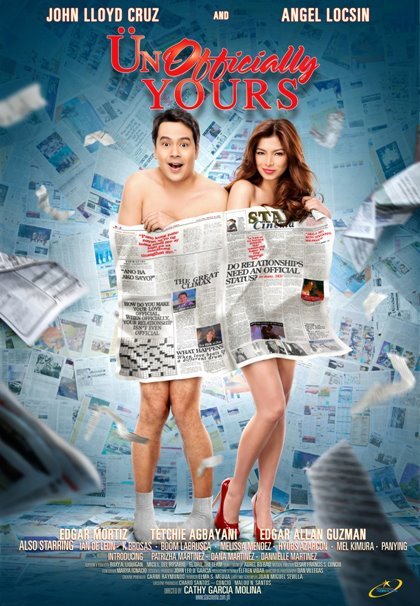 JLC got fat enough to arguably have shown more skin than Angel Locsin. Literally.
Unofficially Yours
Mabuti pa ang TV. At least, ke low or high, may definition.
SPOILERS AHEAD!!!
Following in the tradition of "No Strings Attached" and "Friends With Benefits" but given its own Filipino spin, "Unofficially Yours" stars the powerhouse tandem of John Lloyd Cruz and Angel Locsin, combining the boy-next door with the femme fatale in a sexy but cute package that will probably turn out to be one of the best movies this year, both in terms of quality and commercial success.
The movie starts on a clumsy yet sexy note, with Mackie (Cruz) and Ces (Locsin) meeting at the beach and engaging in a one-night stand. From there, coincidence kicks in , and Mackie ends up becoming Ces's mentee in the Manila Bulletin, where the former tries to acclimate himself to his first love, journalism, after having pursued dentistry all because of his ex.
The setup seemed pretty clear from the get-go: they were friends with benefits. No commitments, no expectations, no hassles. Unfortunately, this wasn't enough for Mackie, who was a hopeless romantic by nature. As is, Ces already broke her own policy of not going out with officemates, but as the (non)relationship gets deeper and deeper, you realize that at some point, something's got to give.
While it's sappy and cheesy towards the end, the movie is still a very strong effort by Star Cinema, and something I don't regret watching at all. The characters were relatable, Patrick Garcia's smarmy cameo was a pure genius and a great character moment for Mackie, and when the weakest link in your ensemble cast is already Angel Locsin, that says a lot about how stacked the acting talent is in this film.
I watched this with a very old friend of mine, and we had a long discussion about things afterwards, and it led me to thinking about a lot of different things. I found it funny how much I could relate to Angel Locsin, especially when it came to her disdain for having office relationships. Those who know my situation would probably know why as well. JLC's hopless romantic character is also something I can totally relate to, especially when he said that loving someone who may not even love him back may mean that he will get hurt, but he's ready for it. It's nice to find someone worth risking getting hurt over.
It'd be nicer, though, if you ended up being worth the risk of getting hurt over, too. But you can't have it like the movies all the time now, can you?
Go watch this movie, unless you have no soul or can't understand a word of Filipino. It's a keeper.
Fun Rating: A+
(It was a rom-com by Direk Molina. Hard to go wrong with that.)
Critical Rating: A-
(The storyline took a turn for the predictable and schmaltzy at the end, but I'd prefer that over a sad ending.)