.:Madness? This Is Plurkantadia!!!:.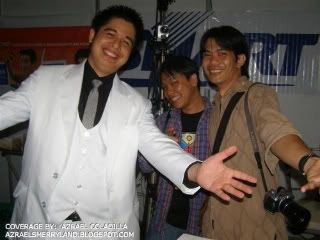 Walaaaaaaaaannnngggg Tulugan! (Image obviously courtesy of Azrael…)


It started during last Sunday's Philippine Blog Awards, where a ton of people were ribbing me that I looked like German Moreno because of the white suit. I played it off, and rode with the jokes, because hey, I'm one of the first people to laugh at myself majority of the time.

Then, quite independently, Jher found himself incredibly hit by LSS for Sheryl Cruz's song, "Mr. Dreamboy".

It was two independent things coming together to produce what turned out to be one of the most hilarious, unexpected moments in my history in Plurk…

You see, since last Monday, after a long time of having "Rick Astley" as my nick in Plurk, I decided to ride the wave of the white suit of doom, and rechristen myself as "Kuya Germs".

So last Wednesday, imagine my surprise, when I was greeted by Ana Roces (Aileen), Donita Rose (Micamyx), Abby Viduya (Poytee), Billy Coyford (Billycoy), and at least four people who decided they wanted to be Jovit Moya (Arpee, AJ, Kring, plus one other person whose name escapes me.). There were a ton more, including Smokey Manoloto (Markpoa looks like him IRL!).

The madness didn't stop there, as it became a day of spewing trivia and acting sorta in character for everyone involved, and I'm sure I missed a few other stars as well, but let the screenshot courtesy of Doc Tess immortalize this one-day event…



That's Entertainment!


The very next day, we were treated to a slightly less coordinated effort. We had bold stars and Ang TV stars treating us. Because of the ADMU-DLSU game, I changed to "Norman Black" and completely ignored either trend, although people were disturbed to imagine Kuya Germs becoming a bold star.

But come Friday, the insanity came to a rumbling crescendo when the Plurk users switched names and avatars with each other. It was insane! You couldn't tell them apart without checking closely to be sure it was them by hovering your mouse pointer over their name.

What especially made this rock was that I took the identity of the one and only Mr. A, with much wailing and gnashing of teeth from my Plurk friends, some of them almost unfriending me because they thought Mr. A was suddenly on their timeline. It became even more amusing when the people started "worshipping" me for being Mr. A, and when the real one logged in on Plurk for the first time, precisely on the very day I decided to borrow his identity.

I had to take a loooooonnnggg shower after that one, but something that happened in the SMB Oktoberfest party for Bloggers put me right back into the thick of things… heh.

All in all, Plurk has been nuts the past few days, and who knows when someone would suddenly come up with another crazy theme or something, right?