.:The Philippine Blog Awards 2008 Megapost!:.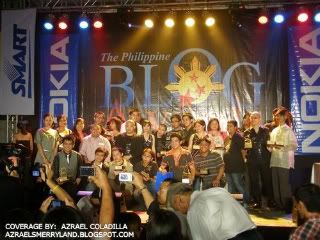 Image courtesy of Azrael.



With the aftermath upon us, and everything else leading to the event finally behind us, now's a good time for me to gather my thoughts, shove aside my posts on the TSC Mentalism Workshop and my last gig to the side (As well as my thesis. Again. Grumble. Can't help it.), and write about the Philippine Blog Awards 2008.

As is the case with all my mega-posts, this will be as detailed as humanly possible, and will be written from a very biased POV: mine. So pretty much, while I will be more than happy to refer you to other posts when necessary, but for the most part, since my POV is limited to what goes around my immediate vicinity, you can't expect me to cover any "internal dialogue" outside of my own. =P

Without any further ado, here… we… go!

The Year That Was (Last Year): Philippine Blog Awards 2007

The infamous prayer controversy was probably the most heated topic of those awards, almost (Emphasis on almost) overshadowing the fact that stellar bloggers such as Shari Cruz were among the first winners of the Philippine Blog Awards. There was controversy (Just like any awards show! Was this even a surprise?) that year, and I missed out on most of it, because I was completely out of the loop during the awarding month.

Last year was of note to me, because I was supposedly going to host the event, but then, they couldn't reach me at all, since my phone was stolen, so nobody could get to my Globe phone. Nonetheless, I made certain that this year wouldn't yield the same result.

For those keeping track, yes, that's Benj, this year's winner of Best Personal Blog, who was up in arms over the prayer. It's easy to see he wasn't the event's biggest fan because of the prayer, so that alone should give you a hint about the judging process by the time we get to a specific sidebar I have to breach on in this post.

This Year's Changes: Bigger And Better

After taking in suggestions from various bloggers, the Philippine Blog Awards 2008 increased their awarding divisions not only to accommodate more blog niches, but even individual posts. As early as around March or April, I was already asked by one of the organizers to host the event, and I was all too happy to agree. The event was initially scheduled on July, then moved to August, then finally to September.

Aside from having more categories (Again, see the main Philippine Blog Awards site for the detailed list.) and individual posts on the lineup, several special awards were likewise given, and were obviously subject to different rules given they were, after all, sponsored awards.

From the RCBC auditorium, the venue was instead going to be in One Esplanade near Manila Bay. The event was going to be hosted not by one, not by two, but by four excellent hosts, working in tandems…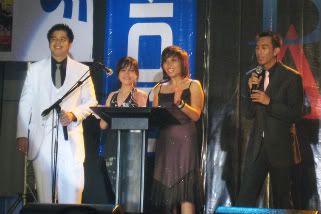 Image courtesy of Let's Go Sago.


There were a lot of changes from the first Philippine Blog Awards, and most of them were certainly for the better.

The Road To September 21: Arduous

Normally, when you go hang out with bloggers, it's a generally light-hearted affair. But as the event drew nearer and nearer, you could almost literally see the organizers sweating blood. The logistics, the planning, the judging, everything had to be done right. If you can't have perfection, aim for it, still, after all, and so I would run into an exceptionally harried Juned, a very concerned Tita Noemi, and an epitome of grace under pressure in Gail. Jayvee was pretty much the only guy who looked completely unaffected, but then, I hardly saw him.

Planning was steady. The volunteers for the event would meet regularly and talk about various aspects of the program that needed to be addressed with. There was nothing half-baked about this effort. The screening committee had to filter through countless entries and nominees, and cut the list down to ten for the judges to go over. Needless to say, it was a long process that took many sleepless nights, considering how much time it would take to go over hundreds of nominees from all walks of life and all kinds of temperaments.

Obviously, you can't please everybody. At the end of the day, though, this was a very transparent, democratic process, and all anyone had to do was to actually read and they'd understand how the system worked. It wasn't perfect, but imperfection does not equal carelessness or petiks. There will always be snags here and there.

During the press launch at Red Box Greenbelt, I hosted it and took the time out to hang out and talk with a few of the organizers. The lack of sleep was taking a toll on them, but they were doing this labor of love to the best of their abilities, no matter how difficult it was.

Not to mention they tolerated my dubious videoke skillz, which is an even bigger plus for them, as I went ahead and sang Rick Astley, High School Musical, and yes, Salbakuta, after the press launch.

So after the Monday press launch last September 8, the stage was set for the event. With many last-minute changes meant to improve the program, it was admittedly difficult to make everything fall into place at an earlier point, but it was inevitable.

Glitches: Such Is The Nature Of The Beast

A mild tempest occurred when Benj noted that he was nominated for "Best Commentary Blog" despite having what he mainly considers a personal blog. Upon closer investigation, it turns out that a glitch in the system made it so that anyone whose blog was already nominated in one category did not become nominated in another, and since Personal Blogs were the last ones to have nominees, a lot of eligible nominees were eliminated from consideration.

A quick overhaul was made, and in true buzzer-beater fashion, the official nominees for this particular category were handed out about 24 hours before awarding.

At this point, it becomes clear that no "moving" of categories actually occurred. Blogs are eligible for more than one category, after all, if their blog warrants it. That much should be clear, and any ignorant comments contrary to that should be taken with a proverbial grain of salt. Again, all it takes is to read. Something that, under normal circumstances, we are supposed to assume bloggers are capable of doing.

A Note On My Co-Host: Why Tiffany Chua Rocks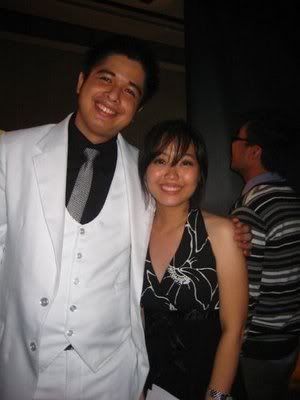 Image courtesy of Nina.


Tiffy is not only one of the Manila Foodistas (That is, one of the Top Ten Emerging Influential Blogs Of 2008.), but she is a speed cuber: she can solve a rubik's cube in under one minute, a feat I can manage in thirty seconds… and five minutes. =P

So we know she's smart, we know she's witty, and we know she's a sight for sore eyes. What I felt was there that most other people may not have realized is that she's a natural as a host, so I pushed for her as my co-host, knowing full well that she would definitely acquit herself splendidly.

Of course, our fellow co-hosts AJ and Kring were equally (If not more so) sensational, and if you don't believe me, why don't you sample our mad hosting skillz here, courtesy of Azrael?



Check out more videos in Azrael's video coverage of the Philippine Blog Awards!


Needless to say, for a first-time host for a big-time event, she did marvelously. Was there ever any doubt? I'm sure Arpee would agree that Tiffy was a great choice to host that night…

The Main Event: Unstoppable!

On that day, I was going to be exceptionally worn out, as I actually came from a magic show in Taguig, as Jay Mata and I performed for Balloon Creations before heading out to the Philippine Blog Awards. The initial plan was that we were going to be part of the ceremony as a short intermission, but clearly, with 36 awards or so to give out, any Kel and Jay performance would have to be set aside for the after-party, and given three hours of non-stop magic in Taguig, we were all too happy to oblige.

I got there and found out that I was partially written out of the script in anticipation of the fact they knew I would arrive late, but surprisingly, I arrived about ten or so minutes before showtime. Despite that, I still wasn't in the opening spiel, which was fine and dandy. I was going to stand out like a sore thumb since all other three hosts were in black, and I, being one half of Kel and Jay, chose to have suits only in bright and light colors, as you must've noticed by now.

I was ribbed about my suit, but let's face it: I knew I could get away with it. Call me Colonel Sanders or Brother Mike or John Travolta or Kuya Germs, but I like the effing suit, so sue me.

Keynote Speaker: Senator Mar Roxas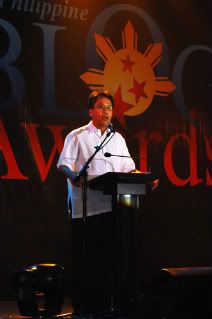 Image courtesy of Phoebe.


While I won't go right into the meat of Senator Roxas' speech, I just wanted to point out that it was good of him to remind the people that last September 21 was the anniversary of the declaration of Martial Law. Whether or not you agree with the Senator's points, it's imperative for us to never forget that day, and to always be vigilant.

I was born Marcelle Michael Bertrand Fabie y Timbol, two of my three names given to me in honor of Ninoy Aquino, who arrived here in the Philippines after exile as "Marcial Bonifacio". He was shot dead at the Manila International Airport on August 21, 1983, about a month and eight days before I was born. Though I never went through the hardships of Martial Law, I'll be damned if I stood by and let it happen to this country again. I believe very strongly in the freedom of expression, and I may not agree with what a lot of people around me have to say, but by God, I'll defend to the death your right to say it.

And that's my political sidetrack for the day. Heh.

And, oh… this: a freedom wall, that represents what blogging is all about, and how as long as the bloggers exercise their right to be heard, we would hope to never again have to face the horrors of Martial Law and the suppression of Truth…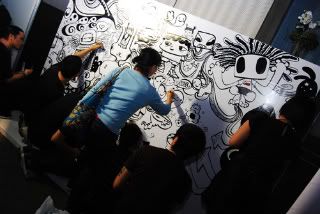 Image courtesy of Phoebe.


The Winners: Congratulations To All Of You!

Most bloggers have already given a comprehensive list of winners, and one of the first was of course, Jester, who won two awards himself, and was with a "trophy" that night, as well (Ask him about it, I'm not at liberty to tell.).

But then, aside from sneaking in a Rick Astley reference, there were some winners who really jumped out to me, and I was exceptionally happy for them, to say the least. While I still don't know if it's "cate-gory" or "ca-tegory", I was happy to see some of the people I was rooting for get the nods, such as Sir Martz and Doc Tess. Of course, I was especially pleased for "Boy Blogger of the Year" Cokskiblue for winning as well. Tiffy and I were bantering and I was on the receiving end of her ribbing, but she was funny, nonetheless.

Of course, I was exceptionally happy because Arpee won a special award from Blogbank: "The Blogger, not the Blog" award, which really just underscored why everybody loves Arpee…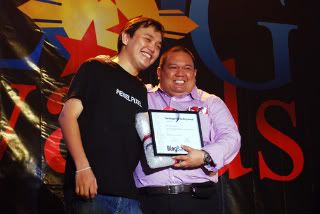 Image courtesy of Phoebe.


And yeah, don't let anyone tell you that you don't deserve the award, Arpee! It couldn't happen to a nicer guy!

It was also amusing to note that there was a divided audience when I mentioned how ADMU was beating DLSU in the Game 1 UAAP finals during that night…

Of course, when we were finally getting to one of the hotly contested categories (And the only one I was hoping to get a nomination in but didn't.), there was much anticipation who the winner of "Best Personal Blog" would be. Tiffany and I were rather clueless, since Arbet was handing the results to us only a second or two before we read them off, and we were mostly too bedazzled by Fritz's special-effects and the intro videos featuring people such as yours truly, AJ, and Byahilo.

I looked at the sheet of paper, and I was stunned… is this even possible? The most vociferous critic of last year's awards was now the winner of the Personal Blog division?!?

"The winner… you just have to thank God for this… Atheista.net!!!"

And with raucous applause, people gave their approval to Benj, one of the most controversial but deserving winners that night: the very same guy who was almost not even nominated in the category because of a system glitch. It was an act of God, no less (I'm sure Benj would disagree, though. Hehe.).

And with a very affectionate, "I love you mom!" Benj graciously accepted the award.

Other special awards were likewise given out by AJ and Kring, but I especially took note of the stuff that transpired when Arpee and Benj won. I ribbed Doc Tess that I was more doctor-looking than her that night…

All in all, well-deserved awards. If you seriously question if a winner deserved their award, I dare you to take it up with the organizers. If not, then obviously, you're just speculating on empty.

The After-Party And The After-After Party…

After the whole thing, the whole night was simply a night filled with even more celebration. Latecomer Mr. A showed up and found out that I ribbed him during the opening of the show, and discovered that we were intending to make him a host, since we anticipated he'd gatecrash anyways.

Some TV networks even covered the Blog Awards, and we are treated to a nice little feature in the news programs…




Also as expected, Jay Mata freaked people out with his performance during the after-party, and I gave them a bit of a teaser with the Shanghai Shackles, all the same.

I'm a tad saddened I got there late, so I missed out on a Cliquebooth session with my three co-hosts… aww…

Having said all that, it would be an injustice if I tried rattling off the bloggers whom I remembered that night one by one, so I'll just let Jehzlau do a nice little roundup of the different people present and had something to say about the Philippine Blog Awards. It was a great event, overall, and I must say that despite some disturbing pictures, it was a really great event, and a job well done for all the organizers, volunteers, and sponsors who made things possible.

After giving out a pair of Nokia phones, some people then decided, in the tradition of the classic MLQ Plurkfiesta tradition, to head on to President's (Oooohhh…) in Manila Bay, and have a celebratory dinner. After being likened to Colonel Sanders, Bro. Mike, and German Moreno, somebody pointed out that I'm wearing either a mafia getup when I don't have the coat, or I'm actually auditioning for Saturday Night Fever. Much fun to be had for everyone, neh? :P

Thanks for the opportunity to be a part of this amazing, amazing event! Here's hoping for an even bigger and better Philippine Blog Awards 2009!

In the meantime…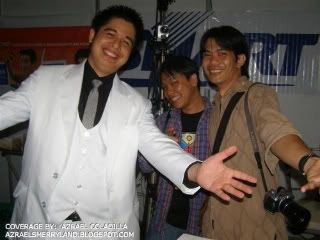 Walaaaaaaaaannnngggg Tulugan!