.:Guesting on R and A... Again:.
Well, this will be my third guesting for Ruffa and Ai, as we'll be taping the episode this coming Wednesday, but I'm still kinda left wondering, really, as to what to do, since it's mainly kid-friendly magic I'm supposed to perform, for none other than Santino of
May Bukas Pa
fame.
I'm a bit excited, but currently, I've no idea when they'd be airing the episode. Most likely Thursday, I was told.
Well, hopefully, Santino would enjoy the performance for his birthday. It should be amusing, to say the least, although I'm honestly a tad nervous about it all.
.:October 23: The Sequel To Laughs And Gasps, Coming Up!:.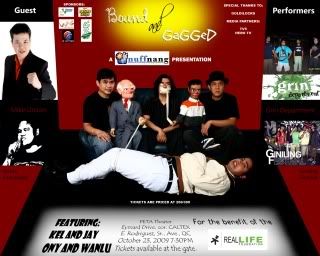 We're baaaaacccckkk!!!


They said it couldn't be done, but we sure showed 'em.
Hot on the heels of last year's successful show, "Laughs And Gasps", our heroes of mind and magic, Kel and Jay, are back for a second helping of mirth, magic, and mentalism, but this time, they're coming back with more than just a little bit of help from their friends.
"Bound And Gagged" is coming this October 23 in PETA Theater, featuring the unique stylings of Kel and Jay, and a special showdown between the Ventrillusionist, Wanlu, and the country's Premiere Ventriloquist, Ony Carcamo. Special guests include the Comedy Cartel's Richie Fernandez and Mike Unson, as well as special musical guests Project 2 and 90's legend, Grin Department.
This event will feature Kel and Jay demonstrating death-defying escape acts, paying tribute to some of their greatest influences; including Copperfield, Houdini, Derren, and of course, Penn and Teller.
If you're interested to help make this event a success, you can reach us via marcelle.fabie@nuffnang.com for any queries about sponsorship packages and the like.
Ticket prices are currently pegged at 200-300 per ticket depending on if you're seated at the balcony or orchestra, and proceeds will be donated to
The Real Life Foundation.
As always, tickets are available at the gate.
We're back, and we're upping the ante. Catch you on October 23!