.:Book Review: Undisputed, By Chris Jericho:.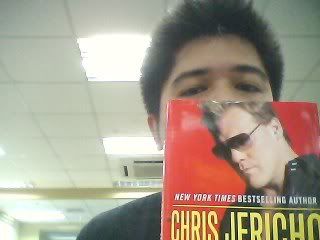 The one and only copy I found so far! This is so froot!
Y'know, with all the books I've read lately, I feel a bit guilty that I've only ever bothered to review Chris Jericho's books so far. Considering I've read the books by Bret Hart, Ric Flair, and Mick Foley (Yes, all of his wrestling-related books.), as well as two books about Jordan, and one about Bird and Magic, it's a bit interesting that it's only Chris Jericho's stuff I've actually featured on my blog, aside from your standard best-sellers like Dan Brown and JK Rowling.
And no, I don't feel an ounce of guilt that I've gone from reading
Hardt and Negri
to reading Hart and Foley. Not everything I spend time on has to be some kind of navel-gazing exercise into existential angsting or deconstruction or some haphazardly post-modernized Communist Manifesto.
Maybe I'll correct that someday, but for now, I'm pretty happy just being able to actually do a book review for a change of pace, and this book is a doozy. Ever since Mick Foley's "Have A Nice Day," books by wrestlers have been a dime-a-dozen, most of them being ghostwritten after the wrestler spills his guts to a recorder, leaving himself at the mercy of his writer if his story would be treated in any way different from how he envisioned it to be.
It's safe to say that Chris Jericho didn't follow that trend, although there's nothing bad about having Ric Flair's story told through the lens of his ghost writer. Like Foley and Hart, Jericho's books have a unique stamp of authenticity on them, and they have all been best-selling authors on top of all that. When Jericho wrote "A Lion's Tale," he himself predicted it would be the first of three books from the Ayatollah of Rock and Rolla, so there was a lot of anticipation for his sophomore writing effort.
It took me a while to get my hands of "Undisputed." I was going to and from Fully Booked branches for about a month before a solitary copy finally dropped off, and I snapped it up right away. While a paperback version would've been cheaper, I wasn't inclined to wait six or so months for a copy of a book that has had tongues wagging and people like Larry Zybysko and "Superstar" Billy Graham frothing at the mouth over the supposed disrespect Chris Jericho has given to them.
I also wanted to see Jericho's actual thoughts on the unfortunate events behind the Chris Benoit incident, and his very candid opinions made me feel for him all the more. It was done in perfectly good taste, and it neither sensationalized nor glossed over Chris Benoit's life and times. It was a friend who is, like everyone else, asking himself what went wrong.
This book covers the moment Chris Jericho first entered the WWE to the very beginning of his second stint with the company. His road stories and his manner of telling these stories are funny, upbeat, and irresistibly charming. The way he details backstage politics as it happened right in his face, you would feel every ounce of injustice that seemed to be hurled his way, or every shot in the arm he got as if you were being patted on the back yourself.
I don't know which parts in this book I'd say were my favourites, but I had a very soft spot for any time he told a story that I know about because I watched the particular show in question, as well as his brushes with (other) celebrities, especially the one where Axl Rose, during better days, actually shot the breeze on a local radio station much less like a rock and roll icon and more like a true-blue rock and roll fan. I never liked metal music, but I admired Fozzy's dedication to their character for their first two albums, no matter how difficult it was for them to be taken seriously because of it.
As a huge wrestling fan, I marked out every single time Jericho wrote about his interactions with the Rock, Austin, Foley, and Undertaker, but more so when I read about the one time he managed to take Goldberg down. I was especially impressed by his candor when he outright said his win against Goldberg was a fluke and a rematch would probably result in him getting ripped to pieces by the man. At no point did it seem like he was posturing, even during the times where he would talk himself up. It felt like the story of a man who believed in himself enough and knew himself well enough to know when to hype himself up and when to eke in a word of self-aware honesty. That's very rare, and that's very commendable. In fact, if you read the book yourself, the best word to describe Mr. Jericho would be "froot." He is froot personified.
I don't think giving a review of Jericho's book could do it the kind of justice of simply reading it. If you're a fan of wrestling, or if you're just a fan of an honest writer talking about his very interesting and semi-charmed kind of life, then "Undisputed" is an amazing read from cover to cover. I'd daresay it was even better than "A Lion's Tale," which is no mean feat, as I loved that book, too. Then again, I guess it's because I'm honestly more interested in Jericho's WWE career than most anything else he was doing prior to it, so even if overall, A Lion's Tale would probably win a lot more fans over, I related to Undisputed much more by default.
It doesn't really matter, anyways, because even if you think that Undisputed is merely half as good as A Lion's Tale, that'd still be pretty high praise for Jericho's writing, in my humble opinion.
Here's to hoping that the third book would have a day-to-day look at how Chris Jericho eventually wins the Dancing With The Stars show he's currently competing in. I'd almost bet on him making final three, at worst.
Buy this book if you even remotely like wrestling. I can assure you, it would be much better than "Adventures in Larryland."
Evaluation:
A+