.:Logical Fallacies 101 (Part 5 Of 6): Argumentum Ad Ignorantium and Slippery Slope Logic:.
And we cap things off with yet another doozy. Argumentum Ad Ignorantium is when someone doesn't know enough about something, yet draws conclusions based on it, regardless. Plenty of people form uninformed opinions, and then fall back on the silly catch-all that it's just an opinion, and
opinions are never wrong!
This kind of logical fallacy is very dangerous because a lot of people form very strong opinions about things they know nothing about, and then proceed to form their belief systems and rationalizations from this very shaky foundation. This leads to tragic results. Or hilarious results, if you're the type who loves yourself some Schadenfreude.
People who abuse Argumentum Ad Ignorantium are the people who make you wish that stupidity is illegal. Unfortunately, it's not. You will see that by arguing from complete ignorance, one ends up becoming wide open to a host of other logical fallacies, such as doozies like
jumping to conclusions,
,
straw-man arguments, and an
either/or fallacy.
Precisely because they don't know what they're talking about, they then form arguments based on their multiple misconceptions. In this particular example, she starts by making assumptions about the RH Bill
without reading the contents of the bill.
Pam here is relying on hearsay to guide her opinions, and from that point onwards, everything you say is headed down your very own slippery slope towards stupidlandia. Once you have sorely mistaken ideas to start your argumentation, then the conclusions you come up with are going to be every bit as misinformed as they are passionate.
At no point does the bill say "it's okay to have sex as long as you have condoms." In fact, sex education involves making it clear what responsibilities are entailed by the sexual act. Teaching kids about the birds and the bees using
age-appropriate material
is much better than teaching kids about it by borrowing pron from their classmates, which gives all the wrong ideas about sex.
Every single point she makes is then either an assumption made based on hearsay about the bill, or a slippery slope: a worst-case scenario being taken as the logical conclusion of a specific line of thinking.
For example, a common slippery slope story is "if you wake up late, you will miss class. If you miss class, you will overcut. If you overcut, you will fail class. If you fail class, you will not graduate. If you don't graduate, you will not find a job. If you don't find a job, you will be poor. If you are poor, you will die of hunger. So don't wake up late, or you will die of hunger."
What she is trying to do here is to talk about how corruption is present, so we shouldn't make this law happen, without realizing that if we follow this line of thinking, then we should
never
pass any law that involves public funds, because all of them are prone to corruption. She then compounds this by assuming that making Reproductive Health available would undermine parental authority when it's pretty clear that parents are at no point emasculated but rather supported through the RH Bill, to begin with.
The worst part is, she assumes the worst in people, and believes that the RH Bill will give people more chances to be sinners, a huge signpost saying, "Look! The Catholic Church has failed to tend to its flock! Now, we must remove choices from our Catholics so that they can't f**k themselves over! Literally!" The anti-RH advocates assume that people will choose what they (the anti-RH people, that is) merely perceive to be the wrong thing.
And, oh. Her argument about sperm cells = babies is also made of epic fail because this means that even each time you do produce a child, you have killed billions of other "babies".
By the way, sperm cells, even fertilized eggs, don't have shoes. So no, I can't put myself in their shoes. =P
Her conclusion at the end of her looong tirade was: the RH Bill is the death penalty. That, right there, is slippery slope logic at its finest. Where in the RH Bill is that stated, pray tell?
So as you can see, argument from ignorance tends to really cause a lot of unnecessary headaches that could have been solved by taking the time out to do research properly and to not just listen to
authorities.
After all, what does someone who took a frigging vow of
chastity
know about reproductive health, of all things? Why are people who have no business in the bedroom becoming the go-to people for questions about what we should do in ours? Doesn't this strike you as counterintuitive at best, and downright dangerous at worst?
Now, picking up from where Pam begins, how does she expect to even discuss what it means to be a righteous and moral person if she doesn't even know what it means to be a righteous and moral person, let alone actually
be
one? If she actually has to run to Wikipedia to define what it means to be a person of great moral fibre, don't you think she has no business telling us what to do to be a person of great moral fibre? When she don't even know the difference between a legal issue and an ethical issue, where does Pam even begin to explain the finer nuances of a more complicated ethical or moral issue like, say, the abortion of a child because the mother was a rape victim who got pregnant?
And what makes her think that the conclusions she drew from her
limited
understanding on the subject matter are conclusions that we should assent to blindly? Who spiked her punch so much that her brain has gotten too addled in her self-delusion to realize that she is a one-legged woman in an @$$-kicking contest?
My dear, you keep on using these words. Do you even know what they mean? The problem is, if you are arguing your way from ignorance, then it's highly likely that everything you just said was, for lack of a better term,
bullshit.
Argument Ad Ignorantium: because thinking is too hard to do. You may as well feel the truth than actually know it.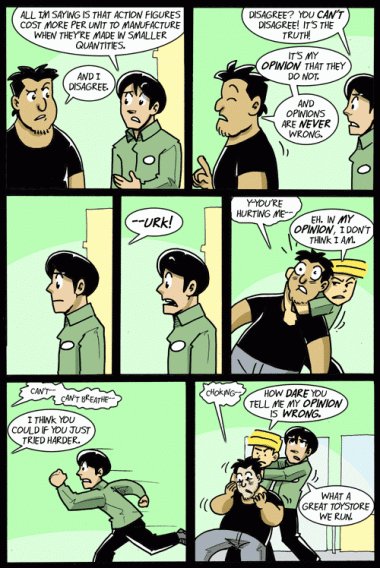 Sometimes, I wish this were an acceptable response.