.:The Thrilla 4 Matela Thank-You List:.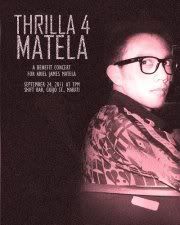 It was done on such short notice, but as the saying goes, if there's a will, there's a way. Thrilla 4 Matela was a smashing success, and we are more than happy to have had a chance to show our love and support for our dearest AJ and his family in our own little way.

I recognize that the cause for this occasion, while undoubtedly worthy, is also a solemn one. Regardless, we believe that this simple celebration was a heartfelt commemoration in song, laughs, and gasps, of the lifes and times of AJ Matela.

Under normal circumstances, I'd be writing about this show much in the same way I've written about similar cause-oriented events I've organized in the past. However, given the nature of the event, I can't do a recap post the same way I would have done in years past. I believe it would be enough to just thank people individually in this post, and piecing together the event that way.

So that being said, let me thank the following people:

Aileen Apolo-de Jesus, for helping us secure the venue.

Geiser Maclang, for lending us the projector, although we didn't use it during the program.

Poyt, for organizing the events page and helping in publicizing the event.

Joyce and LA, for manning the ticket booth, and LA for actually making the tickets himself (And coming back from limbo! Where have you been, dude?).

Ali, Jordan, and the other people from PinoyTuner and Dig Radio, for their generosity in allowing us to use Shift Bar for this worthy cause.

Vin Dancel, for not only performing his awesome music, but even covering the Sugarfree classic "Burnout", which we also thank Ebe Dancel for.

Nino Avenido, Carlos Castana, Julianne, and Evee Simon, for being amazing musicians who really gave music straight from the heart. It was a very great experience for everyone who was there.

Ade Magnaye and the rest of Lose Your Beer Belly, for bringing your awesome music to the table, and Ade, especially for giving very sound advice behind the scenes as we were trying to produce this show.

Stanley Chi, for sharing some laughs with his unique brand of humor.

Micamyx, for the film showing of "12th of June" which was chock full of awesome blogger cameos.

Mike Unson, for capping off the night in an awesome night. When he started doing those relationship jokes, me and an old friend couldn't help but look and laugh at ourselves because Mike was just dead on. It was hilarious and insanely awkward at the same time, which just showed why Mike Unson is one of the best standup comics in this country, bar none.

Definitely, we can't forget the Itchyworms: Jugs, Jazz, Kel, and Chino, for performing that night. It was pretty surreal catching them perform together, let alone an acoustic set, as I asked only Jazz to do a set for this night. Next thing I knew, the whole band was there. I can't thank Kerwin and Julie enough for their kindness.

To the bloggers and friends who went or even just extended their best intentions for this event, even anonymously donating over the course of the night, thank you so much. This goes a long way to help.

Lastly, and most importantly, thank you, AJ. This show came together as our way of showing our gratitude to you for having been an indelible part of our lives. Thanks for the memories, thanks for the friendship, and thanks for simply having been a human being who lived a life well lived. This one's for you, AJ!