.:Best Of Anime 2011 Recap!:.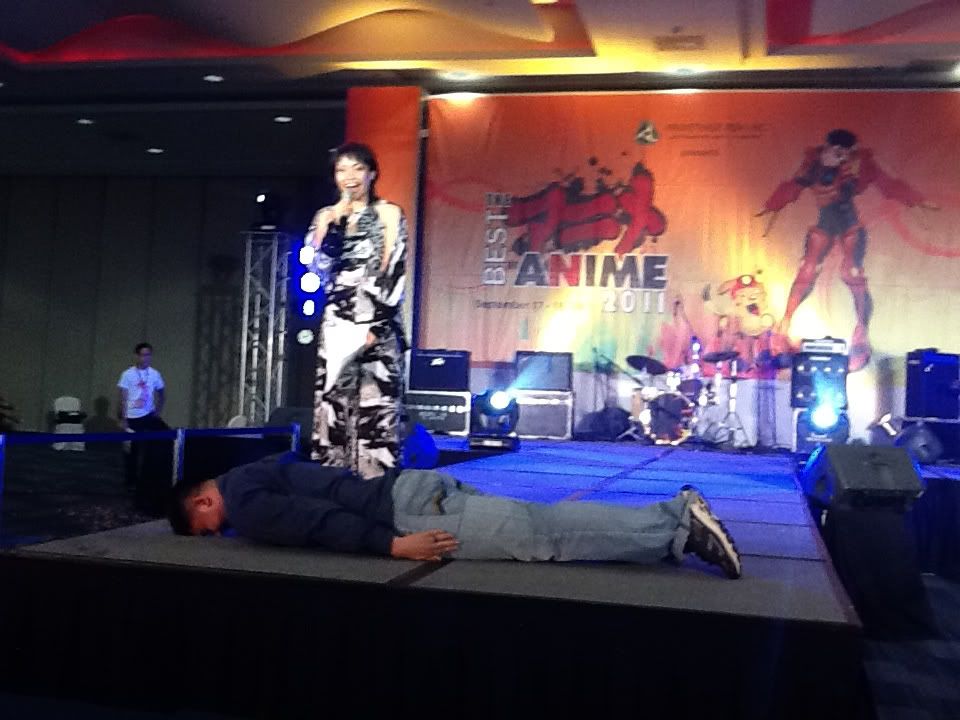 The magnetic stage proved to be metal man's undoing.
Hosting Best Of Anime 2011 was one of the most amazing experiences I've ever had, and I don't even know where to begin to tell you about how much fun I had.
Well, I guess I could begin by mentioning that I probably won't be giving a full-blown recap of who the winners were and all of that stuff, since my memory isn't that great. If you wanted to find out about that stuff, you can
go here instead.
I'm sure Roch would cover that part better than I would, to say the least.
In any case, I had a ton of fun hosting the event, and considering how my co-host was an absolute dream to work with, we really managed to pull off quite a coup. For two days straight, the audience was hot and firmly behind every single band, cosplayer, and performer onstage, which, admittedly, is one of the most difficult things to do in an event where people only generally care about the cosplay segment and nothing more.
On day 1, the muse of the Best of Anime, Sam, was featured, and that was pretty interesting. Some of the highlights that day included Dennis Isidoro rocking like mad to the tune of "Jiban", and the Gibson sisters dominating three of the non-cosplay contests.
During the cosplay proper, I was wholeheartedly rooting for the girl who cosplayed as the Panzer from Zoids. The detail and the movement she put into the whole bit really wowed me. Of course, Umali came in his War Machine costume, complete with pulsating guns and cannons, which I quipped made for a lucky girlfriend for War Machine. The audience agreed.
Sagashimono disproved the notion that nobody cares what happens in a con after the cosplay, because their fans were positively rabid! I was overjoyed for Sagashimono as they just ruled the stage on Day 1.
Towards the end of the event, I had my first attempt at planking onstage, which I was totally doing ironically. One of my friends dared me, so I just went ahead and pulled it off. I'm still not a fan of planking, and I'm not going to start doing it at every gig I perform at. Besides,
it's gonna be illegal soon.
Welcome to the Philippines.
Special mention as well to MC, the girl we had on Day 2, who announced to everyone what a
Gashapon
was. She was our official
Gashapon
endorser for the whole day, and the last auction we had on Day 2, which led to people bidding like crazy for an overcoat, really caused quite a stir. The bidding war that sent the overcoat to 2,000 bucks was simply a sight to behold.
But really, day 2, to me, was marked by an amusing turn of events, where three attempts were made to get me to the Ani-Marriage Booth.
The first time, I managed to evade capture until the priest cuffed my co-host, Marybeth, instead.
The second time was hilarious, because initially, one of the security people was shooing the priest away. Then, he changed his mind, held me in place, and they did manage to cuff me to my co-host. Of course, what most people forget is that I'm serious when I say I'm an escapologist. I asked for a hairpin from Marybeth, then proceeded to lockpick my way out of the cuffs within a minute. We even went onstage just to taunt the Marriage Booth guys about it.
The third time, there was no escape...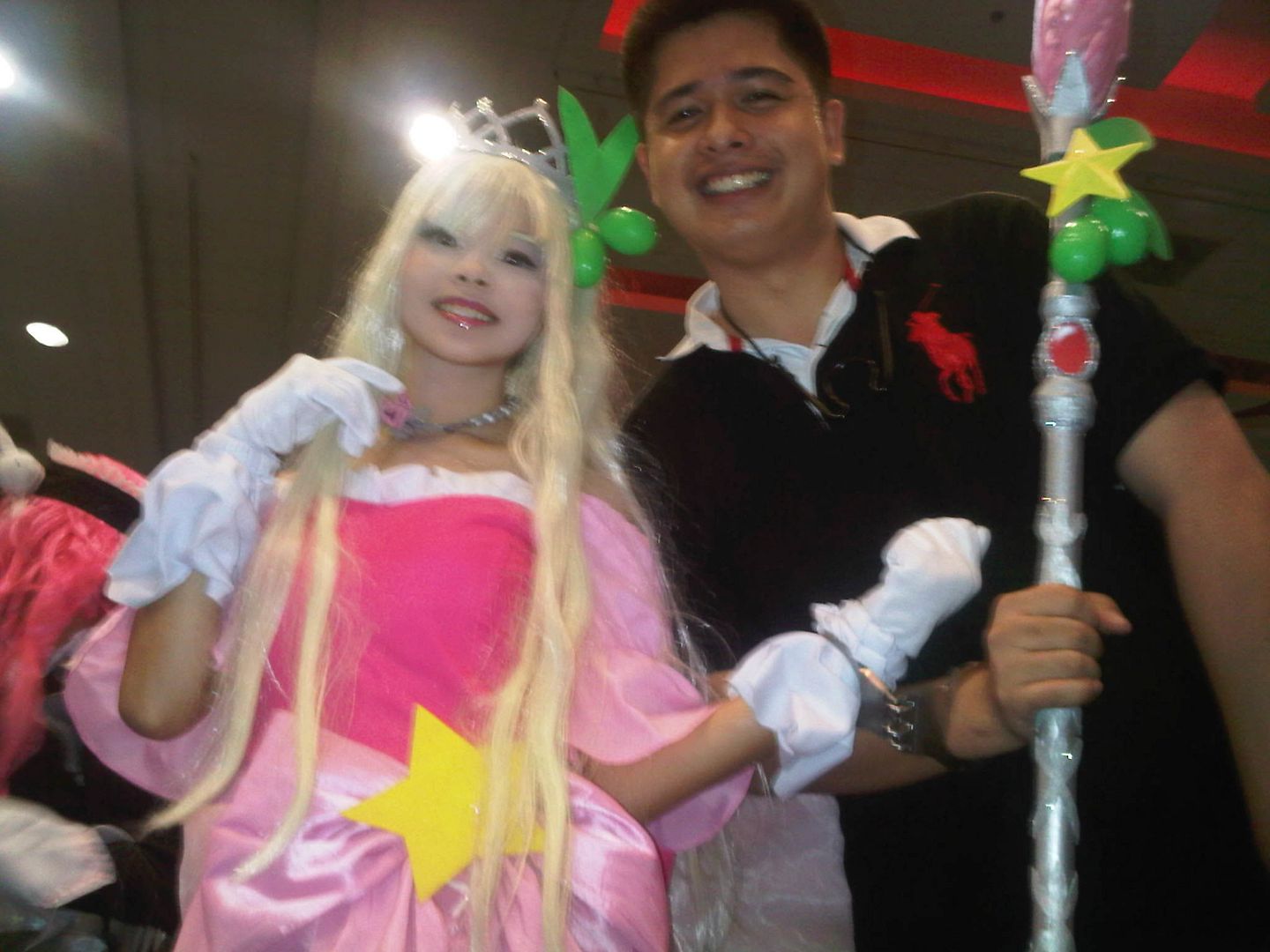 You can just see how vehemently I was protesting this.
So I managed to end up cuffed to one of my best friends, Jazminne. It was hilarious even if she did try to hammerlock me a couple of times. We both had fun, though, and it was a pretty enjoyable as far as non-binding marriages go.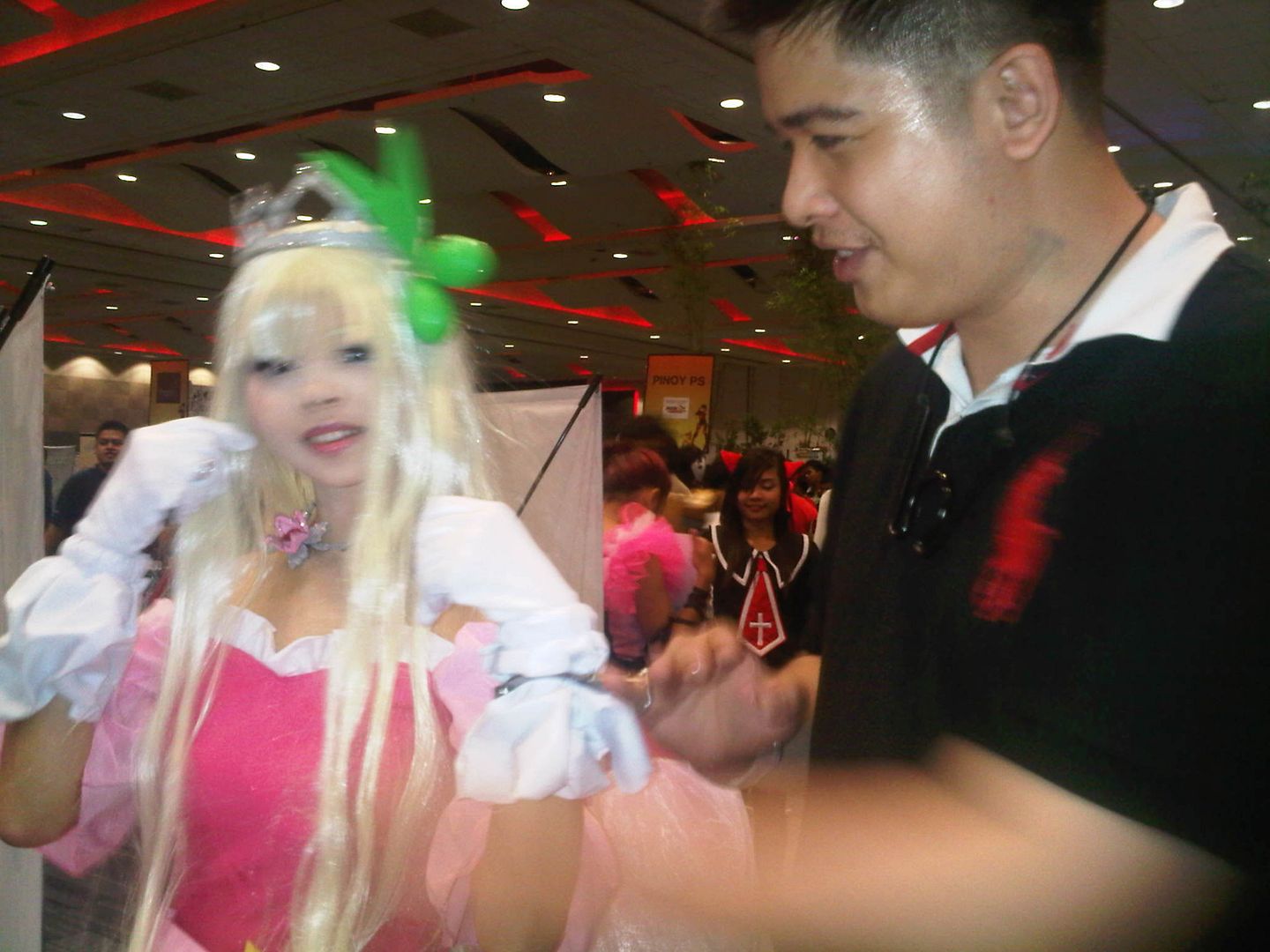 With this ring, you will become myyyy preciousssss...
Shortly afterwards, our "marriage certificate" was drawn up, the handcuffs were released, and I casually pointed out that I still had a hairpin in my pocket. I guess it just slipped my mind to lockpick my way out of getting "married" to Jazminne. LOL.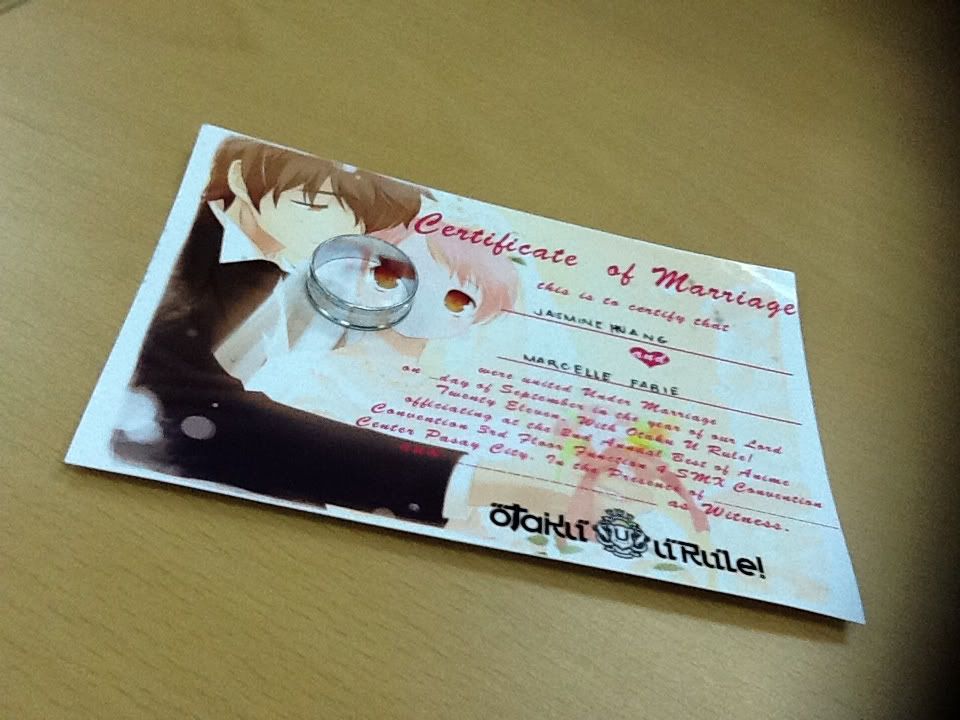 They didn't even spell her name right, making it doubly non-binding.
At the end of the two days, I felt exceptionally happy, having hosted non-stop for the duration of the event, and having made some great new friends, as well as touching base with some old ones as well. It was a great time for me, and as early as now, they want me and Marybeth to host for them in 2012. Well, why not?

In any case, thanks to Primetrade Asia for the opportunity to host this event. I was truly honored. More thanks to Chanty, who was with me for an after-party for two after the event as we had dinner to mark the successful occasion.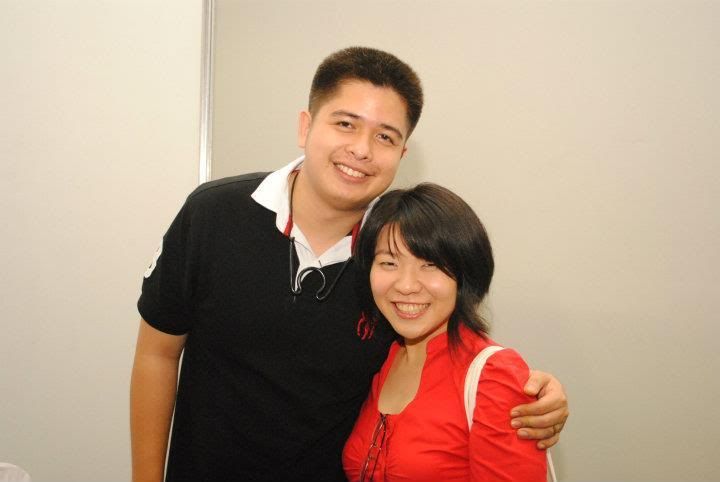 All in a day's work.