.:Hilariously Hillary:.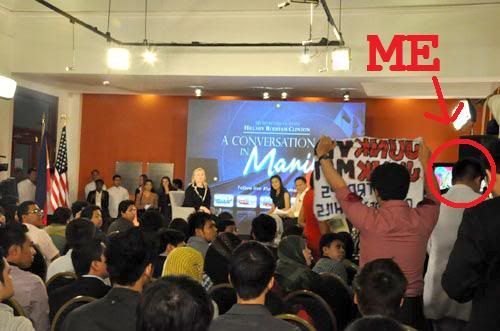 Unedited picture from Pinoy Weekly.
I have nothing to do with this man.
So I'm not really a big fan of Hillary Clinton, but I don't have much
against her, either.
That being said, Wednesday was a pretty larger-than-life experience for me as I found myself in the National Museum to take part in "A Conversation With Hillary Clinton," which, while quite a softball affair, definitely called attention to the many things we take for granted about US-Philippine relations.
Indeed, in the middle of beauty pageant questions about the contents of her iPod and her smartphone of choice, I must say that I was mildly disappointed nobody tried to ask not-necessarily hardball questions about, say, the Occupy Wall Street movement, or her opinions regarding reproductive health. All in all, the questions asked were very trite, predictable, and downright patronizing, to the point that when the activist, Marjohora Tucay, stood up to deliver his protests against the Mutual Defense Treaty and the VFA, I actually thought it was part of a script by GMA-7 to spice up the afternoon or something to that effect.
Regardless, I still inched away from him mainly because while I am sympathetic to his cause, I certainly am not sympathetic to his methods. It's good that he managed to conduct an interview after the fact to explicate his side, because he only ended up looking pretty silly when he was in the forum.
After all of that, one can't help but see that Hillary Clinton's eloquence and charm undoubtedly allows her a far wider berth than many other political figures from her country, especially if they're Republican. Do I still have misgivings about the lopsided terms of the MDT and the VFA, particularly when it comes to extradition? Well, yes. But I wouldn't posit it in a venue where my message would be drowned out by people who are unabashedly her fans.
In any case, I didn't have any compunctions about having my Patriotic Filipino® photo opp, courtesy of
The Philippine Beat
and
momblogger
.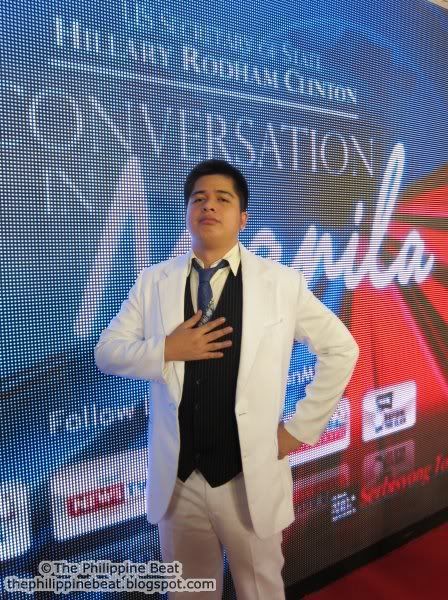 The Philippine Beat
Feel the Filipino-ness!
.:Rex Reloaded!:.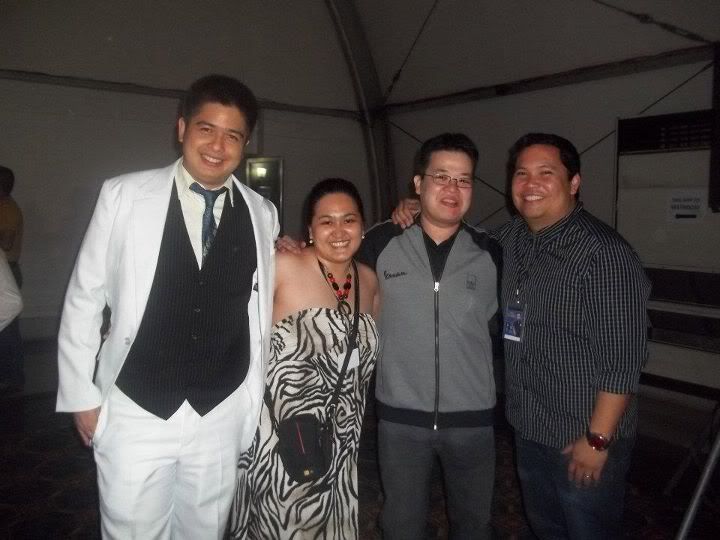 I completely neglected to have a picture taken with Rex this time out. LOL.
So I hosted Rex Reloaded in the NBC Tent after the whole Hillary thing, and I must say, I did a pretty cut-up job getting the whole crowd hyped throughout the night. While some of my friends were asking me why I didn't do any magic that night, I mentioned to them that I specifically asked to be the host because during the first Rex show, Noel Gascon had to pull double duty as both the voice over and the performer, which looked very awkward, to say the least. Let's face it: JB Dela Cruz is an awesome magician, but he himself would tell you hosting isn't in his skillset, so I had to do the honors.

And an honor, it truly was. Rex was very gregarious throughout the whole thing, and he really hit his stride well with the crowd. JB's magic and Mike's comedy definitely set the stage for a very raucous night of laughter and amazement, and Rex delivered the goods, no question about it.

On top of that, he even won an ALIW Award for his previous show! How's that for a crowning moment of awesome for him?

All in all, everyone was pretty happy about the night. Everyone was in stitches during his bit about the joke of jokes, and even the appetizer jokes were just as hilarious. Rex is a master of his craft, and it really shows.

It was a supremely humbling and memorable experience, one that I still haven't quite recovered from.

Here's hoping to more awesomeness for Rex in the near future!