.:Project 52 (27/52): On The Manila Improv Comedy Festival (And Why You Had To Be There):.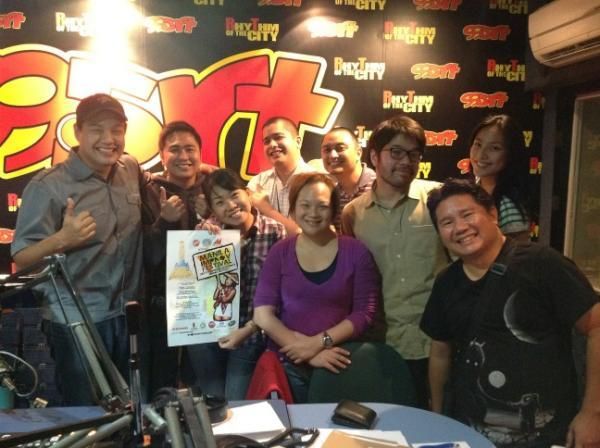 Arrest these people!
So. The Manila Improv Festival has come and gone,and in its wake, raucous laughter, massive applause, and a million and one memories that could only be encapsulated by "you just had to be there." Not a bad haul, if I do say so, myself.

I had the pleasure of being there for two of the four days, but had I been just a wee bit more patient, I'd probably have missed only Friday. It was pretty cool, really. The opening night during Thursday was practically a warmup night, as three groups, Xiamen, Tai Chung, and SPIT, all tried their hand at entertaining the crowd.

And entertain, they did. And like any good moment of improv comedy, you just had to be there. Describing what they did couldn't even begin to do justice to the whole thing. I was enjoying my whole time there, and then I found myself mustering up the courage to volunteer for one of the improv games from Tai Chung Improv.

Next thing I knew, I was onstage with them, and I was shaking like a leaf in a breeze. It was a murder mystery game, and I managed to pull it off with them.


Yeah, Ryan, Amanda, and Josh were all brilliant.
I love improv comedy because it really thrives in the moment. I've been thinking about all the things that puts it apart from standup comedy or even other forms of comedy, and I realize that I definitely love the things that make it unique: the fleetingness, the immersion, and that inexplicable rush that has a different flavor all to itself. I should know. I've experience the magic rush, the debate rush, the standup rush, and for once, the improv rush. They're all different, and like some crazy kind of junkie, I can't get enough.

And so after a brilliant opening night, where we had multiple fun games, coupled with an amazing story-making game and an improvised blues song, the first day of the festival was a success. I wanted to go and catch the experimental long form night on Saturday, which would have featured a one-act improvised play, but they ran out of tickets and I went back home, dejected before I found out that People's Liberation Improv actually let my standup comic friends in, and I could've been part of that. Ah, well. It happens.

Come Sunday, I got to the venue ahead of time, and I was stoked because I was going to see every group who was part of the festival, from Kinenkoy to Xiamen, to Tai Chung, to People's Liberation Improv, to Farnan and Landry, and of course, SPIT. It was a veritable smorgasbord of laughs!

And again, you just had to be there.

I will keep saying that, because that's really the essence of improv comedy right there to an observer such as myself: you live for the moment, and you enjoy it for what it is and what it inadvertently becomes. You enjoy it for all its idiosyncracies, and realize that this art form has stood the test of time, as has SPIT for all of ten years, simply because whenever someone said "you had to be there," people actually ended up being there. And they were all the better for it.

So again, thank you to everyone who was part of the Manila Improv Festival! It was an enriching experience for me, as an observer, and I, for one, just had to be there, and am glad that I was.


Aren't they the cutest?