The first essay is on Asian Film, and there will be spoilers. For the record, I need help finding "Comrades: Almost A Love Story", which was my favorite film during my classes with Fr. Nick for Asian Film.
The second essay is for my class in Medieval Philosophy, on St. Anselm's "Foreknowledge and Free Choice". The actual paper has footnotes, so yes, this research was not merely from out of a vacuum.
The third essay is a film review. Obviously, more spoilers.
.:Asiapalooza:.SPOILERS WILL BE MENTIONED IN SOME PARTS OF THE ESSAY. BE WARNED.
Asian film is a melting pot of film styles, approaches, and sentiments. In spite of that, one still cannot deny that Asian film, no matter how wide its variety, is simply in a league of its own, without question. There is no defining the sheer scope of Asian film by identifying it with one genre because of the wide diversity of culture within the region, unlike the close similarities of Europeans, or the catch-all mentality of American filmmakers. As far as Asian films go, they don't follow any given formula, and their unique twist on the most common of topics is clearly the very reason their popularity has been on an upsurge lately. It took a long while for everyone else on the globe to recognize what Asian films have to offer, but all of this is simply going to be just the tip of the iceberg.

Asian film encompasses varied cultures, values, and sensibilities. With each segment of the region represented, a different picture clearly materializes. Chinese films, for instance, place a premium on family and companionship, whereas Japanese films are more tradition-bound. Iran, on the other hand, tends to center on children, given their heavy censorship laws, while countries like Taiwan and Korea, though seemingly Chinese on the surface, certainly have their own unique flair thrown into the mix. Great Filipino films, on the other hand, tend to pull on one's heartstrings instead of pulling one's funny bone, as other great Asian films manage to do with relative ease. At the same time, what are these films without their own attempts at symbolism? Quite a few of the films were focused on food, such as "Eat, Drink, Man, Woman", "Kailangan Kita", and "The Road Home". In spite of a common theme running through them, each country, Taiwan, Philippines, and China, brought something different to the table (Pun not intended.) with their respective takes on the joys of food. Regardless of how they went about it, what was clear was that Asian films really knew how to connect with their audience, no matter how deep the message they wanted to convey happened to be.

What can Asian films offer story-wise that films from other regions cannot? More often than not, Asian films bank on their respective culture, as their cultures can give quite a unique twist to any given storyline that they take up, and completely transform an old idea into something new and refreshing. "Ran" by Kurasawa, for instance, is based on a Shakespearean play, yet everyone knows "Ran" less for that fact and more for the fact that it is a great Asian film. As such, we see American films themselves trying to incorporate some Asian culture into their films to evoke the same sentimentality, albeit losing some of the sentiment in the transition, i.e., "The Last Samurai". American films lately have been catching on with Asian standards only now, such as "The Matrix" being a slicker throwback to the classic Kung-Fu films we see in Hong Kong, and the extreme popularity Jackie Chan has in Hollywood nowadays. Clearly, in following the "American Dream", Asian films have made Hollywood fawn over the "Oriental Dream": one that they try to simulate, but can't quite capture.

Overall, the Asian films shown in class could've been grouped into story genres: we had the romantic comedies, we had the family-centered dramas, we had the "I remember when" stories, and even the "Kids as the main protagonists" angle. All these things, without any Asian flavor, could've been just another film. Because they were Asian, however, the whole perspective changed. So the King of Masks wanted a son and got a daughter. Big deal to the American. To the Chinese, however, this was quite a huge plot twist. If that story were done in an American setting, would the urgency have been the same? If Hong Kong and China did not have the peculiar relationship that they had before Hong Kong was returned to China by the British, would the emotions involved in leaving China for Hong Kong in "Comrades… Almost A Love Story" be as poignant as it came across? Culture is simply Asia's selling point, and to this day, every other region in the planet looks up to Asian culture with much awe and wonder.

At the same time, Asian films are often extremely emotion-driven, even more so than European films, recalling movies like Indochine and Queen Margot, which relied less on emotions and more on history. As a whole, my measure of whether or not a film was emotional was if Ronan Chua cried at the end of the film. Apparently, Ronan had a batting percentage of 90% in Asian film, whereas I am left to presume that his course in European film did not yield the same results from him. There is so much "slice of life" in all the Asian films shown that made them seem so natural and unlike European film, so heartwarming to everyone, and not merely those who acquired the taste for it. Asian film, unlike European film, is not an acquired taste. The number of people who felt the pangs of separation when the father in "Shower" died, the number of people who oohed and aahhed when the two unlikely lovers in "My Sassy Girl" finally met up again, all point to one thing: Asian films touch the heart first, then the mind afterwards. Let's be honest and say that European films tend to make one think more often than feel, with the obvious exception of "Cinema Paradiso". Be it Chinese or Japanese or Filipino, however, the best their lot has to offer will take one on an emotional roller coaster: one that can only promise one thing- sheer unpredictability.

Unlike the slick production values of Hollywood, most Asian films would be naturally behind them in that respect. Musical scoring may be good, but oftentimes, we also see that their scoring was not exactly original, but actually borrowed from other American films, such as "Shall We Dance". Iran was the most glaring example of low production values that relied less on how good the people onscreen looked and more on how well they acted. As far as Asian films go, the breathtaking special effects take a backseat to the breathtaking storytelling. Thus, they have a tiny budget when compared to American films, considering how a high budget of 100 million pesos in the Philippines is not even $2 million in America, where budgets are often pegged at $20 million. In spite of this huge disparity of budgets, Asian films manage to do what most high-budget American films can only hope to do: connect with its audience on so many levels.

However, one thing that Asian film manages to do that European films, also known far and wide for connecting with their audiences, cannot, is to actually make money. Lots of money, in fact. Great European films are artistic and elite oftentimes. They have an uncanny artistic touch that manages to connect with anyone who views the film, which of course, is quite a small number, if one thinks about it. On the other hand, great Asian films strike the balance between American crass commercialism and European elitist art, forging a unique Asian flavor that reaches out to the audience, who flock to these films in droves. This could perhaps be a great measure of the power of Asian films, in that they can sell, yet they do not necessarily have to compromise their artistic integrity. American films and European films cannot hope to achieve this feat as often as Asians do almost without effort.

The Asian film industry is growing in recognition with each passing year. Some legendary names in Asia are now finding themselves nominated in the Academy Awards, and this phenomenon has been more and more common these past few years. It has been a long time, but it would appear that the rest of the world is beginning to recognize more and more that Asian film's unique moviemaking flair is certainly a force to be reckoned with, if only for the untapped potentials that Asian filmmakers have managed to draw into for their works.

With their hybrid of artistic integrity and commercial appeal, Asian films clearly have quite an edge over the films from other regions in terms of their capability of striking a balance. Moreover, the actors found in the best Asian films are quite versatile, contrary to the typecasting that happens to the likes of an Arnold Schwarzenegger or a Pierce Brosnan. Performers like Chow Yun Fat, Jet Li, Cesar Montano, Maggie Cheung, Jeon Ji-hyun, and Yukie Nakama are very popular performers in their respective countries of origin, yet are also recognized for their versatility. While Jet Li, for example, is typecast in Kung-Fu films, the different characters he portrays shows his wide range of characterization. He can play a hero in "Once Upon A Time In China". He can play a villain in "The One", and he can play an antihero in "Hero". Maggie Cheung has been in a romantic comedy ("Comrades"), and "Hero", among other films. Jeon Ji-hyun is the undisputed Korean box office queen, having starred in "Il Mare", "My Sassy Girl", and "Windstruck". These are talents who have had an extensive range of experience in different types of films, and this is what they have over most talents from Hollywood, as some of their stalwarts, Uma Thurman, Sean Connery, and Nicole Kidman, are not Americans at all but British or Australians.

Clearly, the future looks bright for Asian film. With the crop of talents the region has that can win over the audience with their charms and talents, it's hard to imagine how Asian film cannot possibly continue to grow exponentially towards even more international recognition. If only the films viewed in class are testament to the quality of films Asians can turn out, we can clearly say that anything Hollywood or Europe can do, the Asians can, perhaps even better. Maybe Asian films don't have the $100 million budgets to work with, but clearly, Asian films have a genuine heart to work with, and this genuine heart for the film is something that even $100 million can pay for. Clearly, that is a powerful argument in favor of the rising stock of Asian films: the stories only they can tell, the characters only they can spawn, and the unique flavor all their own, completely inimitable, completely awe-inspiring.
.:Kaalaman, Kalayaan, Katungkulan:.
Ang tinaguriang ama ng scholastisismo sa panggitnang panahon, isinilang si San Anselmo sa Aost Piedmont noong 1033. Mula noong pagkabata, ninais niyang maging isang monghe, subalit tinutulan ito ng kanyang ama. Noong 1060, naging isa siyang monghe sa ilalim ng kanyang kababayang si Lanfranc, at naging arsobispo siya ng Canterbury noong 1089, na kapanahunan ng mga pagtutunggali ng simbahan at pamahalaan sa Englatera. Dalawa sa kanyang pinakatanyag na mga akda ang Proslogium at ang Monologium, na kapwa mga pagtangka sa pagbibigay-linaw sa pag-eeksistensiya at sa esensiya ng Diyos. Namatay siya noong 1109 .

Sa kanyang akda, "Kaalaman-Bago-Mangyari at Malayang Pagpili" , kanyang ginamit ang konsepto ng pangangailangan upang malutas ang problema ng banal na kaalaman-bago-mangyari. Pinuna niya na kung kaya ng Diyos malaman ang mga bagay bago pa ito mangyari, kinakailangang mangyari ang Kanyang alam. Sa kabilang dako, ang malayang kalooban naman ang nagsasabing kung ano man ang ginawa ng isang malayang kalooban ay hindi nangyari dala ng pangangailangan.

Ipinagdiinan ni San Anselmo na hindi ito pagtutunggali sa gitna ng dalawa, sapagkat kaya malaman ng Diyos ang mga bagay na mangyayari na dulot ng malayang kalooban. Ipinakita ni San Anselmo dito ang kaibahan ng pangangailangang kausal, at pangangailangang lohikal. Dahil ang kaalaman ng Diyos ay pangangailangang lohikal, nawawala ang problema sapagkat kung hindi kinakailangang mangyari ang mangyayari, lahat ng mangyayari ay hindi mangyayari, na isang kontradiksyon. Kung isa kang tao, kinakailangan kang maging tao. Hindi ka maaaring maging tao at hindi tao sa literal na kahulugan nito ng sabay. Kung mangyayari ang isang bagay, kinakailangan itong mangyari, dahil hindi maaaring mangyari at hindi mangyari ang isang bagay.

Hindi dala ng pamimilit ng Diyos ang pangangailangang ito, kundi dala ito ng lohikal na pangangailangan: dahil alam ng Diyos, at dahil pawang katotohanan lamang ang kaalaman para kay San Anselmo, mangyayari ito, kahit na ikaw ang malayang pumili ng bagay na alam Niyang mangyayari.

Dahil ang banal na kaalaman-bago-mangyari ay mismong katotohanan ayon sa ibinigay na kahulugan ni San Anselmo, nangangahulugang lohikal ang pangangailangang mangyari ang alam Niya. Kausal na pangangailangan ang malaglag ang isang lapis na ihinagis sa hangin dahil sa mga batas ng kalikasan. Hindi maaaring tumaliwas ang isang lapis dito. Sa kabilang dako, kapag alam ng Diyos na magkakasala ka, alam Niya rin na magkakasala ka sa iyong kagagawan. Alam Niya bago pa mangyari ang mga bagay na iyong gagawin, kahit na ginagawa mo ito hindi dala ng kausal na pangangailangan. Hindi naman ang Diyos ang tumukso sa iyo upang magkasala ka.

Kung gayon, wala naman palang problema ang banal na kaalaman-bago-mangyari at ang malayang pagpili. Kung ihahambing ito sa naging pagtingin ni San Agustin , hindi tinalakay ni San Anselmo ang kalikasan ng pagkalikha ng tao na maaaring tanggihan, kung kaya't mas mahirap hindi sumang-ayon kay San Anselmo sa kanyang pagpapatunay, lalo na sa pagbibigay niya ng dalawang pagpapalagay:

1. Na ang Diyos ay may kakayahang makaalam ng kahit anong bagay bago pa ito mangyari, at,

2. Na may malayang kalooban ang tao upang pumili ng kanyang gagawin.

Sa ganitong banda, nagiging malinaw na hindi natin maaaring isaisantabi lamang ang dalawang nabanggit dahil ito ang mga pagpapalagay ni San Anselmo, na isang malaking pagkakaiba nila ni San Agustin. Mga dalawang taon na rin ang nakalipas noong nakapagsulat ang mananaliksik ng papel ukol sa pagpapatunay ni San Agustin ng kawalan ng pagtutunggalian sa banal na kaalaman-bago-mangyari at sa malayang kalooban, ngunit dahil hindi niya ipinagpapalagay ang katotohanan ng dalawa, madaling tuligsain ang kanyang mga punto sa sandaling mapatunayan na hindi malaya ang tao.

Malinaw na kasama ang kalayaan sa perpektong pagkalikha sa atin ng Diyos, kung kaya't hindi maaaring salakayin ang esensya ng tao dahil isa itong pagpapalagay sa kanyang argumento. Higit pa rito, kahit na maaaring amining hindi absoluto ang kalayaan, hindi ito nangangahulugang hindi malaya ang tao. Oo, limitado ang kanyang kalayaan, ngunit malinaw ito dahil may hangganan naman talaga ang tao. Kung ating ihahambing ito sa laro ng chess, oo, limitado ang maaaring maging mga kilos ng mga manlalaro, ngunit mayroon pa rin silang kalayaang kumilos kung paano nila ninanais sa loob ng mga limitasyong ito.

Kung sasang-ayon tayo kay San Anselmo sa pagkakaisa ng banal na kaalaman-bago-mangyari at malayang pagpili, hindi natin gaanong pagtutuunan ng pansin ang banal na kaalaman-bago-mangyari, kundi ang malayang pagpili, dahil ito ang sinusubukang burahin ng kasalukuyang panahon sa pamamagitan ng agham. Nagkakaroon ng malaking suliranin sa bawat malinaw na hakbang na kanilang nagagawa upang maiusbong ang kanilang paniniwala ukol dito. Dahil hindi gaanong kahalaga ang panig ng Diyos sa dako ng agham, at dahil hindi kayang masukat ng agham ang pag-eeksistensya o hindi pag-eeksistensya ng Diyos, kanilang tinuunan ng pansin ang malayang pagpili ng tao.

Unang-una, marahil nilang sabihing wala naman talagang kalayaan ang tao sapagkat dala lamang ng iba-ibang kemikal sa ating katawan ang ating mga nagiging kilos at tugon sa mga bagay na labas sa atin. Marahil may punto iyon, at maaaring dumating nga ang panahon na talagang kaya na nating patunayan na talagang dulot lamang ng kemikal na mga proseso ang lahat ng kilos natin, subalit sa palagay ng mananaliksik, hindi ito isang pawang pagbura sa malayang kalooban ng tao.

Paano masusukat ang pagloloob ng tao? Ano ang mga datos na maaaring makalap upang masabing dulot lamang ng endorpino o dopamino sa ating utak ang mga pagloloob na ito? Paano nakakatanggi mula sa udyok ang tao? Dala lamang ba ito ng pagkokondisyon? Higit sa lahat, sa sandaling kaya na malaman ang lahat ng ating gagawin sa pamamagitan ng agham, maaari na ba tayong purihin o parusahan para sa mga bagay na hindi pa natin nagagawa? Isang mahalagang konsepto ang responsibilidad na maaaring burahin o baguhin ang kahulugan sa sandaling mapatunayan ang kawalan ng malayang kalooban.

Isang malaking suliranin ang ganitong bagay. Kung hindi tayo malaya pala, bakit tayo maaaring bigyan ng puri o kaparusahan? Nagiging kasalanan ang isang bagay kapag ginawa ito ng tao, at nababawasan o nawawala ang kasalan kapag hindi malaya ang tao sa paggawa niya ng isang kilos. Sa sandaling mapatunayang lahat ng ginagawa natin ay dala lamang pala ng mga kemikal na proseso sa ating katawan, paano maisisi sa atin ang anumang gawin natin, kung gayon?

Sa pelikula ni Steven Spielberg na "Minority Report", tinangka niyang ipakita ang isang mundo na nagbago na ang patakbo ng batas at kanilang hinuhuli ang mga tao bago pa nila gawin ang krimen. Dahil hindi nila ginagamit ang banal na kaalaman-bago-mangyari, na isang lohikal na pangangailangan, at sa halip ay ginagamit nila ang mga kemikal na proseso sa utak ng tao na malinaw na magdudulot ng kausal na pangangailangan, nakikita nating hindi malaya ang pagloloob ng mga tao sa kanilang mga nagagawa. Kung hindi malaya ang tao sa kanyang ginagawa, nawawala ang konsepto ng responsibilidad, na isa sa mga saligan ng pagbibigay ng puri at parusa.

Sa kasalukuyan, hindi natin maaaring kumpirmahin o itanggi ang posibilidad na malaman ng agham kung paano mismo gumagana ang mga kemikal na proseso sa ating utak, ngunit kahit na kanilang magawa ito, may mga bagay pa rin silang hindi maaaring masukat ukol sa kalagayan ng tao, lalo na kung iisipin natin ang kapaligiran ng tao, na may sariling patakbo na iba pa sa atin, at malinaw na walang nasusukat na kaayusang maaaring ipagpalagay.

Kahit na sabihin nating maaaring maabot sa darating na panahon ang kakayahang masukat ang lahat ng mga ito, mayroon at mayroon pa rin tayong hindi maaaring masukat sa kalikasan, at dahil dito, hindi natin maaaring isipin ng walang pag-aalinlangan na ganito o ganyan ang mangyayari (Kahit alisin pa natin sa usapin ang kaluluwa.). Dahil hindi kayang abutin ng tao ang walang-hanggan, hangga't mayroon siyang hindi alam, mayroon pa ring lugar upang magduda sa katiyakan ng agham sa kanilang bersyon ng kaalaman-bago-mangyari.

Sa isang personal na dako, hindi komportable ang mananaliksik na ibaba na lamang ang tao sa pawang mga numerong maaaring paglaruan. Sa aklat ni Isaac Asimov na "I, Robot" , nakikita kung paano nakakasama ang pagbaba lamang ng tao sa larangan ng mga numero. Nang muntik malunod ang isang lalaki at isang batang babae, kaagad iniligtas ng isang robot ang lalaki dahil mayroon siyang apatnapu't-apat na porsiyentong pagkakataong makaligtas sa pagkalunod, samantalang dalawampu't-isang porsiyento lamang ang pagkakataon ng batang babae. Sa sandaling ito, sinisi ng lalaki ang robot, dahil sa kanyang isip, hindi lamang dalawampu't-isang porsiyento ang batang babae: isa siyang tao. Hindi na bale ang malunod siya, basta't mabuhay lamang ang batang babae.

Bilang pantapos, malinaw na hindi natin maaaring burahin na lamang ng basta ang konsepto ng malayang pagpili. Kung ating ipagpapalagay ang banal na kaalaman-bago-mangyari, hindi ito nawawala. Bakit ninanais itong mawala ng agham sa larangan ng sikolohiya at henetika? Dahil nagiging isa sa mga saligan ng sangkatauhan ang konsepto ng responsibilidad at katungkulan, hindi ba nawawala ang responsibilidad at katungkulan kung hindi ka naman pala malaya sa iyong mga ikinikilos? Maraming mga kriminal ang hindi nakukulong dahil wala sila sa tamang pag-iisip. Kung ganoon, hindi malayong isiping lahat ng tao, dahil pawang kemikal na proseso lamang ang kanilang mga kilos, ay wala rin sa tamang pag-iisip. Mahirap mabuhay sa mundong naibaba sa pawang numero at porsiyento, na walang sistema ng pagpapataw ng responsibilidad sa tao, na nararapat isiping siya dapat mismong umiiba sa tao mula sa ibang mga nilalang, ngunit nais tanggihan ng ibang mga bahagi ng agham.

Sa sandaling ito, naunawaan ng mananaliksik ang isang bagay: maaaring magkamali ang tao at sa kadulu-duluhan, wala pala talagang kalayaan. Maaaring matapos ang lahat, may makakapaghanap ng paraang sukatin ang lahat ng mga iniisip at nararamdaman ng mga tao, ngunit dahil hindi pa ito kayang patunayan, mas mainam na ipagpatuloy ang ating pagkapit sa kalayaan.

Kabalintunaan mang isipin, wala tayong ibang maaaring gawin.
.:A Serendipitous Film Review:.
As usual,
SPOILERS AHEAD!!!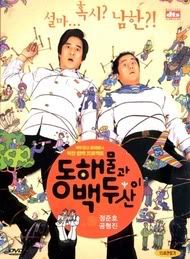 Lost In The South, Mission: Going Home
Finally, some representation from North Korea.



When I bought the DVD for this film, I didn't know what the Hades this film was. I bought it under the mistaken notion that it was "La Brassiere" or "Wet Dreams", some Korean comedies Grace was telling me about. In the end, it turned out to be neither.

"Lost In The South..." is the story of two revolutionary North Korean navy men, Captain Choi, and private Lim, who got caught in a storm that sends them off to South Korea. Being communists, they look on in puzzlement at the things South Koreans do, as the capitalistic way of life is something entirely foreign to them.

While going around the South Korean beach they found themselves in, the daughter of the police chief, Na-ra, ran away from home and went on a trip with a group of her friends. Two bumbling detectives were sent by her father to take her home.

What follows next is a madcap, at times hilarious, chase all over the beach as the two North Korean unification fighters cross paths with Na-ra and her friends when they rescued them from extortionists. To make things even more interesting, Choi and Lim stole their clothes from the detectives, who now likewise have a score to settle with them. Na-ra slowly warms up to the two, who needed her to treat them because they didn't have any money. Later on, they rented a jet ski, and they attempted to return to North Korea with it, only to find out that it was an hourly rental.

One of the nicest scenes at the latter half of the film was when Lim was running around a field, getting fireflies to come out from their hiding place, as Choi and Na-ra looked on. The romantic tension was there, but nothing concrete happened from that. Still, while Na-ra felt depressed over being alone, Lim gave her a birthday gift: a ring he cut from a bullet. Interestingly enough, Captain Choi found the bullet in their ship earlier and promised to make anyone who made the ring regret it, but seeing how the situation has somewhat changed, he couldn't quite do anything about it.

The running through the fields was then repeated by Na-ra when she was alone, which turned out to be a very sad scene, as she realized that she only felt happy about the fireflies when Choi and Lim were there to enjoy it with her.

The next day, the North Koreans discovered that there was going to be a singing contest on the beach, and whoever would win it would get a trip to North Korea, which was exactly their way back, as they didn't have a ship or anything of the like to get them back. The song and dance scene was funny, because Lim was rapping to an 80's song, and he was actually rapping about unifying North and South Korea without the audience knowing it. Heh.

Anyways, the military finally discovers that there were North Koreans in the beach and attempt to find their whereabouts. Na-ra, who found Lim's identification as part of the Korean Worker's Party, helped them escape.

The next day, the two find themselves on the beach, and a bevy of European beauties are there to greet them. I guess they're not in North Korea now...

I liked this film, because I never did quite get to see the side of North Korea being represented, for one. At the same time, the unlikely duo of Choi and Lim worked very well in the film as Choi was still acting like Lim's superior throughout their stay in South Korea, and the way they carried themselves really made you feel how unaccustomed they actually were to the ways of the capitalistic countries. It was a hoot to watch them, and I especially liked how their characters were played out.

Na-ra wasn't the usual bombshell Korean leading lady (Not at par with Ji-Won Ha or Ji-hyun Jeon, in my opinion.), but she more than made up for it with her acting. It's not that she was better than most other actresses, but she managed to competently display the personality of a lonely girl in the middle of a million faces. It was a nice effect, and putting together Na-ra and the North Korean guys made for a lot of good comedy and even a few touching moments.

I bought this DVD purely by chance, but I'm not trading it in anymore. I really liked the premise of the film, and to me, it was quite a revelation of how great these Korean filmmakers are when it comes to coming up with nice ideas for films. I'd recommend this movie to anyone who wants to see a slice of North Korea, which is obviously underrepresented in the South Korean film industry.



Marcelle's "Fun" Rating: A
Marcelle's "Critical" Rating: B/B+