.:Red Box Outdoes Itself Yet Again!:.
Since this post is about Red Box, all the pictures will involve boxes, one way or another...
Last 06 October, Geiser Maclang invited bloggers to a special Wii Night at Red Box Karaoke in Greenbelt, where we were greeted by the head honchos of the branch, and they told us that aside from the wonderful videoke we've come to know and love, they now have selected rooms that you can play Nintendo Wii in. It was definitely amazing, to say the least, as you can see
Markku
and
Fritz
slugging it out on Wii Boxing...

Boxing! (Photo ganked from Jehzlau.)


That night, we even had a come as a Wii character contest, and while some people came and wore shirts with video game characters on them, I figured that since I am a cosplaying god, I will wow them with one of my most elaborate costumes ever... I came as Solid Snake, who is a secret character in the game Super Smash Bros. Melee...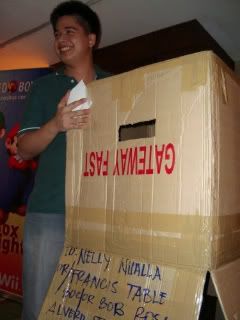 No, I'm not in costume yet! (Photo ganked from Karla.)


Wait, lemme put on my costume...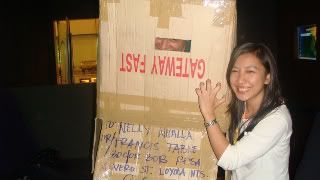 Solid Snake, hiding in a box! With Hannah! (Photo ganked from Jehzlau.)


I was genuinely grateful that I ended up winning the prize for best costume. All my hard work and preparation paid off, and they finally discovered just how amazing a cosplayer I really am... lol. Not bad for a debut effort, neh?

Afterwards, we asked to have the Nunchuk's traded in for microphones, and lo and behold...



Boxed Out! (Photo ganked from Jehzlau.)


Yes, Fritz, myself, Byahilo, Blogie, and a few others went and hit the videoke. I mean, what's a Red Box night without Videoke, neh? From Rick Astley to Queen to Incubus to Sam Milby to Salbakuta to Madonna to High School Musical to Lisa Loeb, we really had a load of fun.

In fact, based on the picture up there, Byahilo was soooo impressed by Fritz, that...



Surprise! Boxsecks!!! (Photo ganked from Jehzlau.)


'Twas a wonderful night, and you know I'll be back in Red Box sooner than you think. I'm a big videoke and Wii fan, so you can count on it... heh.

Red Box Karaoke has branches in Greenbelt 3 and Trinoma. Don't miss out on some wonderful music or even video game fun with your friends and family! Drop by Red Box tonight!