.:I Must Warn You...:.
Due to the nature of the events that transpired on this day, you have to realize that I will be referencing Mike Abundo in this blog, since it was the day on Plurk when I pretended to be him.
.:San Miguel Beer Oktoberfest For Bloggers!:.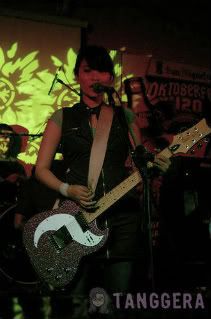 Image courtesy of Poyt. Yes, Moonstar 88 performed!


Last September 26, Bloggers were invited to a special treat from San Miguel Beer, to take part in the Oktoberfest celebration for Bloggers in SM Mall Of Asia's unofficial bastion for bloggers, Taste Asia. As usual, Aileen had quite a hand in this, and the event was a smashing success.

To get the whole picture of the amazing night's events, though, you have to understand the whole scheme of things as far as the event goes...

This event was preceded by a very interesting day on Plurk, where practically everyone on my timeline switched identities with each other (LINK HERE). Sine I was one of the late ones to find out about this amazing Plurk Identity Switch, I decided that I'd really get some tongues wagging by changing my username to Mike Abundo. Needless to say, a lot of my friends had to do a double-take because they definitely didn't see that one coming. The whole charade was complete, even with matching avatar (!).

Many threads of discussion turned up and produced rather amusing results because of this, including some other people changing their Plurk names to accompany mine (To hilarious/disturbing results.). Some of my Plurk friends wanted to unfriend me because they really thought Mike Abundo showed up in their timelines. Sorry, Mike, but you polarize people... but you knew that already.

Now, a loooooonnnggg shower after the lulz was had (You have no idea how many people refuse to let me live down this whole thing...), and I made my way to Mall Of Asia for the San Miguel Beer Oktoberfest event, since I was tasked to be a host for the night. I was going to co-host the event with a former NU DJ named Andy, and I was floored to see a huge number of bloggers present in this event, 400 by Aileen's estimate.

It was pretty funny because we decided to continue the whole name-switching business, and I took Poyt's name tag, which led to Andy poking fun at me by referring to her co-host as "Faith". Compoind this with the fact that most of the bloggers in the general area were still calling me "Mike", and you can just understand the confusion this all produces for anyone who's not in the loop.

Anyways, so we had a couple of contests, and it was mighty amusing when Poyt, who already switched name tags with Fritz, I believe, won the one-shot beer contest. Since Shari wasn't part of the contest, I guess it's safe to say that there should be a rematch or something so that we could possibly determine who the undisputed drinking queen really is.

In the next contest, Juned won another beer-drinking contest, but this time, it wasn't a bottle they had to down, it was actually an entire pitcher. Although Juned didn't finish the entire pitcher, everyone else conceded he was the winner.

Juned and Arpee tried to set me up for a practice of the infamous moment of zen later that night... allow me to scar your eyes.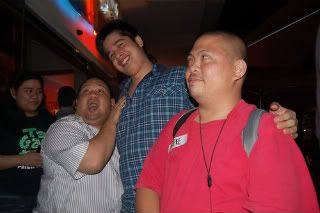 Image courtesy of Poyt.


A third beer-drinking contest was a pair contest, and the only male-male tandem that participated won.

There were a lot of raffle prizes to be given out, and the people at SMB really pulled out all the stops to give the bloggers one unbelievable party. Even for a straight-edge guy like me, I definitely enjoyed myself in the party, and I commend them for that. There was much comedy gold to be had though when I won a bluetooth headset. It's destiny, I tells ya. Everybody knows who wears a bluetooth headset all the freaking time, after all.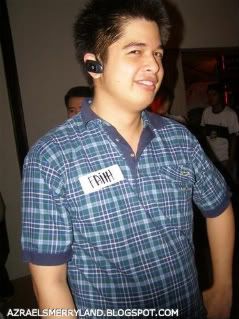 Image courtesy of Az. Looks family?


With much protestations that a "volunteer" won the raffle, many more laughs were had as we ended the show, and there I was, just hobnobbing with Jester and Doc Tess. Soon enough, one of the SMB models, Camille, approached Jester and asked him about starting a blog. Soon enough, Doc Tess and I were also trying to help out, and next thing you knew, we have a new blogger in our ranks.

Leave us not forget as well that Moonstar 88 performed for us that night, and it was just awesome to hear them play their hits, especially "Migraine", which is definitely one of my favorite songs!

Afterwards, I was asked by sir Arpet from SM Hypermart to perform magic, and as usual, I did my standard combo of Shackles + Lady And The Rope that night. Let's just say that I had the absolute best reactions for Lady And The Rope from the audience that night. Of course, it sorta helped that my volunteer was unusually cooperative. Must've been the beer, I guess.

Anyways, since this day was all about stealing a guy's identity, let's end it with your moment of Zen...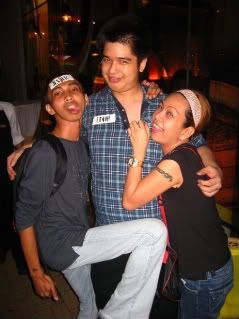 Forgot who took this shot. Please comment and be credited!