.:Thank You, Blog Na Pinoy!:.
Last Saturday, I was part of an awesome shoot by photographer extraordinaire Mike Yu. It was a long-delayed process, but I'm finally in
Blog Na Pinoy
under the Lifestyle category. And of course, here's the awesome picture that resulted from that shoot...

My lame attempt at doing the People's Eyebrow.


.:Copywriting Fail:.

So I was going around town the other day, and I couldn't help but notice some of the signs that were littered all around me.

But really, with the huge show by Bench showing up soon, I couldn't help but think if they really had no other choice except to name a show featuring underwear models "Uncut". I mean, it doesn't take a genius to know the unfortunate implications of a title like that, right? But nooooo, they just really had to go ahead and go through with it, regardless.

The results are typically amusing and face-palm worthy...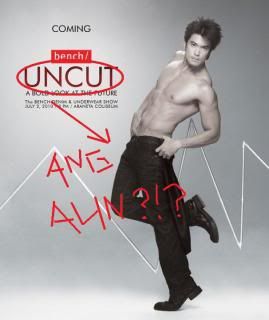 In some cases, the results are downright terrifying...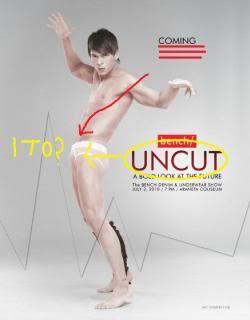 Aside from Bench and their ::snicker:: Uncut show, I also noticed something in Market! Market! the other day, and it was a conspicuous dessert offered in the supermarket with this Engrishtastic tagline...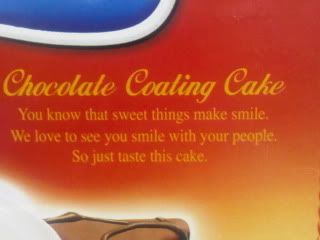 It reads: Chocolate Coating Cake – You know that sweet things make you smile. We love to see you smile with your people. So just taste the cake.


And of course, the piece de resistance: a product hawked by Gerald Anderson, no less. Nestle Fit n Right is a pretty awesome drink packed with L-Carnitine, meant to burn fat and aid weight loss along with proper diet and exercise.

Yes, it burns fat. But I think you should really specify what your product burns when you're referring to it with some yellow-looking liquid in the background...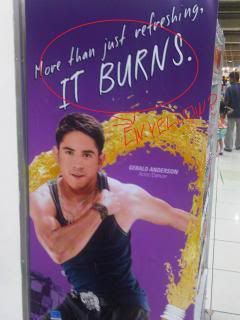 \


I know we're not close, Mr. Anderson, but I think you should see a doctor about that...