.:Sugarfree: Ito Ang Unang Araw Na Wala Ka Na:.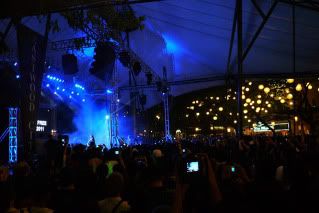 The bright lights belie the gentle beckoning of the darkness.


In the middle of that cold, rainy night, a few Americans were walking around Eastwood, looking to have a great time, but not at all oblivious to the massive crowd gathered in the central plaza,even though they didn't have the foggiest idea what was going on. You see, everyone else in Eastwood were expecting to catch one of the greatest bands of the last decade, Sugarfree. This was the night that they will perform their final set before they ride off into the sunset, head held up high thanks to one of the most inspiring and amazing send-off's a band cold ever ask for since the inevitable send-off the Eraserheads got immediately after their second reunion concert.

They looked around gingerly, and found me, drenched under the rain, singing along heartily as Sugarfree was playing one of the last few songs in their set, "Unang Araw." It was poignant, really.

One of them turned to me and asked, "Hey, are these guys any good?"

I was a bit flabbergasted. They just revealed that they were among the few who were not in Eastwood to share in a bittersweet moment in Philippine music history. Not that I can blame them, of course. I doubt I would feel any affinity for singers in a language I can't even begin to understand, no matter how good they really are, unless they were cute and Korean.

What was I supposed to tell them?

Was I going to tell them that Sugarfree was one of my top three favourite bands of all time? Was I going to tell them how much I loved Sugarfree from the moment they came out with "Sa Wakas," and while a lot of other people were still focused on Parokya Ni Edgar and Rivermaya, I was already singing along non-stop to "Mariposa?" That in 2004, only that song and Matchbox Twenty's "Unwell" became my two yearlong LSS's?

Was I going to tell them that I have been to Route 196, saGuijo, Cubao X, Mag:Net, countless RX 93.1 parties, countless gig venues, big and small, just so I could catch a glimpse of the band and sing my heart out to their music that seemed to touch the very core of my being? About how I would find myself hopelessly trying to hit the high notes Ebe Dancel effortlessly hits when he sings, and how I, along with tens of millions of other people felt that we were the titular "Hari Ng Sablay?"

Was I going to tell them that I believe that what made Sugarfree work as a group for the past twelve years wasn't just the fact that they wrote amazing (if melodramatic) songs, but simply the fact that their songs have transcended being merely songs, instead becoming anthems for a generation of hopeless romantics like myself? It's a crazy feeling, really: whether it be about heartbreak or about loving someone no matter the odds, Sugarfree wrote songs about it just like everybody else, but they made you see yourself in the world of the music like few other musicians could do. It wasn't just a talent, but a gift that I'm hard-pressed to find in majority of the local bands that came after them.

Was I going to tell them that another major band, Bamboo, also recently disbanded, and a part of me feels that there will be more of these to come, especially since JAM 88.3 still has a long way to go before becoming the new haven for good rock music the way the legendary NU 107 once was to these very same artists now bereft of a sanctuary? Was I going to point an accusing finger at the proliferation of masa stations as one of the main catalysts for the decline of quantity in quality OPM in the past decade?

Really, how would I even begin to explain to these people how I felt about this moment, as much as I wanted to communicate to a bunch of complete outsiders exactly why this is a big deal? They had to have been there to understand it. From the growing pains of Sugarfree from when people were ignoring them in favour of other bands we don't even hear from anymore now, or to the way they kept themselves down to earth despite having been massively successful all over the country, still being every bit as approachable before and after their sets in those hole-in-a-wall bars who manage to get bands you can't begin to imagine them affording considering how small their venue is and how affordable their food happens to be.

Would they understand how I felt when I was there in Music Museum for Sugarfree's "Dekada" concert, where they were flanked by a full-blown orchestra, giving a unique and almost ethereal feel to their music that I still can't quite fully put into words until this very moment? About how there was nary a dry eye in the audience as Ebe soulfully belted out "Hangover" that night, despite majority of the audience hearing that song only for the very first time ever? I couldn't help but feel that something special happened that night, and I think about how sad it is that when Ebe joked about inviting us to their second "Dekada" concert, hindsight would tell us that his joke really was half-meant: there would only ever be one Dekada concert, because there won't be a second Dekada to speak of.


And even now, I don't know how to feel. There were no hints of a disband coming when we saw them in Route 196 last January, where Sugarfree actually opened for Peryodiko, as most of the audience in attendance were actually Dancel family members from the United States who just wanted to see what the big deal about their family members fronting two of the most well-known bands in the Philippines was all about. The very next day,they announced that Ebe was leaving the band. As the weeks went by, it then looked like Sugarfree wasn't going to carry on and find a new lead vocalist and outright disband altogether, as well.

I didn't know how to approach Ebe when I saw him along Serendra a couple of days after they confirmed that they were disbanding, and I wanted to ask him if maybe, just maybe, he was just moving to Bamboo (Making it Bambebe.) and Bamboo would just move to Sugarfree (Making it Sugarcane.). That would be silly, really. These Americans didn't need to know about it.

Nor do they need to know how many Sugarfree songs I memorized from the heart, nor would they understand how big a deal it is for me to be there in Eastwood, right smack dab in the middle of the crowd, just feeling numb that I don't know if I would ever see Ebe, Jal, and Kaka together on the same stage again. Neither did they have to know that this night, Sugarfree played every single one of their songs that I liked - except for "Hintay," which I'm assuming wasn't nearly as big a hit for them as most of their other songs.

What do you tell them, really, other than the fact that they missed half their life by being here in Eastwood without appreciating the historic moment in front of them?

"Are they any good?"

What kind of a question is that? Sir, you are completely surrounded by thousands of Filipinos standing in the middle of the rain, hanging onto every song, every note, every word that Sugarfree is playing for the very last time, and you're asking if they're any good?!? Would so many people go and risk catching the flu for anything less than one of the best of all time? I certainly hope not, Justin Bieber's Manila concert being in an open air venue be damned.

I smiled at them and nodded. "Yup. They're not just good. They're great. And this is their last set ever."

They smiled back at me and thanked me and went on their merry way, looking for someplace to get a drink or two in, blissfully ignorant about just how big that moment meant to every other person standing under the rain, in the middle of Eastwood that night.

That's fine. It doesn't take anything away from the fact that Sugarfree, in its twelve years of existence, has become a part of so many Filipinos. They have become the standard bearer for those of us who believe in love and heartbreak and the power both possess - an indelible part of the soundtrack of the lives and hearts they have touched. And now, they're gone. It still hasn't sunk in, but the realization is quite relentless...

Ito ang unang araw na wala ka na.

I don't know what lies ahead for the band, but I will continue to support them in their endeavours. They are great people, and they are too good to just ever disappear from the OPM industry just like that. I have full confidence that when these gentlemen come back in whatever form, they will still blaze the trail that only an Ebe, Jal, Kaka, and even Mitch, could ever do.

When the last chords of Burnout played, all I could feel was that indeed, o kay tagal kong minahal ang bandang ito. And I will continue to love them for everything they've done. I wouldn't be ashamed to admit that I shed a tear for them. That night, even the heavens did.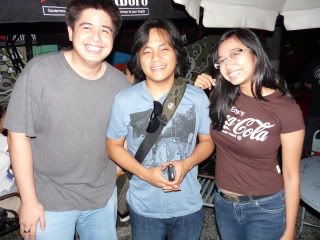 Thank you for the music. And godspeed to you.