.:Still Disenchanting, As Always...:.
So there we were last Monday, just enjoying the kick-ass show King DJ Logan, Marf, Cleo Caliente, and (every now and then) yours truly manage to deliver on 99.5 RT, 6 to 9 every evening. After the show, KDL had this bright idea of going to Behrouz, as we were going to meet the owners of the place in Metrowalk.
Oh, yeah. The food was awesome. That much is a given. But what really got to me were the amazing stories they had to tell that night. How they do what they do, the kind of rigorous process they have to undergo on a daily basis just to make sure their food is fresh and clean, and even their very interesting love story, as things just fell into place for them in love and career in one fell swoop. With multiple branches in Metro Manila, you can just imagine how much ground they have to cover just to make sure all of them are running smoothly. It's a tight ship, but I personally wouldn't have it any other way.
And did I forget to mention that the food was awesome? Because the lamb chops and the ox brain still linger in my mind to this very moment.
It was quiet moments like these that made me very happy to be a part of the Disenchanted Kingdom, even if an earth-shattering announcement was made over dinner that night. We may not be flashy or bombastic the way other shows at our timeslot happen to be, but The Disenchanted Kingdom has typically been a fun show where people can just enjoy light-hearted banter and be themselves.
.:A SPIT Take:.
With the first-ever
Manila Improv Festival
happening sometime next week, you can tell that the time is definitely ripe for the amazing improv comedy group known as Silly People's Improv Theater, aka SPIT, to really make waves in the country and bring alternative forms of comedy to the national consciousness much in the way the Comedy Cartel has been trying for years now, all the same.
Of course, there are key differences, and as a fan of comedy in general, I'm very mindful of how different an act by a Vice Ganda and a John Lapuz would be from an act by Mike Unson and a GB Labrador or an act by a Gabe Mercado and a Kenneth Keng. That being said, it's really great to see that these different forms of comedy are really coming to their own, and hitting their stride as they reach audiences far and wide.
Last night, The Disenchanted Kingdom guested SPIT, and the results were phenomenal as Chester, Bibay, Aryn, Monica, Maliksi, Kenneth, and Gabe truly broke expectations, as King DJ Logan was clearly impressed by the sheer amount of entertainment he has missed right under his nose all this time. He was further surprised to discover that all this time, those little games he's been playing, such as Triple Threat? They're improv games, too.
The interview was pretty in-depth: from the
origins
of Silly People's Improv Theater, to the things they feel are necessary requirements for someone to become a good improv comedian, it really gave ample insights into the craft and the work that goes into improv comedy. How does one create laughter from nothing but random ideas by the audience and nothing but the most basic of rules to guide them along?
However it's done, SPIT has been doing it nearly every week for the past ten years already.
On top of the amazing interview, they even tried to push a scenario on me as a very cold audition. I was pretty miserable at it, but they at least saw I was willing to go through trilling like Regine, or jawing like Robin, while Logan matched wits with Gabe on the fly.
Then, the piece de resistance: a reggae song made up on the spot about what one thing women keep doing should forever be banned (I suggested "bringing up past transgressions."), which went over pretty well.
Well, what else is there left to say? I don't think I can sing the praises of SPIT any louder if I tried, so guys, if you're ever free from 28 June to 01 July, and you happen to be in the Makati area, why don't you just go mosey on over to Quantum during the evenings, and for 400 bucks, get treated to not just the amazing ensemble of SPIT, but even several other improv comedy troupes all over the world?
It's an experience that will not just be fun, but maybe even life-changing for you. You just need to let it happen.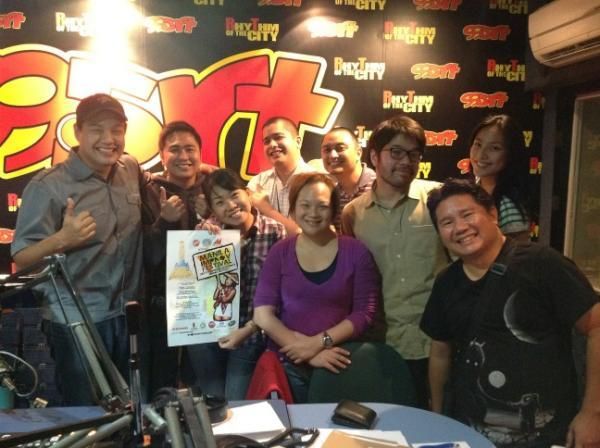 Let the insanity commence!