.:Project 52 (43/52): On Second Chances (And Why They're So Hard To Give To Exes):.
Appropriate, isn't it?
Eh ano nga kasi ang problema?
Gusto mo ba talagang malaman? Ako! ako yung problema! Kasi nasasaktan ako kahit di naman ako dapat nasasaktan. Sana kaya ko nang tiisin yung sakit na nararamdaman ko, kasi ako ang humiling nito, diba? Ako yung may gusto. Sana kaya ko nang sabihin sa iyo na masaya ako para sa iyo, para sa inyo. Sana kaya ko. Sana - sana kaya ko, pero hindi eh. Sama-sama kong tao kasi ang totoo, umaasa pa rin akong sabihin mo. Sana ako pa rin. Ako na lang. Ako na lang ulit...
Mahal ko si Trisha.
Alam ko.
She had me at my worst. You had me at my best. Pero binalewala mo lang lahat yun.
Popoy, ganun ba talaga ang tingin mo? I just made a choice.
And you chose to break my heart.
-
Popoy and Basha,
One More Chance
.
"I just made a choice."
These words echo in my mind to this very moment because this is really how I feel about second chances. It's all about making a choice, and these choices have consequences. I guess it's really up to one whether or not they will make that choice to give something or someone a second chance, because let's face it: there's a reason why the first chance didn't work out in the past. And sometimes, when you let the worst elements of yourself bubble to the surface, you even indulge in petty vengeance, if only in your mind.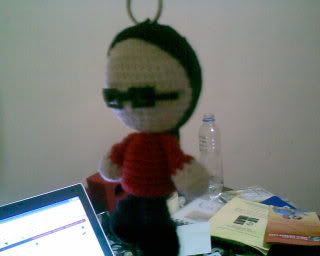 Pins! Pins! My kingdom for a handful of pins!
It's always a matter of choice. No matter how hard we try to ignore it, no matter how we may pretend that it's nothing, it's definitely a matter of choice. We choose whom we give our heart to, even if we can't really choose who to fall for. We choose when we leave and how long we stay. We make our bed and we lie in it. Ultimately, we may choose to break somebody's heart. And yes, we choose things that turn out to be wrong sometimes.
Alack and alas, we are thinking, learning people, and when we learn something once, very rarely do we ever want to walk into the same mistake a second time. Even if, all things considered, it could no longer be a mistake the second time around. Let's be blatant here and talk about love (yet again), if only to make the point clear: sometimes, the right love can indeed come at the wrong time. But what if finally, the right time does come along, and the love is still there?
Second chances entail risk any given time, but when it comes to love, the risk seems higher, even if the tradeoff is the familiarity just might actually be there. Sometimes, that familiarity, that he or she is the devil you know is actually a pretty nice feeling, and it can lead you back to the same places you've plumbed before, and you can't help but ask yourself, "well, why not?"
There are a million and one reasons why not, but in the end, it remains up to the both of you to answer the more important question: do these "why not's" even matter? Is he or she worth that second chance? If you answer a negative to the first and an affirmative to the second, then I guess you really should be working on it at this point.
I'm a firm believer in the saying "kung gusto, may paraan. Kung ayaw, puro dahilan." It's really the only way I could justify being where I am today, and still standing strong after all the adversity I've encountered in my life. It's all about the choices we make, and all about us acting on those choices decisively. Because I chose to live on and trudge along despite everything I've been through, I find myself in a position to fall back into what is familiar. I find myself in a position to meet once more the devil that I know.
And I couldn't be happier about it.
A second chance is familiarly unfamiliar territory: you go through the same roads, traverse the same paths, but it isn't quite the same. The moments of deja vu, the moments that harken back to what once was, they're all well and good, but when the differences come, they jar us to the core. When the familiarity comes, and along with it, the familiar wrongs, we are reminded why we left in the first place. On top of that, because you've been there before, the excitement isn't quite the same as it used to be. We go down the road again because we believe, in our heart, that it's worth another shot.
Maybe I really am being a hopeless romantic, but I can only speak the truth. I made a choice, and that choice was to love with all my heart because anything less would be a travesty. And with that in mind, I guess it's why I feel that she's worth a second chance.
And that I'm worth a second chance.
It's no longer a question of circumstance. It's a question of choice.
Para hindi mo makitang nasasaktan ako.