.:Bound And Gagged Is Happening On October 23!:.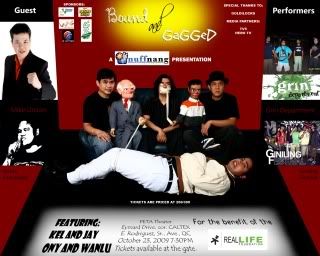 It's still on, guys, and now the stakes are higher!

In light of the recent typhoon Ondoy, the fact that this show is happening for the benefit of The Real Life Foundation could not be more timely.

This is a show for a cause. A show meant to entertain people who want to see magic, comedy, ventriloquism, mentalism, and even music in one excellent package.

You get the magic of Kel and Jay.

You get the ventriloquism of Ony and Wanlu.

You get the comedic genius of Mike Unson and Richie Fernandez.

You even get the musical stylings of Giniling Festival and Grin Department.

Again, this show is a benefit show for the Real Life Foundation. Happening on October 23 in PETA Theater, you can enjoy and help a good cause at the same time. This is not a show for profit, but a show with heart.

This is "Bound And Gagged", the sequel to last year's "Laughs And Gasps".

See you there!