.:The Philippine Blog Awards 2009 Not-So-Megapost:.
Lemme start with my quick thank-you video...
It was a crazy night, but it was still a night to remember. As I donned my white Dutch cap and stepped into PETA Theater where our show, Bound And Gagged, will be held on October 23, it was good to run into old friends like Karen and Maro, as we talked about everything from doing a Kanye West ad nauseam to the possibility of having another Bitter Ocampo writing about not winning the award (but not caring that he or she didn't, no siree…) yet again.

Thing is, while I was nominated for the Top 10 Best Blog Posts Of The Year, I certainly didn't expect to win at all. I still believe that my best post ever was The Rick Astley Megapost, but as luck would have it, my nominated post turned out to be rather… intriguing.

This year's theme was "One Blogging Nation", and as I saw a Jose Rizal analogue talking to an Andres Bonifacio analogue (Both, I believe, played by Vince Golangco.), I realized how much I see my post in the hilarious video clip. Still, did that tell me I had a shot at winning? Hades, no. With amazing writers like DJ and even the crew of TNL, I felt like a gnat surrounded by giants.

But lo and behold, when they started awarding the Top 10 posts, I was the first one they called onstage, and I was stunned. So I went up onstage, and I was still wide-eyed and I could hear the heckler's section, composed of myself, Maro, Ade, and Noelle, and they were delivering their ribs at me audibly from the back. I didn't care. I was just gobsmacked, and for the rest of the night, I was clutching that trophy like it was never going out of style.

I'd like to also congratulate sir Jim Paredes for winning, as well as fellow rusher, the Professional Heckler for winning. I'd mention Aileen, Noemi, Janette, as well, but if I went on, I'd end up congratulating everyone who won. Maro won a couple of awards, too, and of course, he got the much-coveted Commentary blog award, among other things. Ade went home empty-handed, hence his rather bitter post.

Mica was a big winner that night, though, as she won the blogger's choice award, and well-deservedly so. See the picture here courtesy of Fritz.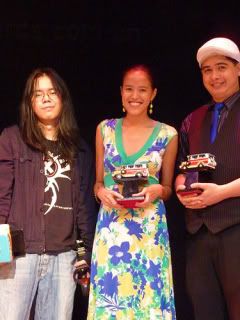 Maro, Mica, and I are winners. Ade is not. Neener neener neener...


In all seriousness though, I'd like to thank Ian Uy, whose post, abrasive thought it may have been, inspired me to come up with my first Lost Gems post.

Sometimes, it's the tough questions that makes you look really long and hard at yourself, and from there, you manage to draw out the truest, purest, most well thought-out response. Yeah, the post was a bit humorous and all, but it did get its point across rather well.

Ian, I have but one last rejoinder to you…

You said in your post that Koreans have something to be proud of, while in contrast, you find it difficult to find anything to be proud of in this country, with all the corruption, lack of discipline, and apathy that mires the Philippines. It's difficult, to say the least, and it's certainly a bit bleak at times, perhaps even hopeless in some other cases.

In light of the Ondoy and Pepeng tragedies, and the everyday heroes that rose through the ashes to help each other, despite all the politicking, despite all the looting and racketeering, think upon those who chose to rise above all of that pettiness and just genuinely help others just because it's a good thing to do.

I hope, dear Ian, that in the aftermath of these storms, you finally found a reason to be proud to be a Filipino. I know I did. :)

Thanks for giving me a chance to look deeply into the core of my psyche and find in myself why I'm proud to be a Filipino, no matter what idiotic government we may be under, or whatever latest international brouhaha we commit faux pas after faux pas in. When push comes to shove, the Filipino can.

One blogging nation. Now, more than ever, I believe this to be true.
But darn, I still think the Rick Astley post should've won.