.:So I Said...:.
Hey, what's going on?
Well, lemme clue you in, as it's been a rather hurly-burly weekend that I've been rather pleased as punch about, all things considered.
.:Experimental:.
Last Friday, I tried out all-new material for standup comedy since I didn't want to get too stale with my old stuff. Admittedly, it was a hit or miss affair, especially since I really was a bit apprehensive about a lot of the stuff I wanted to do. Still, it all worked out in the end, and I'm glad I went with that little experiment. I wouldn't have been able to try my stuff out any other way if I didn't.
As usual, though, the magic was still a guaranteed hit, as people really enjoyed watching Fernando The Ferret in action, even if he was a bit stilted with his movements compared to Robby The Raccoon.
It was great bonding with Anna and the other people in Ditzy Diner that night, though, what with the videoke night we had, where I decided to go and sing songs like "Humanap Ka Ng Panget". Heh.
.:Bound And Gagged Is Upon Us...:.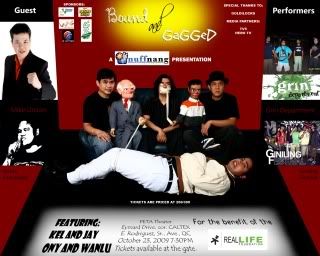 It's THIS FRIDAY, guys! See you there, as we treat you to an amazing night of music, magic, mentalism, and mirth! For a trifle 200 or 300 bucks, you get a top-notch show, and even get the chance to help out our friends affected by the Ondoy and Pepeng typhoons through The Real Life Foundation!

Catch you all there. You have no idea how much time we've put into rehearsing for this show, just making sure we get every little detail right and perfect.

.:Love Still Wins:.

It bears saying... congratulations to my good friends Carlo and Mich for getting hitched!

In a time where it's easy to get jaded and lose sight of how beautiful love could be, these two are a stellar example of how love still does exist, if you let it live on in your heart.

Maybe there's still a wee bit of hope for me, then. :P

.:A Mental Note:.

A friend in need is a friend indeed. For every true friend you have, you probably have ten of the fair-weathered variety. I should know better than to go out on a limb for these people in the future. They're not worth the effort.

.:A Turning Point:.

I know my blogging has been lackluster as of late, but it's all good. Rehearsals throughout the weekend, and then the thesis to worry about, but after all of that has been said and done, I know I'd be back to form as I used to be. I guess I just really need the proper environment to write more creatively. At the moment, I'm just enjoying putting together one helluva show, and October 23 cannot come soon enough!