.:DK-Oke!!!:.

Wotta night, wotta night!


Thursday night last week was a historic night for the Disenchanted Kingdom and the rest of 99.5 RT as they took over 121 Bar and Grill in Pasong Tamo extension to bring to their friends and listeners "DK-Oke," an awesome night of music and drinking, where you get to go onstage and perform with a live band and you on lead vocals.

I got there fairly early, fully prepared to sing one song and only one song: "Nobody," by the Wondergirls. Prior to that, though, seeing Lou Skywalker, Anna Q5, Marf, Cleo, and of course, King DJ Logan, was quite a sight for sore eyes. Everyone was in a festive mood, and this was going to be quite a night for the show, its listeners, and the station as a whole.

I sang first, and lowered the bar sufficiently for the rest of the night, but with Cleo singing "Alone" at top form, it was rather difficult to keep the bar low, although Ms. Nancy Jane and her friend CJ did have fun singing "Torn" and "I Touch Myself." Overall, it was an insane night, and hearing Logan belt out "With Or Without You" and Marf sing "I'll Be" with gusto definitely drew a lot of reactions.

At some point, the King asked me over onstage to perform a bit and entertain the audience with my magic and mentalism act, and I happily obliged. I decided that doing the Michael Finney classic, the Lady and the Rope, would be most suited for a wonderful volunteer as Ms. Nancy Jane herself...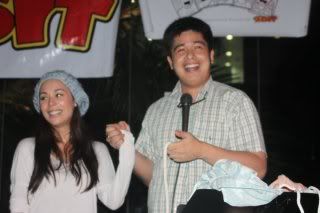 I love this routine.


Overall, I must say this was a pretty awesome night, and I can't complain about how things turned out. With the DK hoping to do this on a monthly basis, and with the show just firing on all cylinders as of late, and the couple of days a week I've been guesting with them, I must say that the Disenchanted Kingdom is looking towards exciting times en route to its first anniversary.

It was pretty hilarious what happened last week, though...

KDL: So, if we guys all ended up trapped in the Amazon, and we had no choice, who would we be gay for among the four of us?

Lou Skywalker: Kel looks like a softie. I think I can take him. I ain't gonna be a pitcher.

Marf: I think I'd go for Lou. He's hairy.

Cleo: Marf, you're Chinito! I guess that means Kel will go for you!

KDL: Wait, dammit! Why is nobody gay for me?!?

Uh-huh...

.:For The Lulz:.

Remember this infamous picture from when Facebook controversially deleted Alodia Gosiengfiao's accounts?



Gasp! How could they?!?


This was always why I believed in Friendster far more than Facebook, no matter what everybody else says. After all, they'd never delete an account for no reason at all, would they?

Would they?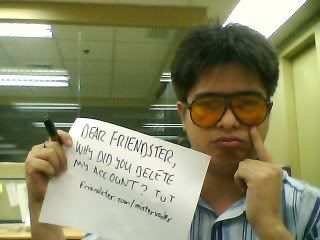 Double gasp! How could they?!?