.:231/365: Realigning Our Numbers:.
Okay, this is weird.
While doing the whole Project 365, I realized that for some weird reason, I am waaaay ahead on schedule. Today is supposed to be day 231, but according to my count, I'm already all the way up to 241, when I posted my Q and A segment with Mr. Rannie Raymundo.
In any case, I do believe I haven't particularly missed any days at all, so I'm just going to go ahead and realign our calendars at this point, by coming up with a Project 365 megapost here that should put me up to speed. I completely lost count, so I guess the easiest way to pull this stuff off correctly would be to clear out my backlog here, and then just do things correctly from hereon.
Anyways, I need to talk about two topics today to make the grade and send us back to proper numbering, so for now, let's discuss more stuff about the Philippine magic industry by opening up with this demotivational poster...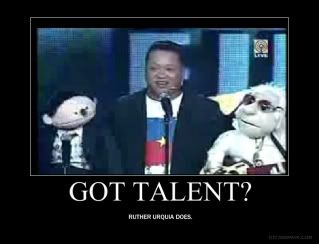 And with that one and hopefully only demotivational picture out of the way, why don't we introduce you to the toast of the town today, this man known as Ruther Urquia?


Ruther Urquia is currently the toast of the town, being one of the most popular ventriloquists in the country today, along with other remarkable individuals such as Rael, Ony Carcamo, and Wanlu. While it's true that Wanlu has won "Talentadong Pinoy" on TV5 in the past, it cannot be denied that Mr. Urquia's impact as a grand finalist in Pilipinas Got Talent is also certainly worthy of mention, considering the man's very storied quest to the top of the heap.

While many have gotten to know Mr. Urquia only this year, most of the magic community recognizes Ruther as a veteran, who has been performing for the longest time, both as a magician and as a ventriloquist. Through his efforts, he has established himself as one of the premiere performers of the country, even having taken part in the much-hyped show called "Illusive," where he took to the stage with fellow magicians like JB dela Cruz, Nap Perez, and even young crooner Charlie Green. The man has paid his dues, and is certainly no new kid on the block.

With a wide arsenal of puppets and a very varied set of characters going with each puppet, Ruther took the country by storm when he made his way into the hearts and minds of the Filipino audiences through Pilipinas Got Talent as one of the grand-finalists, losing out only to Jovit Baldivino. Since then, Ruther's stock was on the rise, as he made his presence felt on TV shows like Showtime, and finding himself more and more surrounded by opportunities to take his craft to even newer heights.

I hope to meet this man before the end of the month, so I can write even more about him by then. For the moment, I guess it would suffice to say that I'm a fan, considering how much I respect the very challenging art of ventriloquism.