.:Belated Congratulations!:.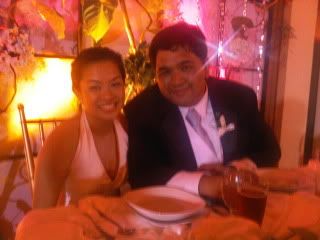 Moments like these do the heart good.


Belated best wishes to Mr. and Mrs. Carlo Ople! The nuptials were a blast, and I'm happy to have been a part of it. I can't gush enough about how amazing that day was, considering how despite the inclement weather, the rain stopped at the moments it had to stop...

.:Gathering My Thoughts:.

There will be jokes about today's Ms. Universe, and tasteless jokes about yesterday's tragedy, but I decided for now that you wouldn't find them here in this blog.

My prayers go out to the affected victims of yesterday's horrible atrocity, and my heartfelt congratulations go out to Ms. Venus Raj, because being 4th runner-up is no mean feat, no matter how you put it.

But I just can't bring myself to go all manic-depressive and write about both topics in this blog just yet. I want to critique, to point out where things went wrong, to play armchair CSI/SWAT.

But I recognize that won't bring those victims back.

I will just simply say that this was indeed a tragedy, but my sympathy for the hostage-taker evaporated the minute he decided to use a bus of innocent people to further his own agenda. The ends never justify the means.