.:Project 52 (25/52): Hero - Bonnie Tyler:.
Decided not to change my video sizes just because I can have bigger images on my blog now. That being said, as I write this on the (moved) holiday celebrating the birthday of our national hero, Dr. Jose Rizal, I ended up thinking about this song all the while because it just felt so appropriate.

As a guy who writes satires about what it means to be a Patriotic Filipino, I do it not to ridicule being Filipino per se, but the misplaced patriotism we find in not a few of us. Contrary to what cynics have to say, there are quite a lot of reasons to feel patriotic about being Filipino, so there shouldn't be any shortage of that, when it comes down to it.

And let's face it, Gat Jose Rizal, being the hero that he is, and no matter what shortcomings we may have to put up against him, is, without a doubt, one of the best of us, and his status as national hero is certainly well-earned, if not undisputable.

I won't bore you with a history lesson about the man's beginnings and his eventual martyrdom, which, for most, became the catalyst for the Filipino uprising that managed to liberate us from Spain as we declared independence on June 12, 1898, an occasion we have been commemorating the past 113 years already. While some short-sighted people think that Jose Rizal only "wrote a couple of books" but didn't really aid in making this nation free. He was supposedly just some "rabble-rousing blogger" in the eyes of some critics. To a blogger such as myself, that is less a criticism as it is faint praise of bloggers, but that's beside the point.

Jose Rizal died as a martyr for the Filipino people. Through his ideas, through his actions, the nation managed to rise above the hurdles it faced, despite the fact that he himself was never really one for active armed conflict. To ignore his contributions, and to ignore the effects of his endeavors upon the psyche of this nation to this very day is nothing short of a travesty.

And with this song, I choose to honor Jose Rizal. We're still holding out for a hero like him to come along at present, but if there's one cue we should have taken from him and the great men of his time, it isn't about holding out for a hero, it's about doing what needs to be done to be one.

Not every hero needs to die for this nation. Sometimes, it's just as important to live for it.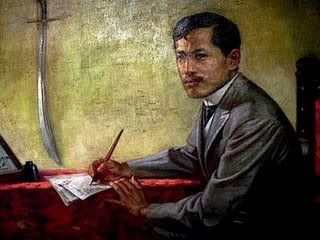 Thanks, Dr. Rizal. Image taken, ironically, from antipinoy.com