.:Tomorrow, It's Her Birthday...:.
... and quite honestly, I don't know what to say or do.
I still wish my best friend would come back to me. I really do.
.:The Absolute Best!:.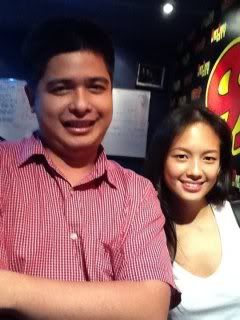 Guess who guested on the DK last night? That's right! Ellen Adarna!


So I guested on the DK last night again, and I had yet another brush with celebrity with the lovely Ms. Ellen Adarna. It was pretty awesome shooting the breeze with her, but truth be told the night was really punctuated by the fact that radio history was made as 99.5 RT, the station steeped in so much tradition, has, for the first time in radio history, given away t-shirts of another station as a prize for a contest.

Considering that we are currently the station that's better than DM 95.5 right now, then I guess that makes us awesome people. Imagine, being the 24th best station among 25. There's something to be said about that, right?

Anyways, standup comedy was hilarious that night as well, and overall, it was a crazy night. I even ran into Ms. Saab Magalona in Tomato Kick, for that matter.

.:Death By Sugar:.



Let that image sink in for a moment.

You are looking at sugary madness. A single Sylvana(s?), sandwiched between a slice of sans rival, like a menacing sandwich of sweet, sweet death.

Thanks to Carlos, I managed to indulge in this ridiculously delicious diabetic delight. If you're one of my readers who has never tried sylvanas or sans rival, then I just gave you two reasons to go to the Philippines and try them out.