.:Welcome Back, Cleo Caliente!:.
After a while, Cleo Caliente made her way back to the Disenchanted Kingdom, trading places with Lu Skywalker, who now handles the 12-3 time slot for 99.5 RT.
Was there last night, and it's pretty clear that Cleo hasn't missed a beat at all.
The Disenchanted Kingdom can now be heard Mondays to Fridays, 6-9 PM, on the station that's totally better than DM 95.5, 99.5 RT!
.:This Should've Been A Film Review, But Whaddaheck...:.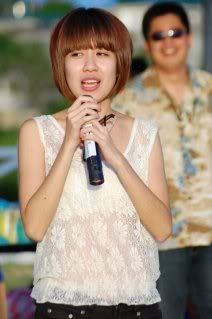 Trixie says: don't forget me come the next elections! Trixie the Fixie for vice-kagawad!


Two events courtesy of Nuffnang last week really worked out pretty well: the film screening of X-Men: First Class, followed by the Nuffnang family day.

Crazy tiring on both days, but there was certainly a lot of fun to be had. I'll update this post with links and the like from other bloggers covering both events as well as my two cents when I get around to it...