.:Optimism:.
I think I more or less found a place to move into now.
I want to thank Ranulf for having taken me in the past two months. It has been quite a burden on you, I know, and I can't ask for anything more than the help you've already extended to me. May I find the opportunity to repay your kindness someday.
.:I Can't Find It Anywhere!!!:.
I'd almost kill for an MP3 of "Happy Valentine's Day" by Trina Belamide. I have been looking all over the internet for a copy of the song, all to no avail. Help!!!
.:Ideas That Are Bound To Suck, Part I:.
Well, I was looking for a copy of the ruddy poster, but the Crow 4 posters available online don't have that silly blurb with the Evanescence lyrics plastered on a tombstone.
I was never a fan of the Crow series, and even if we're premiering this movie, I just really refuse to touch it with a ten-foot pole, no matter how good it would actually turn out to be. In any case, you just really have to see the poster for yourself. It's just that horrible, really. I'll leave it at that.
.:Ideas That Are Bound To Suck, Part II:.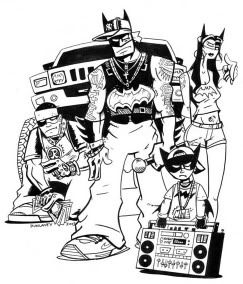 Batman Blings


Spinning off like this is a bit out of whack, dawg. But seriously, an idea like this sounds so bad, it could be good.

Ah, well.