.:Jac, This One's For You...:.
I chose against hotlinking the entries, aside from the top three.
Now, for your perusal, the 15 entries for Jac's "Dress Up Pilya" Contest, ranked from 15 to 1! Watch me do a pathetic impression of Simon Cowell. I know most of these people so I wouldn't even dare throw the patented Simon insults lest I incur their wrath. (Maybe next time, when I've asked them permission in advance to level comments like "Your artwork makes me long for the days I was puking at Rob Liefeld's work on Captain America.") =P
15: Cyberpunk, by Greyweed - Nice attempt, but it just didn't grab me as something Pilya would wear at all.
14: Chiaroscuro, by Sean - Plus points for the way cool title. I liked the title. The drawing was rather nice. Black is beautiful, and it shows in this attempt. I found it playing a bit too safe, though. Not something Pilya would do now, neh? :P
13: Gimikera, by Greyweed - This is something I could imagine Pilya wearing, but the execution of the other entries meant I had to place it just a bit lower... I like the Yuppie look, though.
12: Santa's Naughty Helper, by Dominique - It was pretty okay, but then, it was inevitable someone would come up with a Santa outfit. Kudos on beating everyone else to it first, though.
11: Lady In Red, by Sean - I like this one. Definitely something I can imagine Pilya wearing.
10: Evergreen, by Delurianne - The Christmas themes from Delurianne are way cool. She has three great entries, and it's a shame I have to rank everything because it'd seem that placing Evergreen at Top 10 means it wasn't good. It really is.
09: Threadbare, by Delurianne - This is even better than Evergreen, in that it captures Pilya's character quite a lot more, in my opinion.
08: Sister S&M, by Robert Wong - This kinda overemphasizes Pilya's character now, doesn't it? Works for me. =P
07: Hot Blue Dress, by Charlieman - I'm a fan of the color blue. And it's got nothing to do with being Atenean. Nothing at all.
06: Beads & Cocktails, by Delurianne - Now, we're talking. Delurianne's best entry, hands down. Wish I could meet the other artists whom I don't personally know. They seem to be really cool people.
05: Bluefunk, by Dang - Dang's work is really good. Of course, I'd imagine Taray wearing this more than Pilya, though. But that little number would look good on anyone with the figure to carry it.
04: HOTTER Blue, by Charlieman - Man, that number Pilya is wearing would look just perfect, given two conditions:
* That it's Taray wearing it.
* That it's lying on my bedroom floor. =P
Oh, goodness. Did I just say that?
And now, the top three:
3: Invisible Cloak, by Inez Ponce De Leon
- I just ranked it highly not because of the art (Unless you call working with purely an eraser "art".), but because it was just plain witty. It's like the Emperor's new clothes! But of course, that won't quite be good enough for the runaway win. However, we have a tightly contested battle for the top spot...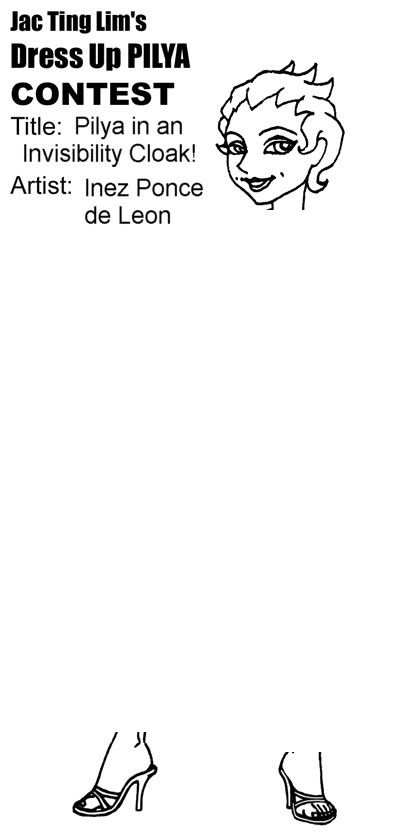 According to Jac, this entry wins an invisible shirt! Fair enough. =P


2: Chourange, by Chou - Now, I really, really like this number. It'd look good on anyone's bedroom floor. Lol. But seriously, the art on this one is just sweet, and it fits Pilya's character, in that she could be overtly blatant about being sexy, or she could just be that "sweet outside, NAUGHTY inside" kind of character every now and then, and this dress highlights the latter. Definitely a great effort, and would be the top spot, ASSUMING the number one entry doesn't qualify anymore...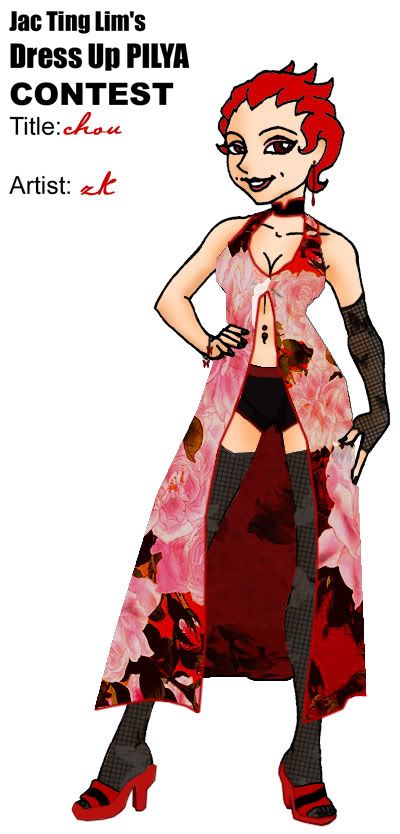 What rhymes with Orange? Chourange! =P


And the best entry...

1. Winter Pine, by Gem So - Whoah. I'm stunned. This outfit has everything you can expect from Pilya, and fits right in with the season theme. I'm definitely impressed, and hope that this still qualifies despite being late. When they said "last, but not the least", they must've had this little number in mind. It's trendy, sassy, sexy, and just plain brilliantly conceptualized AND executed. This one gets my vote for the best entry in the contest by a hemline, but what a gorgeous hemline!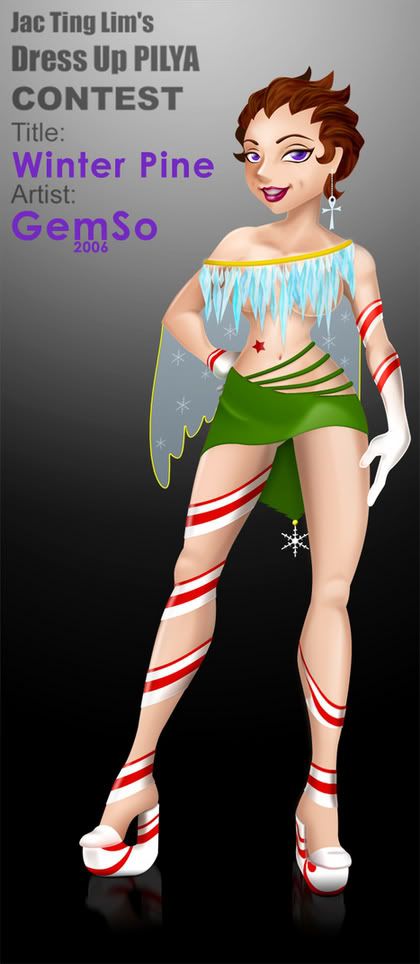 Season's Heatings!


And there you have it. Any comments, violent reactions, protests of Pilya contest bribery scandals leveled in my direction, you know where to reach me. ;)

Until Wednesday! I think I can actually cough up a Suman post this coming Wednesday... now that's cool.