.:Ye Olde Magick Blog And The Project 365:.
2011 really seems to be a year for magic to gain a lot of stellar bloggers, as by my count, I have noticed at least three different magicians who are doing a project 365 of sorts in their respective blogs. This, to me, is quite intriguing because I can safely say that while
I did it first,
there's practically no chance that they got the idea from me. Parallel thinking does run quite deep, to say the least.
Now, I've written much about magic in the past year, and to this day, I still do share my thoughts on the topic every now and then when I find it appropriate to do so. I feel a tad guilty about not being too active in the Magic Café, but it's at least good to know that through my own way, I've given back to the industry through my Project 365 last year.
I guess that's why it does the heart good to see that
Ye Olde Magick Blog,
penned by the professional magician Andrew Musgrave, actually went and featured my effort on his blog in his own Project 365. I felt very honoured, and as I continue along my path of self-improvement as a performer, I hope that I would continue to be able to pass on to the community both nationally and internationally the kind of passion and drive I have in elevating the art form through quality performance and critical analysis of how the industry is coming along and where it is headed, as opposed to where it should be headed.
That I hold myself to a higher standard as a performer and refuse to half-bake anything is my strongest suit. It helps set me apart from a few of my contemporaries, and it stands as a stern reminder that there should be no room for mediocrity in this industry if you want to gain recognition. Nowadays, being the first mover in the mainstream for our industry no longer gains you a significant advantage. It's about running with that ball once you've gotten it.
Of course, the burning question has been whether or not I'd still be doing something huge related to magic and/or mentalism this year, and the answer is an unequivocal "yes." As expected, the tandem of Kel and Jay will again be doing a show sometime in the –Ber months in the Vibal Publishing House building, but we're coming up with something else. Something we've been dying to do for the longest time. Something we hope has never been done before, if not in the world, then at least locally.
For too long, the concept of a magic show has been patterned after the Blaine's and the Copperfield's of our era. It took something like Penn and Teller's "Bullshit" show for them to do something different, but that was tenuously tied to magic at best, and then another alternative take was demonstrated to us by one Derren Brown in his awesome specials like "Messiah."
As entertainers who want to bring nothing but the best, Jay and I are pretty excited about what we have cooking. Look out for it soon. It will hit you before you even realize it.
.:Spreading The Love:.
Yes, Technogra is totally a celebrity. A shame about the hairstyle, though. Coulda sworn he had a better one in the poster.
With this renewed drive to reach for the proverbial brass ring, I ended up with yet another brush with celebrity the other night, as I went and caught a huge party by Globe Tattoo, where they showed off their amazing roster of brand ambassadors, including Sarah Gaugler, Alodia Gosiengfiao, Saab Magalona, and Rico Mossesgeld. Coach Rio was unfortunately out of town, but that sure didn't dampen the mood one bit. This is a pretty diverse lineup filled with people who are both very influential in their own rights, yet at the same time, very real people all the same. I guess that speaks volumes about Globe's desire to target the general public by showing off a roster of people who are both lively and larger than life at the same time, but I digress.

In any case, seeing as I've been a Globe subscriber for about seven or eight years already, it was a no-brainer that I would drop in on this event when I received the invite earlier in the week. Not only am I pretty much a loyal subscriber for as long as I had a mobile phone, I'm also fairly well-acquainted with three of the endorsers, as I work with one through my company, and have been friends with two for years already.

Joey Mead and RJ Ledesma hosted the event. Cosplayers abounded, and I even met some familiar faces in the community, which just made me feel very at home. Some talents were showcased at the freedom wall, and meanwhile, I was hobnobbing with the PR people, talking to them about what to expect for the night.

As usual, sans the data-capping thing very few people seem to be happy about, this was good news all around. Globe's pulling out all the stops with their 4G, and it remains to be seen how this will change the mood in the air for everyone else.

With that being said, because Ms. Pia Magalona kinda forgot her fork from when she last dropped by 99.5 RT, I took it upon myself to rectify that little error, as I performed a telekinesis (Looool. So sic.) for them that just made jaws drop all around. I even ended up doing it a second time for Frank and Elmo, two of Pia's sons, whose astounded reactions made my and Rico's night, without question. Afterwards, I did some psychological mind-reading then proceeded to explain how I did it. The explanation made the whole thing even more amazing to them than the actual performance, and ladies and gentlemen, that's how you show mastery of the mind: by showing them the cold, hard truth, yet still blowing their minds all the same.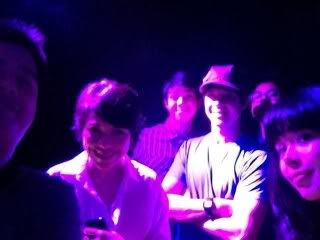 So mind-blowing, everything turned into a purple haze.
Overall, everyone was pretty happy with the event, and I even got a pretty cool picture where I could make-believe that I'm actually endorsing Globe. Unfortunately, I think there's something a wee bit disturbing about my mock poster…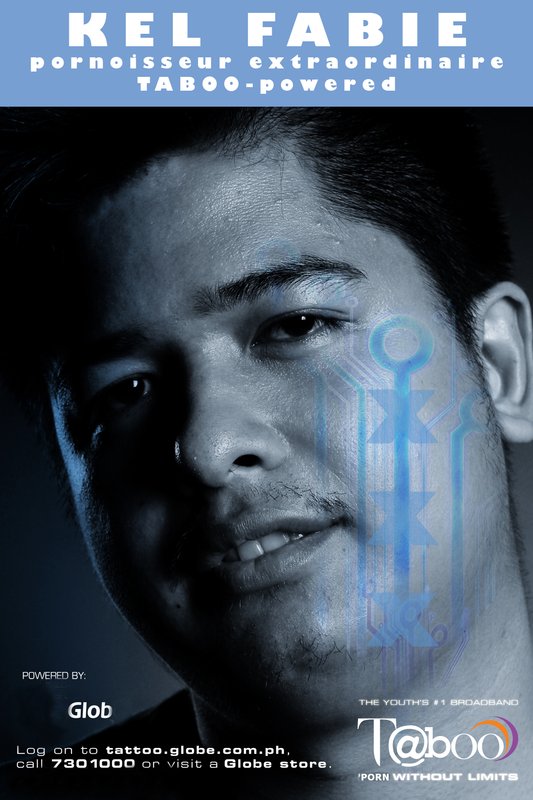 I can't quite put my finger on it, though…