.:And Now, We Make Clair and Sacha Drool…:.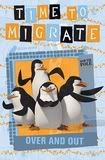 Coming this Christmas… the Madagascar Penguins Christmas Adventure.


You know you want to watch it.

.:Like Clockwork:.

Since Gia got back and became my partner on the air again, things got a bit more interesting. Inasmuch as it certainly changes how I do things, the fact that the both of us are working tends to take some heat off of myself.

She's been a bit under the weather lately, though. Lots of things she's been up to, considering how she recently hurdled some personal tragedies and whatnot, but at least she seems to be having a lot of fun right now, being the center of attention among a few guys like K-24/7 and Thor and even South Border.

Let's hope things continue running smoothly for the both of us...

.:Awfully Magnanimous:.

I purchased NBA Live 06 and while the game was running when I installed it, there was just one slight problem...

... it was in Chinese.

That being said, I had a hard time deciphering the game menus, so I had to have the game replaced. I went to the place where I bought the game, and the guy manning the store was extremely gracious, considering how he not only gave me a working copy to help me install the game in English, then he even told me to just give back the installer afterwards so I can replace my CD's with something else.

That's like getting Fable and NBA Live for the price of Fable... so I picked that one up...

.:The Last Day:.

It was our last day of class for Paul Ricoeur, and this is considering how I was slaving over my paper for the subject just the night before it. Nonetheless, it all worked out, as we were even given a very nice extension to make some final revisions to our papers before submitting it.

After the class, I just stayed around with Ray over at Chiggy's. We were just talking about everything from Philosophy to wrestling, as we definitely had a lot of amusing conversations left and right when Ray mentioned to me that he wanted to spill some details about me in class when I started talking about former loves, but chose to shut up because I had even scarier info I can drop on the class about him. Heh.

Anyways, it was all good, really. I guess even if I'd take a leave from my masters for at least a semester, I still wouldn't really have much of a problem hanging out with the friends I have in the department, really.

.:The Self-Destruction of the Ultimate Warrior:.

And so I was wondering why the Ultimate Warrior was trying to pick a fight with anyone and everyone whenever he writes those incendiary diatribes of his online.

And Ranulf had some words of wisdom on the matter...

Kaya nga "Warrior", eh...

True, true.

.:A Sort Of Good Deed:.

Finally got to treat my grandparents to Razon's. I'm awfully glad that they enjoyed the small lunch. It set me back quite a bit financially, but that's nothing compared to seeing both of them really happy...

.:Thank God It's Friday's:.

So I was going to do my hosting at TGIF, and it was a bit amusing, as the guy who was giving me instructions was, amusingly enough, fond of saying the word "critical" a lot. What made this particularly funny was that he was repeating this so often that in a span of thirty minutes, he would say it at least every three sentences. So when I did my hosting, I just had to squeeze that zinger in. Heh.

Anyways, the hosting worked out pretty well. I was wearing a leather jacket I borrowed from Ranulf, a pair of shades, and a white shirt under the jacket. The party was a rock-themed party and I must say that it was quite a success. La Salle-FEU jokes abounded when the name that tune/name that artist game was going on, and the competition was so intense as some of the contestants managed to reach the tambourine we designated as the buzzer at the exact same time.

The guests were having a grand old time, really. They were around 30-40 for the most part, so that music really got them grooving and whatnot. It was a party composed of BPI people who were also selling insurance courtesy of Ayala Life. That being said, it was rather amusing how some of the guests were trying to pimp one of the other guests to me. I'm not sure if she was the daughter of one of the bank officers, but then, it's not like I'd pay much attention to something like that, notwithstanding the fact that I had to dance with her during one of the numbers (Dance music, so it's just casual dancing.).

Ms. Aika, the one from Friday's who got me as a host, looked stress during preparations. Regardless, she felt particularly relieved when the event was over. It was a great load of fun, and I certainly enjoyed my time there. The nice payday and even the additional GC certainly made things a whole lot easier on me... heh.

The hosting for me went well. I had the standard "best in rock attire" segment, which led me to making the offhand comment that with all the leather there, the animal rights association of the Philippines just had to know how many cows and reptiles were sacrificed to make that lineup possible.

When the winners were crowned, they could only claim their prizes if they actually danced first. That being said, the winners were game enough to do the swing. Wow. =)

I'm really glad that hosting gig went well. I hope that's the start of even better gigs for me...

.:Impromptu:.

I was glad to have found the time to go out on a date with Gyn. Her friends, aka, my students, were also there. Heh. Truth be told, that was great. So we met up in Gateway Mall (Where it all began... ::gushes::), and we had a small meal at Burger King, since we were going to watch "The Corpse Bride", which I will review soon enough.

I of course, wore the jacket I wore last Friday, since Gyn wanted to see me in "costume"...



You have no idea how hot it can get... and I'm not even talking about the jacket yet. ;)



It was really funny when we got there, since Gyn's friends knew me for the most part, so there wasn't any ice that had to be broken. In any case, we watched the film, and after watching the film, we had a late lunch at Max's. What was funny about it was how we were debating over and over again who Max really was, only to find out that the question mark in the poster already gave the answer away. We had interesting conversations, though, as we were trying to get any one of us to foot the entire bill whether as a despedida (Ryan.), to celebrate his supplementary pay (Ben.), or due to being the oldest in the group (Err... me.).

Ben was hesitant to use his hands, but I reminded him not to hesitate because the chicken was "finger lookin' good". That ruined the punchline... heh.

After parting ways, I opted to just go with Elgine to Centerpoint (Memories... sigh.), and we watched "The 40 Year Old Virgin", which I'll also review in due time when I find the time. I was very happy to have spent time with Gyn. It was a while since I last saw her, and I may have been extremely tired, but seeing her simply made me feel rejuvenated. All the stress that came from a week's load of preparations for both my Ricoeur paper and the hosting simply evaporated with her.

And to wit, I've never had someone who believed in me as much as Gyn does. It's unbelievable the sheer amount of confidence she has for me...

Well, that's my Pomelo. =P