.:A Double Celebration:.Yehey Christmas Party!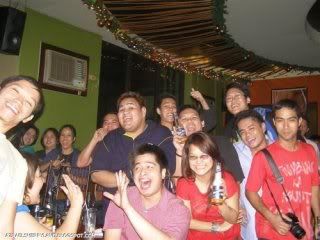 Image courtesy of Azrael.


Yehey.com
has had a lot of reason to celebrate this past year, considering how successful their year has been. Yehey was gracious enough to invite us bloggers to the festivities, as we went to their Christmas Party last December 15, where we were treated to an awesome helping of food and fun, not to mention several really good bands, including the ineffable Roots Of Nature, who just brought the house down with their amazing classic medley, and of course, Rick Astley. I personally thanked the band for that quite profusely, actually... =P
This was a great party, to say the least, and Yehey outdid themselves, considering how everyone really enjoyed the pop culture references galore. At the same time, I met some old batchmates, including my partner from Ateneo Debate Society some of the time, Rachel Syfargo. I was in great company, with bloggers like Azrael, Sire, RG, and of course, Louanne from FC.
While it was definitely fun times for everyone, I had quite an experience that night, particularly after Roots Of Nature performed. Not only was I asked to rickroll everyone by the host, as he asked me to sing "Never Gonna Give You Up", I was also the very fortunate winner of the raffle grand prize, as I scored a brand new Verzio cellphone... to think I was joking about it at the time when Fatima drew the winner and said the name starts with an "N". I told Louanne maybe it's "Narcelle Fabie". Turns out, yes, it was my name, merely misread.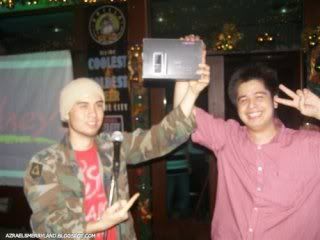 Victory couldn't be any sweeter... heh. People were joking that it was one heck of a "talent fee" for me, since not only did I sing, I also performed magic that night. Lol.

MTV And DOT: A Perfect Combination?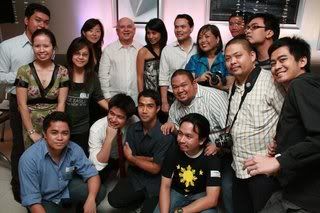 Image courtesy of Laszlo


Well, a mere two days later, on 17 December, Yehey again graciously invited us bloggers over to be a part of a teaser for the upcoming stuff the Department Of Tourism has lined up... and this includes a tie-up with MTV, and even some amazing collaboration with none other than Happy Slip herself, whom I got to meet personally for the very first time. At hand during the night as well as Secretary Ace Durano, who looked so hip you wouldn't think he works for the government. =P

Anyways, at some point, I did perform for them. The fork is sort of a giveaway when it comes to that... =P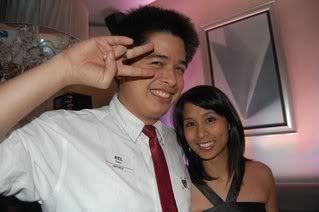 Image courtesy of Noemi Dado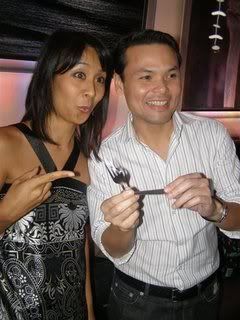 Image courtesy of Azrael


In any case, there were lots of exciting plans underway, including a huge concert we can only dub as "Rockapelago". More details will turn up as they are made available, but this celebration is touted as the "biggest concert the Philippines has ever had". Given how the Oktoberfest launch was indeed the biggest this year, it leads one to wonder how they're going to top that one, and which artists we'd expect to be in tow for the event, but thankfully, we're not going to expect Batista as one of the performers.

Aside from the DOT people and Happy Slip, here are two of the marketing people from MTV Asia, all the way from Singapore...


Image courtesy of Monique


I don't know about you guys, but I'm rather stoked about this event. If there's any hope that Kel and Jay could collaborate on a national level all the same, we'd be more than willing to pull our share as well... heh. This is big, and as a guy who does want to see the rest of the Philippines before setting foot abroad again, methinks this should be a really great project I hope I can take part in, even just by blogging about things as they come. =)