.:AMAGIKOMEDINAYT!:.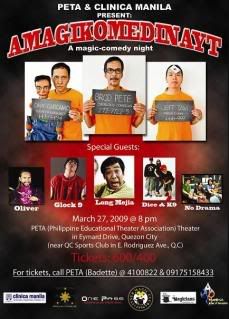 Image courtesy of Sir Ony Carcamo


You want to laugh? You want to be amazed? You want to bob your head to the beat? You want nothing but unparalleled entertainment? Well, then the new Philippine Educational Theater Association (PETA. Yup. NOT the one for animals.) Theater this March 27 (A Friday night!), 8PM, is the place to be for "AMAGIKOMEDINAYT"!

Be witness to a night with magic, comedy, ventriloquism, and music, as brought to us by three of the top live performers in the country today. From the magic of the rising star, Jeffrey Tam, a multiple winner of various magic competitions, to the unbeatable ventriloquism talent of Ony Carcamo, one of the most esteemed artists of our age, to the ineffable sense of humor and sheer hilarity brought by Brod Pete, aka Ishko Salvador, you will be treated to a night that will astound, tickle your funny bone, and everything else in between.

Special guests also abound, including the European illusionist Oliver, and musical guests Gloc 9 and Dice and K9. This is a night you shouldn't miss if you want a Friday night worth remembering.

Tickets are priced at 400 and 600 bucks apiece only. For reservations, feel free to call/text Badette of PETA at 4108822 and 09175158433. I'm going to be there to support the event, and if you love these guys like I know you do, I'm sure you'd want to support them as well. =)

Catch you there!