.:Bon Voyage, Tiffy!:.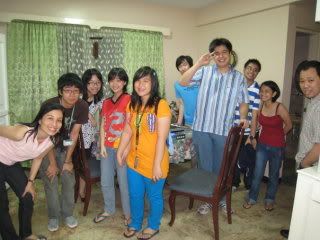 Image courtesy of Yoga Jane


Tiffy is leaving for Japan as an exchange student this coming March 30, so I helped her organize her despedida, inviting her blogger friends to come on down to my humble abode and remind her that there will be a lot of people who will miss her. =)

Early birds were Yoga Jane and Christa, and then Josh and Arthur from The Chicken Mafia arrived shortly after. From there, while we were waiting for the celebrant who was late for her own party, I was swapping stories with all of them, having lots of reason to be amused about the stuff going on in our respective lives. That, and while waiting for other guests, me, Tita Jane, and Christa managed to finish "Sad Movie". Yup. That was how long we waited.

Anyways, afterwards, finally, Tiffy, Iza, Alex, Iza's date, Ozzy, and Barbie showed up, and the party was underway. With good food, awesome company, and even games, people reminded Tiffy how much all of us will miss her when she goes. Hopefully, she won't forget her friends here in the Philippines who are proud of her and all.

Unfortunately for me, as fun as the party must've been, I had to leave very early (Yup. I left my house at the mercy of Tiffy's guests.) because I promised sir Ony that I will watch his show, AMAGIKOMEDINAYT in the PETA Theater...

On a personal note, I've known Tiffy for a couple of years already, and she's always been a bright ray of sunshine to me. With her very honest outlook in life, and her infectious, mischievous smile, she never fails to brighten up my day when I see her and hear from her. She's been one friend in a million, and I can't help but beam proudly when I think about how awesome she's doing...

Tiffy, we are soooo proud of you! We love you, and go knock 'em dead there in Japan! Gambatte!

.:AMAGIKOMEDINAYT: Unparalleled Fun!:.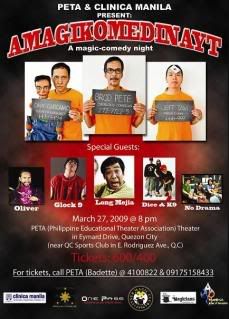 PETA Theater was ground zero for one of the best shows I've ever seen in my life. While waiting for things to start, we were treated to awesome acoustic music from No Drama, but we knew that tonight was going to be a big show. As a magician, I knew what the boxes onstage could do, so I was certain that the things lined up for that night were going to really astound people like anything.

This show featured three of the best performers in the country today: magician extraordinaire Jeffrey Tam, the country's premiere ventriloquist Ony Carcamo, and the ineffable Brod Pete. It was going to be a night of magic, comedy, and yes, music. Dice and K9 pumped up the crowd for the night, and after a couple of songs, in came sir Ony with a really amazing ventriloquism set that just made everyone sit and gape. Sir Ony is known as the best ventriloquist in this country with good reason, to say the least.

Afterwards, we were treated to some excellent magic from Jeffrey Tam, who was in character as a stereotypical Chinese magician living in the Philippines. His coin routine was hysterical and undeniably well-lauded. In case you didn't know, he won best Closeup Magician in IMC (Or was it Magfi?) for the past two years. I don't exaggerate when I say he's a phenomenon. He even did a bit of mind-reading, for that matter...

From there, while we were laughing at Jeff's unique brand of comedy and magic, we turned our attention to Brod Pete, who had everyone rolling in the aisles, gasping for air, as he went into a funny rendition of "Banal Na Aso, Santong Kabayo". The only lyrics he apparently knew were, "Hi hi hi hi", but he was so versatile that he can sing it for females ("She she she she"), and for everyone ("We we we we"). He then medleyed it with "Hello", and he even sung a cool medley of "You Are So Beautiful" with "Awitin Natin" and one more song that escapes me at the moment. (Sad...). The medleys were hilariously done, and he was obviously not playing the guitar, with the guys from No Drama playing while he pretended he was playing the guitar.

From that set, we then saw some amazing stage illusions courtesy of Oliver, then Jeff Tam, sans his costume, came in and introduced us to this guy who really talks so slow... I think his name was Gloc 9 or something. Needless to say, this show was an impromptu tribute to Francis M, as Jeff Tam showed that he was much better than yours truly because he sang "Kaleidoscope World" in a special segment where they gave tribute to the master rapper. I mean, I got into magic because I can't sing and dance. What's Jeff's excuse? Lol.

Anyways, afterwards, it was time for the Q and A segment, where Brod Pete answered our questions graciously. I had my fifteen seconds of fame when I actually asked a question, unfortunately, it was a question Jeff accidentally asked Brod Pete earlier on in their bit...

Ony Carcamo: O, sino pa may tanong?

Kel: Brod Pete, ako po si Kel, at may katanungan po ako.

Brod Pete: Hindi naman namin tinatanong pangalan mo, ah.

Jeff Tam: Oo nga.

Mukhang techie itong si Kel, eh. Techie ka ba?

Hindi po gaano.

Ano ba ang ginagawa mo, Kel?

Magician po ako.

Wow! Magician ka? Gusto mo, I will make you disappear?

Wag po, 600 po ang binayad ko sa ticket, gusto ko po tapusin yung show.

Okay lang yan, I will make you disappear, then make you reappear. Ready ka na? Ala-una, alas dos, alas tres! (Brod Pete covers his eyes.)

O, ayan... wala ka na. Now I will make you reappear...

Maraming salamat po. (Wild applause from the audience.)

O siya, ano ang katanungan mo?

A, Brod Pete, nagkakamali pa rin po ba kayo sa mga sagot ninyo?

You're not listening, ah! Sinagot ko na yan kanina. Dati, akala ko kasi mali yung sagot ko, yun pala, mali ang akala ko. Yun. Dun ako nagkamali.

Pasensya po, Brod Pete, nasusulat po kasi yung tanong ko, eh.

This was just a practically improv comedy segment, where they were ad libbing like crazy, answering questions here and there. Another excerpt...

Brod Pete, sino po ang mas matibay? Lalaki o babae?

A, may nasusulat diyan sa syento syento Hajji Alejandro. Mas matibay ang babae kesa lalaki. Basa, Jeff...

Hindi ka ba napapagod? O di kaya'y nagsasawa?

Ayan na, tinatanong na nung lalaki kung pagod na si babae. O, punta ka dito, Jeff. Basa.

Napahid nang mga luha, damdamin at puso'y tigang...

Kitam? umiiyak na siya. Nanginginig ang tuhod niya. Bakit? Basa, Jeff.

Wala nang maibubuga...

Wala na. Malambot na. Di na kaya. Kaya alam natin na mas matibay ang babae sa mga lalaki. Alien?

And then they broke into song, singing "Mr. Suave".

Of course, the infamous "hoy hoy hoy hoy hoy hoy" was used for a whole bunch of other gags like singing it for Erap ("Loi Loi Loi Loi Loi Loi"), or singing it for Nina ("Nyoy Nyoy Nyoy Nyoy Nyoy Nyoy"), or singing it for Vicki Belo ("Boy Boy Boy Boy Boy Boy Boy"), and so forth. Then, they said special guests were there to sing their versions of "Mr. Suave". At this point, Jeff Tam did awesome impressions of Rey Langit, Gus Abelgas, Leo Martinez, Mike Enriquez, and even Robin Padilla. He even regaled us with impressions of Rey and Mike during their honeymoon.

At this point, they ended the show, and people were more than satisfied with the sheer awesomeness of the show. It was well worth the 600 bucks I paid for the entrance, and I even got to rub elbows with the peeps there after the show, and I had some great ideas in anticipation of the Kel and Jay show this coming October... yeba!

To sir Ony, Brod Pete, and Jeff Tam, congratulations! I hope this isn't the last time we'd see a show like this! You guys are made of pure, unadulterated win.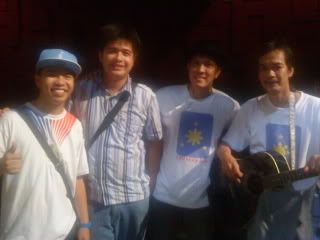 That would be yours truly with the three main stars of the night.