.:The EPIC Rick Astley In Manila Mega-Post!:.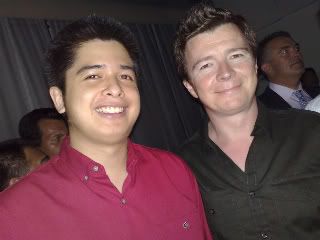 This will be a while. Sit down and listen to a tale I have to tell.


The Seeds Of Fandom: A Power I Just Can't Deny…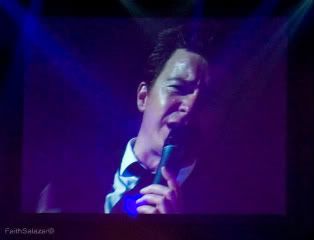 Photograph by Poyt.


Most of the time, people see Rick Astley merely as a guilty pleasure. I understand of course the need to maintain one's composure and not just throw themselves at the altar of an 80's icon when it's already 2008, much the same way most girls my age pretend to have never been fans of the Backstreet Boys or Boyzone, or at least declare that their tastes have indeed matured. Fine, I respect that, but I have no such inhibitions, and my fanboyism knows no bounds. When I'm a fan of something or someone, I make no effort whatsoever to hide it, no matter how "bakya" it may seem.

Having said that, Rick Astley is not a guilty pleasure for me. The Rickroll phenomenon was merely a means for me to be in vogue when I wax nostalgic about hits like "Never Gonna Give You Up" and "Together Forever", and actually discover that one of my favorite songs, "Cry For Help" was actually done by Rick Astley. Yes, I'm not the guy who'd memorize a particular artist's discography… until recently, that is.

Regardless, I've been a fan of Rick Astley since I was four years old, and twenty-one years hence, I'm still a fan.

So what's to like about Rick Astley? Isn't he just some kind of 80's Icon whose time has passed, sorta like Cindy Lauper, Bananarama, and New Kids On The Block? No, not really, because unlike those other has-beens, Rick Astley still has a career (No, a new album for NKOTB doesn't count. At all.).

Here are ten good reasons to like Rick Astley…

1. His first single was also his biggest… "Never Gonna Give You Up" spent five weeks atop the UK charts. It was the highest-selling single for 1987 in U.K. His follow-up, "Together Forever", was pretty big as well. So big in fact, that in the Philippines, it inspired a certain guy named Roderick Paulate to follow in his footsteps…

2. He knows how to play the guitar, drums, and piano. His deep baritone voice, similarly, lends to the rumor that he is a front for a black singer.

3. The Rickroll owns Chuck Norris Facts any day of the week. I'd watch a Rick Astley concert, but I would never watch a Chuck Norris concert. It has also become the anthem for the Anonymous movement against the Church of Scientology, which, I must say, is a nice way to give them the bird.

4. The only newcomer deemed better than Rick Astley during the Grammy's? Tracy Chapman. If you'd lose to someone, may as well be a Tracy Chapman.

5. If you change the pitch of his songs, his voice sounds suspiciously like Kylie Minogue's. If you lower the pitch of Kylie Minogue's songs, similarly, you'd hear Rick Astley singing. Don't believe it? Try this on for size.

6. While famous for dance ditties, "Hold Me In Your Arms" and "Cry For Help" are two of Rick Astley's most popular songs of all time.

7. During the 90's, Rick Astley was rocking the long hair. It actually looked pretty cool, if you ask me.




8. He's a genuine, down-to-Earth guy. Not to mention he's British. Instead of thinking that the rickroll phenomenon is a nod to his immortality, he acknowledges it as a quirk of the internet, and was more worried about it embarrassing his 16-year old daughter than anything else. He literally turned his back on fame in favor of being a family man and gets more kicks out of being featured on Family Guy than living in his glory days.

9. He doesn't take himself seriously. He has a dapper sense of humor that's remarkably almost Austin Power-ish. It's sad though that due to record industry pressure, he never had the kind of career people like Madonna still enjoy. He doesn't seem to mind at all, though.

10. The man is a changed man. During his heyday, he lived a very wild life, but managed to walk away from all that just in time to settle down and be the phenomenon he is today.

Excitement Builds: You Couldn't Get This From Any Other Guy!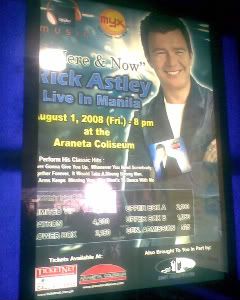 A poster I took a picture of way back in May…


Way back in May, I posted about Rick Astley coming to Manila, and even casually mentioned that I'd like to see Roderick Paulate as the front act. As I had no Facebook account, I wasn't part of the epic Petition group started by Gabe Mercado and friends.

Despite that, I genuinely wanted to see the concert, and since I had a friend who works for Araneta, I asked her for tickets early on. Ironically, she wasn't going to be my source for tickets for the concert night itself.

The Face To Face: When I Think About Leaving, I Think About Losing…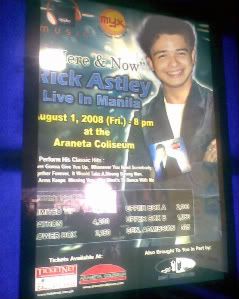 Notice the resemblance to the poster above? Apparently, a lot of people did.



The thing is, I really wanted to meet Rick Astley in person, and, similar to how I was during the WWE RAW and Smackdown tours, where I met Mick Foley and Batista, Booker T, Bobby Lashley, Michelle McCool, and Chavo Guererro, respectively, I didn't care much for seeing the actual show anymore afterwards.

As my recent post about how I met Rick Astley in Alchemy thanks to Jayvee intimates, I was on a high when I saw the man, shook hands with him, and even had a picture taken with him. Jokes escalated from my friends when there finally was photo evidence that Rick Astley and I could pass for father-and-son because we really had similar facial features.

I was happy. I didn't feel the need to go to the concert anymore because I figured I already topped the concert by meeting the man, not just seeing him. But then, the more I talked about it on Thursday, the more I realized I wanted to see the concert. There was still the whole "will Roderick Paulate be there?" bit, and as I kept on listening to his music and watching his videos while online, I felt an irresistible urge to want to see him perform these songs live. When you see WWE wrestlers do their stuff live in Manila, they don't put nearly as much effort as they would if they were doing it on pay-per-view. In contrast, when a singer goes on concert, it's less likely they'd just phone in a performance, and I was banking on Rick Astley pulling out all the stops for this one.

It was then that I realized that it takes a strong, strong man to ever let this chance to see Mr. Astley go.

Clawing My Way For Tickets: A Cry For Help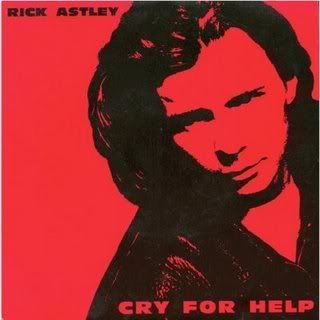 All you need…


My friend who works in Araneta, Be, couldn't get me any tickets for the show, so I had to think of something, and fast. Thankfully, I already asked my station, Campus 99.5, for tickets. We were media partners, after all. But there were no guarantees, and I didn't get any word from the Triggerman if he had even just one ticket to spare for me. I headed home from my radio show on Friday morning with a determination to get tickets whatever it took, so I pulled as many strings as I could: Tita Harvey and Kathy Chua, my former co-workers at WAVE 89.1, Uncle Raymund, and so forth. I was prepared to buy from a scalper if needed be, because I didn't know if the tickets were sold out, plus I wanted good seats. Maybe not Patron, but anything's better than nosebleed seats…

Then, when I woke up in the afternoon, I was greeted by a text message from Anne of WAVE 89.1. She had two tickets for me that I could pick up from Mossimo Gateway. I gave out a general call on my Plurk, asking for any takers, but I ended up asking old friend and batchmate Cami out.

But then, I received another text message, this time from Joe Spinner. He told me that Triggerman had tickets for me, which just threw me in for a loop, since during the morning, Triggerman said he had nada to give. I was to go to the Campus 99.5 Gateway event and get the tickets from the Triggerman, bringing me up to a grand total of four tickets. That's when I got back on Plurk and made another open offer. This time, Poyt and Joy answered the call, and I offered to treat them to CBTL for a sandwich or something before we headed out, and in the event things get messed up and they don't get tickets, they'd still have CBTL to look forward to.

It all went well, and the four of us managed to get tickets. Since Poyt brought her camera, she was pretty much the official photographer for the night, and that was all good.

The Prelude: Don't Tell Me You're Too Blind To See…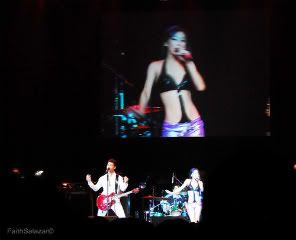 We built this sitteh… (Photo by, yes, Poyt.)


The place was packed the closer the seats got to the stage. Ironically, there weren't too many people in the bleachers, and due to the fact that we managed to finagle tickets through WAVE and Campus, we had Patron seats which some of us were tempted to just scalp for money, since they cost 5,270 bucks each. I was in Row I with Cami, while Poyt and Joy were in Row P a bit farther up back.

The concert opened with a set from Tres, the guys who brought you Angel. They were from Bacolod, so the lead singer who looked like Elvis (As the Danish people in front of us pointed out.) was singing with much gusto that "We built this sitteh on rock and roll." So sue me, I'm a grammar nazi even during a concert. Despite that, they got the crowd going, with stuff from Wang Chung, Van Halen, and so forth.

But one song they sang stood out to me, and Cami pointed that out: it was "King Of Wishful Thinking", by Go West, and it felt like every single line of the song was meant for me. If I wasn't pumped up before then (And I was.), I was definitely pumped up and excited for Rick Astley after that song… I even texted Poyt that "King Of Wishful Thinking" was my personal anthem, which she promptly Plurked over her cellphone. It was a 90's song, though…

So after much anachronistic gyrating from the female singer that looked nothing like from the 80's, the opening act finished, and more anticipation was building for Rick Astley's arrival…

There was some massive applause and cheering during this interval. It turns out that Roderick Paulate had front row seats, and we felt that something big was up. Rick Astley knows about the rickroll. He's been in the Philippines for two days already. Surely someone told him about Tito Dick already!

The Concert: There Ain't No Mistaking It!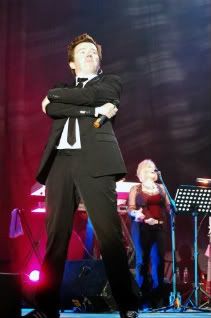 My eyes doth not deceiveth me… (Photo by, you got it, Poyt.)


Rick Astley got onstage, looking every bit like an English gentleman with shades of Austin Powers as he kept saying "yeah, baby!" while sipping on what appeared to be a cup of tea or coffee. He opened with "Together Forever", and while he didn't do any dancing, people got up on their feet, and started dancing. It would seem then that after every song, he'd talk to the crowd, thanking everyone for "waiting 15 to 20 years for him to get there" because it was a "long way to canoe all the way from Merseyside" or something along those lines. He was funny, he was witty, and he had the crowd eating out of the palm of his hand.

After performing a couple more songs, he mentioned that he heard about somebody who dances just like him, and I promptly started a "Tito Dick" chant amid the rabid applause. He smartly told the people in attendance that he was going to see for himself at the last part of the concert, thereby assuring that everyone would finish the entire thing, which they certainly did.

He sang his hits with much aplomb. Of course, I especially liked "It Takes A Strong, Strong Man", as well as "Hold Me In Your Arms", "Whenever You Need Somebody", and "Cry For Help", which is of course, my absolute favorite non-"Never Gonna Give You Up" song. I didn't even realize he was the one who sang "My Arms Keep Missing You", and he even had a cover of "When I Fall In Love". He knew how to play off of the crowd, asking them to be the "largest karaoke in the Philippines" to sing the choir part of "Cry For Help", and even getting a fan up on stage named Gina, whom he playfully allowed, no, guided to grab his butt in the middle of their duet (Was it "My Arms Keep Missing You" that they sang to? I think so.). He had nothing but nice words to say about the Philippines, about how beautiful the people were and about how he'd want the audience at Jakarta for his concert the next day because of how receptive they were.

Aside from teasing his hotel room number to the crowd, he even had a heartwarming moment where after Gina (Who was insistent in taking pictures of Rick Astley all night long.) went back to her seat, Rick Astley said that he and Gina could get something going on if it weren't for the fact that he has two women in his life already: his partner and his sixteen-year old daughter. It's very casual, candid moments like these that made you feel how sincerely and genuinely happy Rick Astley was to be there that night.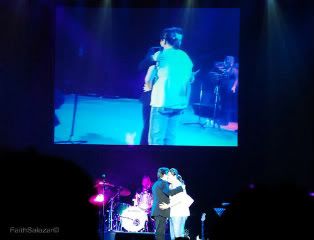 Just where are those hands going?!?


He reiterated his invite to Roderick a few songs prior to all of this, saying he had "six more songs to go", and that he's saving his energy up to dance for only one song, because according to him, at his age, he only has enough in the tank to dance to one song. Cami and I were cheering like mad and dancing and I was singing along to most every song there. At one point, he even ad libbed a spoken word bit because he allegedly forgot the lyrics to one of his songs. He even brought out the reading glasses to thank his sponsors at one point, making him look radically different…

He sang a lot of my favorites, and some songs I barely know, like "My Arms Keep Missing You", and songs I've only ever heard once, like "Hopelessly", "Ain't Too Proud To Beg", and "Don't Say Goodbye".

After six songs, he faked out the audience by pretending to leave already, as if he forgot to sing "Never Gonna Give You Up" (How's that for a Rickroll within a Rick Astley concert?!?). The Araneta Coliseum crowd wasn't fooled. They refused to leave, and soon enough, Rick Astley came back, alone. We knew what this meant…

Rick And Dick: Together Forever!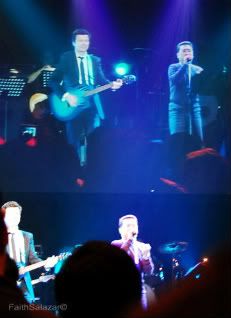 Words cannot express my joy… (Photo by, unbelievably, Poyt yet again.)


Rick Astley grabbed a guitar, and started strumming. I saw this on YouTube before, so I knew he had an acoustic take on Never Gonna Give You Up. At this point, he invited Tito Dick onstage, and…



The EPIC commences!


You could see that Roderick Paulate was genuinely happy. Maybe he hasn't sung or danced to Rick Astley in at least a decade, but it was just like old times, and it was amazing how it seemed like there was only one singer between the two of them despite the fact that they were passing the mic back and forth. Tito Dick sounded exactly like Rick Astley! The crowd was white-hot at this point, and Tito Dick was firing on all cylinders, from the dance steps to impressing Rick Astley that he actually knew the lyrics by heart, prompting Rick to say that Tito Dick "should've been up on stage all night."

After this bit which arguably got the biggest applause of the night, the band came back and Rick Astley performed "Never Gonna Give You Up" on his own to cap off the show. People in attendance were definitely satisfied. With promises that he'll be back soon enough, Rick Astley went off the stage, and a good chunk of the fans proceeded to backstage to have autographs and pictures with him. Of course, this is where my Alchemy experience yielded me an advantage, and I didn't go there anymore.

What's unbelievable about this was that it may have not happened, and we have Gabe Mercado to thank that he got into Tito Dick's ear to motivate him to really do the cameo.

After The Party: My Heart's Still Achin'!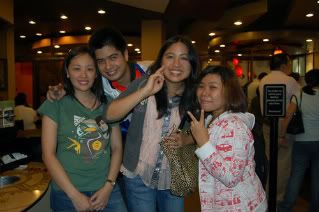 It's the four lucky people who got free Patron tickets… (Photo by, whodathunk it? Poyt!)


It was a sheer rush of emotion for me. I am a true-blue fan of the man, and it was great having been able to take three of my friends with me to experience Rick Astley. While it obviously wasn't a Rickroll since we fully expected to see the man, it was an amazing experience, without any question.

A funny thought occurred to me during the concert though, that it would've been a genuine Rickroll moment if we went to a Fallout Boy concert and it was Rick Astley who showed up instead.

Having said that, after watching a bit of True Faith at the Gateway event in Campus, the four of us parted ways, although I took Cami home before heading to the station, still obviously on an amazing high after the concert.

I don't know what else to say about the experience, really. It was a long trek from mere Rickroll jokes (Which I love pulling on unsuspecting people.) to actually seeing the man, the legend, RICK ASTLEY live in Manila. From the moment I found out about the concert, and amid all the not-so-flattering jokes about my musical tastes, my own singing and dancing, and even my sexuality, to the moment I shook his hand in Alchemy, to the moment we stepped out of Araneta Coliseum still singing Rick Astley songs, to the very moment I'm writing this post now, I am grateful for the entire experience, and with no hint of irony and in all seriousness, this will always be a big part of my life.

I don't know if this message will ever get to Mr. Rick Astley himself, but I just wanted to say: thank you so much, Mr. Astley, and we hope you make good on your promise to come back here. I am one of your biggest fans ever, and you have no idea how you have managed to lift up my spirits at a time in my life where I absolutely needed a reason to smile and be happy and forget about the drama for a moment. God bless you, and may you have continued success in whatever you do.

Call it overacting or hamming it up, but I am dead serious: everyone knew I would move heaven and Earth for a moment like this, and here I stand now, with this post as living testament that no matter what, every dog has his day.

Here are the other posts about the concert… if you have a post about the Rick Astley live in Manila tour, drop me a line, and I'll link to it here!

Cami
Gabe Mercado
Jayvee
Mighty Dacs
Poyt
Spanky
Spring Roll
Tals
EDIT: ZOMG. The entire concert is on Torrent?!?