.:Oh-Some! Orange Chicken Night!:.
Thanks to Alodia, I found myself smack dab in the middle of one of the most interesting blogger events I've come across in a while, which was the launch for Chowking's Orange Chicken, which promised everyone an exciting night, and they definitely didn't disappoint.
We got to Chowking in The Fort around 6:30 or so, and the whole place was just all glammed up, and I, being completely disconnected from the world of television for the past few months, have been completely unaware of who was the endorser for the new product Chowking was launching that night.
I knew that the Orange Chicken was going to be a part of their menu. I just didn't know that Mr. Jericho Rosales, the very same guy
Sarah
and I saw during the Gary V tribute night last year, was the endorser.
Neither did I even know that he was actually going to be there that night.
In any case, the party started off fine, as I met some of my good blogger friends like Ryan and Arpee, and even ran into Tita Ginggay and Diane, two people I've worked with in the past when they booked me as a magician. It was pretty fun just catching up with them, and then next thing I knew, we were served by good food from Chowking, as tons of orange confetti showered all over us.
I was half-expecting Manny Villar or Joseph Estrada to show up at this point, but I was happily disappointed when they didn't.
Soon enough, the lovely Chef Rosebud showed up and introduced us to the latest from Chowking, as the venerable franchise celebrated its 25 years in existence, and we went up for what would be a very big surprise for all of us. Chef Rosebud is already a celebrity, but we were in for yet another surprise as Jericho Rosales showed up in the flesh.
I could've squealed in delight that night (In the manliest possible way, of course.), but I restrained myself. Then again, maybe I didn't. Soon enough, we were introduced to how to do the chicken dance, and next thing I knew, all of us were doing various versions of it.
It was sheer hilarity, to say the least, but with cosplayers taking part in the whole thing, and eleven of them eligible to win 25,000 in a
YouTube contest courtesy of Chowking,
everything was just crazy that night. Prizes were given away to daring souls who danced like they've never danced before, and I found myself just laughing along as I danced like a fool that night.
Sarah even had a picture taken with Echo, which is a far cry from the last time we ran into the guy, as I was the one who was more keen on having a picture taken with him than she was. :P
Nonetheless, aside from Jericho Rosales, the highlight of the night was easily none other than our chance encounter with Mr. Robbie Carmona, whom we mistook for Vice-Presidential candidate Edu Manzano. As I was in green, I tried passing myself off as his running mate that night, which provided for a lot of amusement.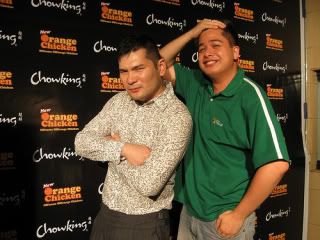 Your moment of Zen.