.:EXCLUSIVE Interview With Demi Lovato:.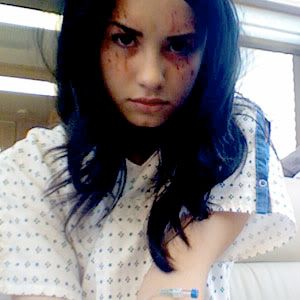 Now, we reveal the truth behind the mysteries!
And because I take my music snark very seriously, I actually managed to secure an interview with the currently embattled Demi Lovato, who recently checked herself into rehab due to still unclear reasons.
Here's a transcript of how the interview I conducted turned out, what can only be termed as a veritable clash of titans between a superstar of unimaginable proportions, and Demi Lovato.
Me: Hi, Demi! I know you don't have much time for pleasantries, so I'll go straight to the questions – is it true that the main reason you checked into rehab not because of your breakup but because of an eating disorder you wanted to curb once and for all?
Demi Lovato: This is real.
Me: Is this picture (See above) of you true? Or is it a doctored photo?
Demi Lovato: This is me.
Me: How do you feel about this situation you're in? Do you have any regrets?
Demi Lovato: I'm exactly where I'm supposed to be now.
Me: Once you get out of rehab, what do you plan to do?
Demi Lovato: Gonna let the light shine on me.
Me: Thanks, Demi! I'm glad that now you know who you are!
Demi Lovato: There's no way to hold it in.
Riveting stuff, isn't it? Well, I wouldn't have believed any of this either if I didn't hear it straight from the horse's mouth. We wish you a speedy recovery, Demi!