.:Ripe With Potential:.

Chino Liao introduced me humorously as the potential headliner for last week's open mic in Votre Bar, and that potential was abruptly ruined when four other excellent comics showed up to make sure that the show will go on well after I'm done.

Despite that, I had arguably my best pure/almost pure standup set of the year last night, as for some reason, my jokes were all resonating with the audience. I suppose it helps that a lot of them have never heard me do my stuff before and the other comics actually built me up as a headliner of sorts, so when I did my jokes, they actually regarded me as a headliner.

Overall, a fun night for standup. I was exceptionally proud of my set, as I managed to mesh old and new material together in a warm, fuzzy package of hearty laughs.

This week was more of the same, more so with a short tribute to someone very significant in my life. I'm exceptionally happy how that whole thing turned out, because open mic has been my refuge from the hurly-burly of work as of late.

.:A Mini Review Of Toki...:.

Ate twice already in Toki, and my first time out, I couldn't help but compare it to Tokyo Tokyo. Sacrilege? Not quite, because our plucky fastfood restaurant was actually on par with my beef Tepanyaki experience from Toki, and considering the price difference, that was majorly disappointing.

Nonetheless, I think they redeemed themselves when I had some of their Gindara...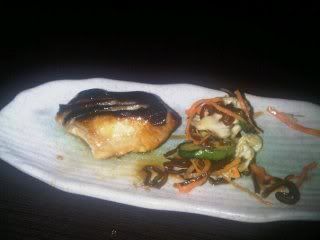 Unlike real food bloggers, it occurred to me to take a picture only *after* I was halfway done.


At about 620 pesos, there's no question about it: the Gindara was worth the price. There's something amazing about eating fish that tastes like pork barbecue, minus all the guilt of eating pork barbecue. Adding on some of their seafood fried rice at 190 pesos was great as well. They went pretty well together, to say the least.

So, this non-food blogger heartily recommends their Gindara, but stay away from the beef rice bowl, since their "fusion" means they use local ingredients, and at those prices, that's highway robbery. The Gindara's awesome, and I'd imagine their Wagyu's great, too, but since I was on a seafood diet, (I sea food, I eat it.) I decided to go for the fish instead.

I may not be a true-blue food blogger, but I definitely like to eat, and tend to go out of my way to try nearly anything once, when it comes to food. Toki is worth a try, definitely.

I even had a nice meal with the family last night in EDSA Shang, but since my family ate the food faster than I could photos of the food, well, I think I'll skip out doing a review of that one.

.:Yeah, BOI!:.

So – it was the launch of Battle Of Immortals, brought to you by the folks of Cubinet, and it was quite an eye-opener.

On official business for Nuffnang, I was set to cover the event and talk to the brass of the company, but I couldn't help but take a good look at their new MMORPG, Battle Of Immortals, which they were not only launching that day, but were even having sneak peeks of through multiple NEO computers set up to run the game. The game reminded me of your regular dungeon-crawling game, but with the bells and whistles that takes it well into the next generation of gaming. As a guy who has been a big fan of Diablo II, this is one of those games that definitely grabs my attention.

Anyways, aside from the game launch itself, and since it was in Centerstage, a videoke showdown had to happen for a Nokia C3. Now, see, I wasn't intent on joining at all, particularly because they didn't tell us that there was going to be a videoke showdown before they called for volunteers.

And then they sang Backstreet Boys.

Alex Villafania was first with "As Long As You Love Me," followed by another guy who did "Everybody (Backstreet's Back)." However, the third guy didn't know the lyrics to "Get Down," and as I was singing along with new acquaintance and fellow Atenean Karen De Vera, they ended up asking me to take over the duties instead of singing in my seat. So I did. And I won.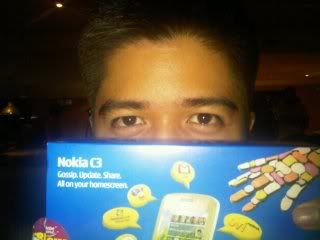 Moral of the story: it pays to know your BSB. I did have to sell the phone off already, though, since I kinda prefer Android phones at this juncture, and my new LG Optimus One is just made of win. Angry Birds for free? Sign me right up! And yes, I bought it at full price. Didn't need to fall in line for a phone well worth it at full price, since I didn't want to compete with a thousand other people for it.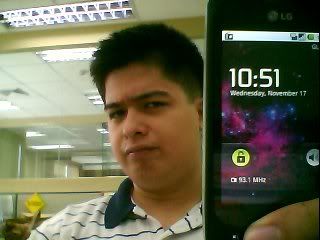 .:Ermm... Go Red Mango?:.

I like frozen yogurt, I really do. While I have no clear favourites, I tend to go to Red Mango, Qoola, and Pancake House to get my fix.

Needless to say, I was overjoyed when I discovered Red Mango has a loyalty card. After all, this would give me all the reason in the world to have fro-yo exclusively from them. I felt this way until I, well, took a good look at the Loyalty Card reward...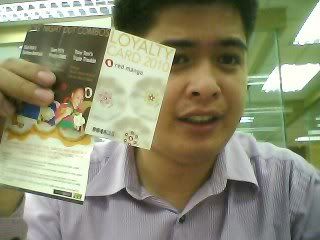 Ummm, yeah.


So, for a bunch of Red Mango trips, I'd end up meeting and greeting the guys from Boys Night Out. Oh, wait, scratch that. I'd get a *chance* to meet them. As if seeing them everytime I swing by 99.5RT not enough.

Well, looks like I'll keep dropping by the other yogurt shops, then. The boys are awesome, but I don't think I need to win a raffle to drop in and say "hi" to them...

.:MMDA TTMO:.

Apparently, the MMDA has created a new office, called the Traffic and Transport Management Office, or TTMO for short. I wish this were just a silly, sophomoric joke, but they did it. And you can see their patches proudly displaying the fact when they accost you on the streets now.

As this blog is an all-ages friendly blog with the occasional PG material thrown in, I think it would be best that I don't go into detail on the limitless material this is allowing me to come up with. LOL.