I'm cross-posting this with my
Magikel
, simply because I'd be a fool to not let you guys see this. :)
.:The Second Day...:.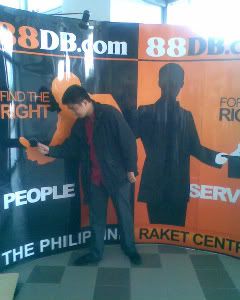 Guess who gave 88DB the inspiration for their posters? ;)


It was my second day here at World Trade Center, where I was performing walkaround magic for the crowds. I got really good reactions for the most part, and most of the time, I was swarmed by people who wanted to see me do my stuff. 88DB has been very wonderful to me, and the opportunity to perform for a crowd as big as the thousands-strong crowd in World Trade Center was an experience I definitely enjoyed.

I've tried out lots of new stuff for the past couple of days, and what's exceptional about my run this time was the fact that I actually managed to do an impromptu stage show when the host called on me in the middle of my walkaround!

It was a pretty fun time, for that matter. I did my usual stuff, but the comedy escape artist routine does get a lot of laughs from the audiences because I'm not even pretending for a moment that my escape takes any effort at all. It was played for laughs, and it certainly achieved its role in that regard. What made the performance even more fun was the fact that I really managed to pull things off with much aplomb, from top to bottom.

I even ran into Aileen, who was speaking for the job fair as well!

Having said that, I even ended up doing quite a performance for a certain other celebrity. During day 1, I ran into Angel Locsin. This time out, I ran into Nancy Jane, aka Nancy Castiglione... yes, she's holding a fork right there.




.:6 Cycle Mind + Campus Aircheckers = T3h Aw3som3:.

Saturday saw me in a Campus Airchecker meeting, with 6 Cycle Mind giving us a very candid interview about their music, the industry, and what they think the future holds. I felt a bit old as people referred to me in the plural Filipino honorific, among other gestures pointing to my age. Having said that, it was nice seeing the Aircheckers and getting to know some of them... one of them even looks like that commerical model from Closeup despite not having any Chinese blood whatsoever.

Having said that, yes, I did more stuff on Saturday, and...



Me and the lead singer of 6 Cycle Mind, Ney.


I'd provide more pics of the Aircheckers, but I think I'd rather have permission from them first... heh. There seem to be some loveteams forming though, and the Hazel-Ramon Bautista loveteam is a riot, since it's "Ha-Mon" for short. Heh.

.:TSC Ruckus:.

Saturday was also time spent hanging out with TSC, where I found myself performing quite a good number of effects, including Berglas, the Coin Snatch, and Taste Conditions (At long last!). Having said that, I hung out with Richard and Harry at the end of the day, and had a lot of fun talking to them about random stuff.

.:Two-Man Beginnings:.

Jay and I performed together at his seminar tonight, and I must say that it's been great so far. For now, let's leave it at that, as I'm really exhausted, and I just wanted to update you what I've been up to lately...