.:Your Moment Of Zen...:.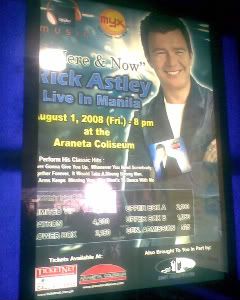 Prepare to be rickrolled in real time!


It's confirmed! Rick Astley is gonna be doing a concert here in the Philippines in Araneta this August! This is a picture of his poster, which is already posted all over Araneta.

Even better, I have a friend who just might get me tickets, since she works in Araneta!

Man, I can't wait. I sooooo can't wait!!!

P.S. Roderick Paulate as front act PLZ! KTHNXBAI!!!