Photos courtesy of
Aileen
and
Juned
.
.:Nokia's Mobile Entrepreneur Awards Night...:.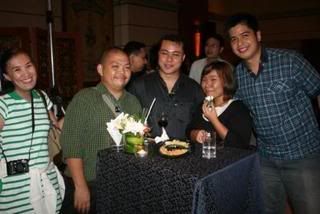 Bloggers unite!


I was at Makati Shang last Monday night and hung out with several bloggers for Nokia and Go Negosyo's Mobile Entrepreneur Awards Night. While I didn't really have a specific agenda in going there, the food and the company was definitely motivation enough. That, plus the prospect of meeting potential contacts in the future was likewise enticement.

.:My Childhood Is Complete...:.

The thing is, when I was a kid, I always watched Battle Of The Brains. I was a huge fan of the show, and I was consistently answering the show's questions, all the way to the college level, even when I was just in high school back then. I was a huge fan, to say the least.

Of course, my biggest frustration was the fact that despite being one of the more academically advanced students in Don Bosco Technical College, I was never given a chance to represent the school in Battle of the Brains. I was frustrated because I thought I had what it took. After all, I was constantly answering those questions on TV, right? There's no reason why I can't take on those guys on the show, since I figured I was capable of answering at least 75% of the questions anyways...

So yeah. I would've given my left nut to have met the host of the show just to show off how "smart" I was back then. I mean, I was a brash kid who figured he was destined to be the quintessential BotB contestant the minute he got his chance...

Fast forward to a decade or so later, and what have we here?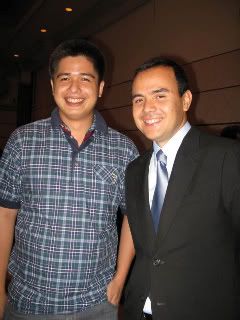 Yes. I'm pleased as punch. How can you tell?


Aileen was worried I was actually gushing over him a wee bit too much. Even Poyt was amused about it as well.

Finally, my childhood is complete. I've met David Celdran. :p

.:Dammit...:.

The "enter" and "backspace" key on this computer is not working at all! Whaddaheck?!?