.:Mangaholix Once More:.
Last year,
I took part in Mangaholix
, albeit unofficially. It was a great experience really, being able to do street magic and mentalism for the people in the convention and getting pretty good reactions. However, this year, I was officially tasked to perform walkaround for Mangaholix, and this time, I wasn't going alone... I was going to perform with my friend and partner, Jay Mata...
Suffice it to say that we made waves when we actually did perform. The audiences were definitely a joy to work with, but I think for our walkaround show, the whole Penn and Teller dynamic added a very powerful dimension to our performance, since they had to watch Jay as closely as they can, due to the fact that Jay didn't talk.
Well, initially, he did, but then we kinda caught on to the fact that Jay's finale, which is something you have to see to believe, was going to be more effective if he did it without saying a thing. So we kept it that way near the end of our walkaround run.
Mike Abundo even decided to capitalize on this fact and used the opportunity of heralding our performance to take pictures of the cosplayers we performed for afterwards. Guhh...
In any case, we met a lot of people there, and as luck would have it, an old friend turned up...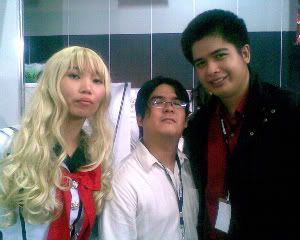 Jac, myself, and Jay


It was fun, really. Jay was really getting crowds with his part of the act, to the point that I was purely being a mouthpiece. Even Liquid Metal didn't come close to the kind of reactions he was getting from the audiences... Jay was just that plain hardcore, and being the Teller of the outfit was actually enhancing the impact of his performance...

Well, I know he was cut off from the picture, but here's a hint about what Jay was up to, in a picture involving Crissey and Tricia...



As you can tell, two cameras were trained on us at the same time...


It was especially fun seeing Crissey almost run away in fright over Jay's routine... heh.

Interestingly enough, thanks to Ian of Groundbreakers, we were actually there at the VIP area, where we ran into a good friend of mine, Alodia, whom I had some amusing photo opportunities with, replete with side comments from the bouncers at the event, who were the same guys from Redux in Eastwood last Friday...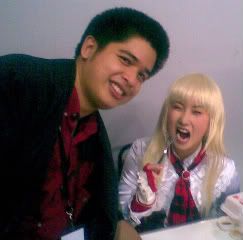 Ah, yes. The infamous bent fork of doom.



Bound, but not gagged!


Ran into some other friends as well, such as Ranulf, Jesse, and even Ria from Talecraft. It was awesome because Mangaholix really drew quite a crowd that day, and it was nothing short of exhilarating that Jay and I managed to entertain a good chunk of the people there with our hijinks. This is only the beginning.

All in all, it was a great day for Jay and I, as this is pretty much the first time we performed as a tandem in public, and I must say, the future looks bright in that regard. We also got quite a laugh when I did the blindfolded rubik's after Jay's silent performance, and he started talking. The audience we performed for genuinely thought Jay was mute... heh.