.:Weird Note...:.
Looking at my schedule at Campus, wherein I find out that I'm on air
Mondays to Fridays, from 9 to 12 noon with Joe Spinner here on Campus 99.5
, I noticed something very odd...
... no, it's not just the fact that I've been officially rechristened as "Sparky" on the air. It's...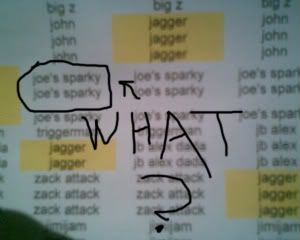 I dunno about you, but I just find being called "Joe's Sparky" being really, really weird...

.:NOT Love On The Locks...:.

In the spirit of Independence Day, before going to the station, I wanted to get my feet wet at actually learning how to pick locks. It seemed like a good idea at the time, really...

And for the most part, I thought so, too. I was doing a decent job, and with one hand, free, it seemed like a good escape so far, so after a bit of fiddling around and with a broken pick to show for it, I decided to reach for the key...

... except, ermm, there was no key.

There I was, the budding escapologist, trying to escape from handcuffs, and only half-successful. Worse, I had to go to work with one of my hands still cuffed, and it was only a matter of time before people would notice it. Hades, even people at next-door station, Magic 89.9, noticed. And they had Dr. Belo as their guest. Not the most brilliant first impression ever. The cuffs led to the obvious "kinky" gags by Mojo Jojo, especially when he found out the keys were with another guy...

So I walked into the booth, and John Hendrix was still handling hosting duties while Joe Spinner was trying to prepare some stuff. When sir Joe finally got on board, he started asking about the conspicuous white pillow sheet I placed on my right hand. Soon enough, I showed it to him, and the "keep it locked here" jokes commenced on air. We collectively had a ton of lock or key or some other similar pun throughout our ad libs, and despite bloopers galore, we had a pretty interesting show.

(Though none of the bloopers were as bad as sir Joe's "How about a *BRAND OMITTED* Meal on me? As in physically on me?" quip, or my "And that's Evidence with 'Urbandub,'", despite actually introducing "The Fight Is Over"...)

What made the show even more interesting was when my partner, Jay Mata, told me he had the key with him (How it ended up with him, I'll never know. And no, get your minds out of the gutter.), somehow, I managed to ask MM, an Airchecker, if she'd like to be handcuffed for a while until Jay got to the station. So for the next hour and a half, I was handcuffed to MM!

,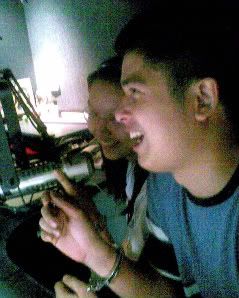 Yes, we boarded with cuffs.
So yeah, it was quite a fun-filled experience, to say the least (And not to worry, I cleared this with My Beloved, lest I encounter her fury.=P), so MM and I were a package deal for about an hour and a half, as sir Joe would introduce himself as "Joe Spinner with Sparky with MM... whether MM likes it or not." The other Aircheckers in the booth like Jiff and Tabel were worried if either of us had to go to the washroom, and thankfully, that issue never came up.
Sir Joe even figured that we could make a series out of this, where we'd get celebrity guests handcuffed to me and ask them *really* tough questions and they can never walk out on us, since they're cuffed to me. I even took the time out to interview MM in between songs, making sure that I wouldn't have to worry about anyone waiting for me outside the station after the show was over.
I was even teasing her that Jay got a flat, or that he dropped the key on the way, and you could see that she was adamant on still going to class in UST with me cuffed to her than simply not attend class at all. Ah, yes. The quintessential model student...
Soon enough, Jay Mata arrived, and after one last look at the handcuffed tandem...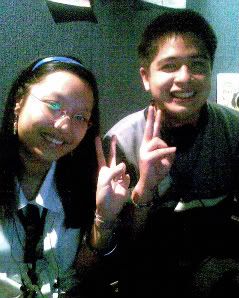 ... we finally took the keys and unlocked the handcuffs, thereby celebrating Independence Day in a very unique way. Nothing like a bonda... err... bonding session to start off your morning. She left shortly after the show, but it was all good, nonetheless. I think I made a new good friend with that hour and a half long adventure.

Afterwards, I had lunch with someone from Aircheck Batch 3, Lee (Sir Joe and sir John were busy.), and it was interesting, all the same. Genki girls rock. Heh.